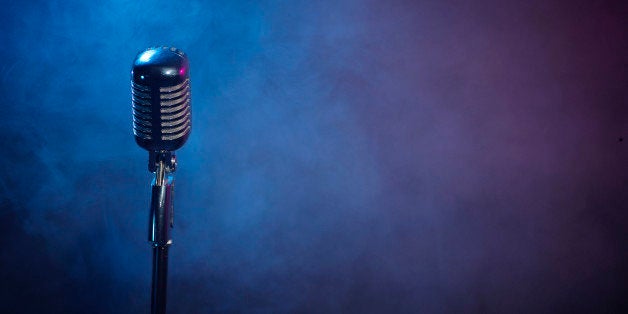 "She who laughs, lasts" could be the motto of 2014 for women comedians cracking the crass ceiling. Here's a positive follow-up to my 2010 post on "No Women Featured in NY Comedy Festival! No Joke!" At that time, I reported that the NYCF ad pictured 10 men and no women. This year, the ad features Amy Schumer, Maria Bamford, Tig Notaro and Sommore, along with seven men.
In response to my ongoing coverage of women comedians and the NYCF, Caroline Hirsch, founder and owner of the NY Comedy Festival and Carolines on Broadway, contacted me to give this updated report. She noted, "A record 60 women will participate in this year's eleventh NYCF, November 5-9. We have over 150 popular and emerging comedians performing more than 60 shows throughout the city. NPR's Ophira Eisenberg, Rachel Feinstein, Paula Poundstone and SNL's Sasheeer Zamata, are among the performers. First-time festival headliners include Amy Schumer, Carly Aquilino and Jessimae Peluso and Tig Notaro."
Three all-women shows feature: HERsterical, November 4; Time Out NY Women of Comedy, November 5 and "Women Aren't Funny: Debunking the Myth," a panel on women in comedy, November 6. Ellie Kemper and Christina Gausas' show, KEMPSAS, is November 8, at the Upright Citizens Brigade Theatre. Amy Poehler is on a panel discussion, "Id Isn't Always Pretty: An Evening with Broad City," moderated by Seth Rogen, at the Paley Center, on November 9.
Sasheer Zamata was named a featured player on Saturday Night Live (SNL) in January, becoming the first black woman cast member since Maya Rudolph left in 2007. Kenan Thompson had refused to dress in drag and continue to play the female roles, until a black woman was hired. Public opinion supported cast and staff diversity. SNL also hired two black women writers this year: LaKendra Tookes and Leslie Jones.
Tina Fey joined SNL as a staff writer in 1997 and became the first woman head writer in 1999. She created the groundbreaking "Weekend Update" all-women anchor team with BFF Amy Poehler, in 2004. The dynamic duo went on to host the Golden Globes last year, this year and will rock again next year.
Broadly speaking, for the first time in Las Vegas history, the comedy stage will be taken exclusively by women performers. The "Lipshtick" comedy series at the Sands Showroom, includes Wendy Williams, Roseanne Barr, Loni Love, Whitney Cummings and Lisa Lampanelli.
Whoopi Goldberg was the first woman, and fourth winner, of the Mark Twain Prize for American Humor at the Kennedy Center, in 1998. Lilly Tomlin was honored in 2003. Tina Fey, at 40, was the youngest awardee, in 2010. Ellen DeGeneres was recognized in 2012 and Carol Burnett in 2013. The Kennedy Center Honors performing artists annually since 1978. Lucille Ball was the first woman comedian recognized, in 1986. Carol Burnett was celebrated in 2003. She will speak with Rosie O'Donnell, at the 92 Street Y, in New York City, November 2. The event will be live streamed.
Today women comprise 20 percent of the 1500 members of the Friars Club, the premiere club for professional comedians and entertainers. Founded in 1904, the Friars admitted women following a sex-discrimination complaint, and Supreme Court ruling, in 1988. Joy Behar was the first woman Roastmaster in 1997. She was instrumental in having the Friars name one of its chambers for a woman for the first time, Lucille Ball, in 2008. Behar will perform her new solo autobiographical "Me, My Mouth and I," at the Cherry Lane Theatre, November 6-December 21.
Makers, a video collection of documentaries and interviews with women leaders, features Women in Comedy trailblazers. Original interviews include Carol Burnett, Margaret Cho, Ellen DeGeneres, Chelsea Handler, Sarah Silverman and Joan Rivers.
Can we talk? With all due respect, this positive progress report on Women in Comedy is a tribute to Joan Rivers. She persevered to pave the path for generations of funny women. Rivers auditioned seven times over three years, before making her Tonight Show debut in 1965. She remains the first and only woman to host her own late-night network TV show.
In conclusion, as Scarlett O'Hara at Tara might say, "If I don't find a dress tonight, it's curtains!"
Bada bing. Bada boom! Bravo to the fearless, feisty, funny females!
Calling all HuffPost superfans!
Sign up for membership to become a founding member and help shape HuffPost's next chapter