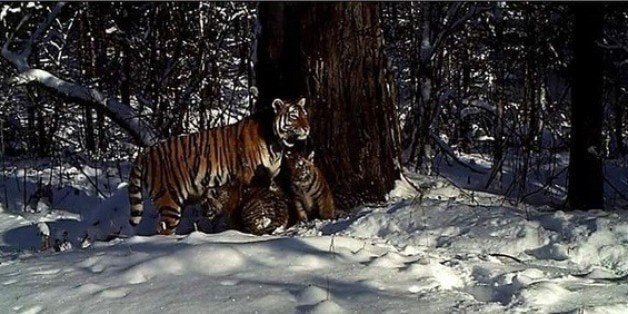 Last week, those of us in animal welfare circles celebrated when we found out that an Amur tiger had cubs in the wild.
We knew because Zolushka, as she has been named, and her brood were caught (frolicking, no less!) on some strategically placed camera traps in remote Far East Russia where she lives.
Nature reserve officials had been tracking her for months hoping that she had indeed mated and produced offspring.
This is a huge milestone in conservation, prompting me to declare 2015 the year we proved reintegration of keystone species into the wild after rescue and rehabilitation was possible.
Many people, including some esteemed biologists and conservationists, claimed it couldn't be done.
After a slew of successes this year, they have been proven wrong.
Before I get to the successes among rehabilitated rhinos, elephants, and tigers, allow me to explain some background.
During animal rescues, we quickly attend to animals' immediate needs for survival and safety. Rehabilitation on the other hand is a long and arduous process. Most people assume the process is complete once the animal is successfully released into the wild.
But is that how we define success? Do the animals thrive upon release? If carnivores; are they able to hunt to survive? If not, are they able to find the plant forage on which their natural diet depends? Are they appropriately fearful of humans? Are they able to join packs, herds, or aggregations of their own species? Are they able to breed? If they are, are they able to teach their young how to survive as well?
In other words, have they reclaimed their wildness?
This is where animal welfare conservationists' commitment to post-release monitoring becomes so crucial. Our job simply is not done when rehabbed animals take off into the forest or disappear over the horizon.
Recently, the animal conservation world has celebrated three separate, but certainly significant milestones with three iconic species.
Two months in an elephant's lifespan is a relatively short amount of time. But a particular 60 days can be a very important milestone.

In what could likely become the first-ever successful reintegration of rehabilitated elephant calves into the wild herds in Assam, India, two juvenile females named Tora and Rani were monitored traveling with their wild counterparts for a period of more than two months.
In the past eight years, Wildlife Trust of India (WTI) has translocated 19 rescued elephant calves to Manas Tiger Reserve in collaboration with the Assam Forest Department. Nine are currently monitored through radio-telemetry in the release habitat.
Rani and Tora were rescued two years apart both when they were only two months old. They were translocated and released together following a couple years of rehabilitation. When the other, older released elephants refused to associate with them, these two calves managed to find acceptance in the wild herd on their own.
Amur or Siberian Tigers

In addition to Zolushka, Russian nature reserves have footage of another rehabilitated tigress named Ilona, now three years old, marking a tree to establish her territory. She is hunting deer, wolves and wild boars. Ilona is one of "Putin's tigers," which the president helped release in May 2014.
Another three--Borya, Svetlaya, and Kuzya after having returned from crossing the border to China and back again--are all thriving. Only Ustin, who became too dependent on domesticated animals, had to be captured and returned to a zoo. Reintegration of wild animals is complicated and there will be some failures among the successes).
Indian Rhinoceroses

Another rehabilitated and released rhino, Ganga, has given birth to two healthy calves since her release back to the wild five years ago. The second one, born this year, was touchingly named Peter as a tribute to the International Fund for Animal Welfare's Director of International Environmental Agreements Peter Pueschel, who passed away this past summer.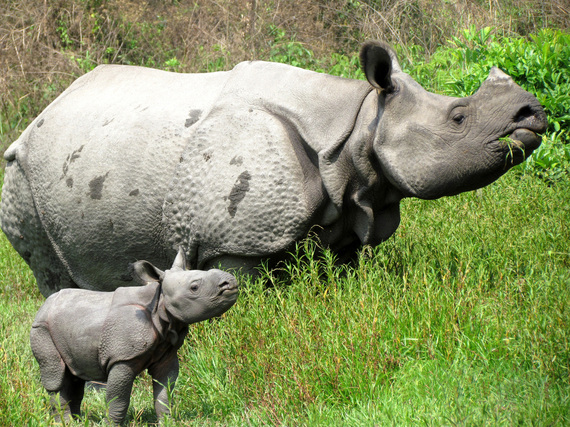 Ganga herself was found when she was only four months old, rescued by the forest department after she was swept away during the annual floods in Kaziranga National Park in 2004. The IFAW/WTI animal keepers hand raised her, and she was released along with two other female rhinos, Mainao and Jamuna in a boma in Manas three years later. Ganga was finally ready to leave the boma and was reintroduced to the wild in 2010.
She defied the laws of nature and gave birth in a span of 26 months, as compared to the average of at least four years for wild rhinos. Ganga is doing her part to re-populate Manas National Park where the rhino population had locally gone extinct.
We in the animal welfare community are proud of these accomplishments, and look forward to many more such successes in the years following 2015: The year reintegration to the wild of key species made enormous strides.
REAL LIFE. REAL NEWS. REAL VOICES.
Help us tell more of the stories that matter from voices that too often remain unheard.