There is no bigger time of year in Hollywood than Oscar season as a record number of gifting suites pop up catering to stars not just with free gifts like trips and products, but lots of pampering from massages to manicures to lash extensions - all in the name of getting red carpet ready for the annual Academy Awards.
Below is a summary of all the various lounges that were made available to nominees and other talent as they readied themselves for the most important night of the movie industry's year.
KARI FEINSTEIN'S PRE-ACADEMY AWARDS STYLE LOUNGE PRESENTED BY PAINTED WOMAN BY KAMECO at the Andaz Hotel in West Hollywood
Presenting sponsor Painted by Kameco provided beauty services including lash and brow extensions, as well as gel manicures. Visitors left their area with a bag of goodies such as hair straighteners, curling wands, hair and nail products, lashes and eyebrow stencils.
Horse owner and jockey Moon Woo was on hand with his Chariot Travelware, gifting celebs from his 3-piece hardcase spinner luggage in styles ranging from solid colors to cheetah prints to bulldog puppies.
OtterBox gave out phone cases along with privacy glass screen protectors that conceal your smartphone display from side views.
Jamba Juice set up a juice bar serving its new cold pressed ready-to-drink juices and for those who wanted to indulge, there was chocolates by Butterfinger.
Celebs picked up cylinder speakers by Ultimate Ears, trips to The Mulia, Mulia Resort & Villas in Bali and invitations to San Fransisco Bay Area's Tri-Valley to indulge in wine tasting, golfing and more.
Brow expert Kelley Baker and her glam squad from Kelley Baker Brows made sure everyone left the suite with perfectly arched eyebrows and highlighted browbones.
GBK PRE-OSCAR AWARDS at the L'Ermitage Hotel in Beverly Hills
WonderWoof was giving celebs the opportunity to be the first to receive a bowtie tracker that, combined with their app, lets the user monitor their dog's daily activities - be they sleeping, playing - from anywhere around the world in real time.
Shatra Designs had best actress Oscar nominee-inspired statement necklaces made with chains, precious stones, charms and other materials while Bands For Arms Bracelets was giving out handcrafted bracelets made by military service members using uniform pieces. Still With You was gifting memorial statues depicting loved ones comforting family members from beyond the grave.
Alila Resort Hotels was giving out stays to their various locations in India, Indonesia, Oman among others.
Food and beverage were aplenty including cookies from Fisch & Chips, champagne from Le Medaillion and Fancy Pants wine and John Kelly Chocolates. Presenting sponsor, the assault-response app STOP-ATTACK was on hand to encourage guests to sign up and take control.
TMG BEAUTY & STYLE DESTINATION PRE-OSCAR LUXURY LOUNGE at the Beverly Hilton Hotel's Penthouse Suites
Amidst the various facials, manicures and jewelry displays, celebs scored with giftcards for brow services at S.H.A.P.E.S. brow bar, which is now adding make-up services to its brow shaping.
There was skincare products by Dr. Ronald Moy's DNAEGF Skincare and iPhone cases by Exofab that stick to glass, windows and mirrors for the ultimate in selfie taking.
Kids and babies were taken care of as well: to commemorate iconic character Strawberry Shortcake's 35 year anniversary, rebooted character dolls with their signature smells were being given out, along with DVD animated films and greeting cards designed by Bella Pillar with Papyrus. Meanwhile, Horse and Dragon Shoppe was giving out organic baby blankets with a multitude of designs and patterns guests could choose from. (We loved the narwhal!)

DEBBIE DURKIN'S ECOLUXE LOUNGE at the Beverly Hilton Hotel's Stardust Penthouse
Nationwide mobile company OC Hair & Make-up was styling hair, applying make-up, doing spay-tans on-site and gifted MP3 flat irons that hold two hours of music.
Dogs got a lot of love in the form of products from CanaDog sports gear for active and athletic dogs, dog charms by KD Pet Protector and bath products by John Paul Pet. Gardena-based Camp Run-A-Mutt was giving out gift certificates for free doggie daycare.
Glamping company Under Canvas was giving out trips to Moab, Yellowstone and Glacier National Parks where guests would stay in deluxe or suite tents.
Alcohol and treatment center Choices Recovery was on hand to educate and raise awareness of the options that exist for those struggling with substance abuse.
Guests left with giftbags containing gift certificates for dog collars by Let There Be Collars and complimentary services at Animal Healing & Wellness. Humans got certificates for free candles at Sugar Mint Candle Co. and complimentary sessions at Body & Brain Yoga in Burbank.
SECRET ROOM EVENTS BEAUTY BAR AND LUXURY LOUNGE at the W Hotel in Westwood.
Calgary-based Gloria Bieber and her Life Portraits was taking snapshots of guests' auras and chakras and analyzing them with in-depth readings.
There was dietary supplement Calorease that purportedly binds and eliminates up to nine times its weight in dietary fat, sex toys by U.K. company Fun Toys and RevitaLash Cosmetics' eyebrow conditioners and hi-def tinted brow gel. Nuwati Herbals gave out various herbal tea bends and debuted their new mood elevating Laughing Coyote body cream.
Attendees also received the Alphabet Kids book series for children that promote tolerance as they follow the adventures of multi-culturally diverse kids.
Celebs left with gift bags containing bikinis from Elizabeth Jane's new spring 2015 collection and Her Excellency eau de parfum from Estevia Parfum. It also contained gift certificates for complimentary spa services at Murad, ice cream inspired Muller yogurt and bath caddies by Taymor Industries that include wine glass and candle holders.
DORIS BERGMAN'S 7TH ANNUAL VALENTINE ROMANCE OSCAR STYLE LOUNGE & PARTY at Fig & Olive in West Hollywood
Biochemist and plastic surgeon Dr. George Sun and his MDSun Skincare was offering his products like the Super Brightening C Serum and the Collagen Lift with triple DNA. My Saint My Hero had its blessing bracelets which has expanded to include the gold Serenity bracelet, the Blessing in Faith bracelet and the colorful Benedectine Blessing Bracelet for kids.
There was also at-home microdermabrasion kits from Kelly West Microderm 360 with a swivel neck to give the user precise angles for targeted areas. Shangri-La of Luxury gave out Sage energy clearing mist since burning actual sage can be a fire hazard or is simply not allowed in public spaces.
Other goods included sun protection for doggie noses by My Dog Nose It!, shock-absorbing flip flops by Telic Footwear, flirty fashionwear by Single Dress, argan oil haircare by Pura D'or and unusual smelling candles (coffee, leather, motor oil, tobacco) by Shoppe 815.
JAYNEONI'S PRE-ACADEMY AWARD LUXURY PARENTING GIFTING SUITE at the Intercontinental Hotel in Century City
Munch Mitts had wearable teething mittens for babies made with food grade silicone and crinkly texture that will entertain a baby and provide teething relief. There was baby and toddler clothing by Rags & Royal and Milk Snob. Gifted Lil Ones handed out gift certificates for custom handmade distressed denim for - who else - lil ones!
Kids could indulge in Gogo Squeeze applesauce and Nesquick chocolate milk and parents picked up body scrubs made from coffee and cane sugar by Jolie Bloom. Amy Tangerine was giving out her various scrapbooking tools so celebs could custom make their own.
Professional event designer Christie Troxell and her Ritzy Parties provided an Oscar-themed set-up with special sweet treats for the occasion. Artist Marah Johnson was on-site creating made-to-order necklaces using custom stamped antique keys wrapped with beads of the guests choosing.
ROGER NEAL STYLE HOLLYWOOD BEAUTY & COUTURE SUITE at the Luxe Hotel on Rodeo Dr. in Beverly Hills
Lingerie designer Ronda Shear unveiled her new line of couture gowns and hairstylist Kimberly Kimble was working on hair. Pam Fischer's FurFrenzy gave out it's signature Smart Scarf - a faux fur hooded stole with hidden pockets - and Nubra was handing out its various undergarment adhesives. Celebs could also pick out handbags from Timmy Woods to wear on the red carpet.
Beauty services included massages, manicures, spray tans and lash extensions. There were lash and brow enhancing serums by Skin Research Laboratories and wines by Lorimar Vineyards and Winery. Hook Me Ups had portable chargers custom made using everything from embossed leathers, rhinestone, Swarovski crystal and more.
Celebs left with giftbags containing among other things .skincare products by G.M. Collin, bottles of Gioia olive oil and pillowcases made from 99.9% pure silver which purports to boost oxygen to the face to leave skin more fresh and younger looking.
PIPER-HEIDSIECK & THE GLAM APP at Palihouse in West Hollywood
This official champagne of this year's Academy Awards teamed with this beauty-on-demand app to showcased their Cuvee Brut and Rose Sauvage - both of which were served during the pre-show - and the Prestige Cuvee, which celebs will sip at the post-Oscars Governor's Ball.
Meanwhile, the GLAM App pampered guests with an array of beauty treatments including manicures, makeovers and hair in preparation for the big weekend!
WOW CREATIONS LIFESTYLE GIFTING RETREAT at the Luxe Rodeo Hotel
Time was of the essence at this suite as goodies included Radar watches with it's interchangeable faces and bands, limited edition leather band watches (and business card holders) designed by pop artist Sonya Paz featuring her signature vibrant colors and whimzial drawings. There was also eco-friendly Bedol alarm clocks and wristwatches that use the power of water (ie: ionization) instead of batteries.
There was skincare for EMK Placenta and RX Clinical Cosmeceuticals and Under the Sun haircare that's perfect for coastal living as it protects against the sun, heat, humidity, salt and more. Japan-based company McCoy gave out its Non F Monster body massage gel cream that claims to break down cellulite and improve metabolism among other properties.
Designer Kathy Fielder had her faux fur designs that included jackets, vests, purses and more. There were gem necklaces by Gem Mountain Studios and steampunk-inspired jewelry such as necklaces, rings and cufflinks using watch movement and antique hardware.
The indieExhibit, an independent collective of artists and creators, displayed its artistic creations at the lounge for celebs to pick out be there pieces of arts, decorative mugs. There was an array of glass of candles, travel tins and wax melts by Rosalinde Blake Home Fragrance.
DISTINCTIVE ASSETS "EVERYBODY WINS AT THE OSCARS" GIFT BAG

Nominees in the actor and director categories that do not win the gold statuette won't leave empty handed. Rather, they will receive a gift bag valued in excess of $125,000 from Distinctive Assets.
Among the items are stays at the Villa Armena Luxury Hotel in Tuscany, a years worth of Audi car service rentals from Silvercar a home spa system from Steamist and Lipo-Light treatments that use L.E.D light technology to help lose inches off the body. Halo Natural Pet Food will also be making 10,000 meal donations in celebs' names to an animal shelter or rescue of their choice.
Dana Feldman contributed to this report.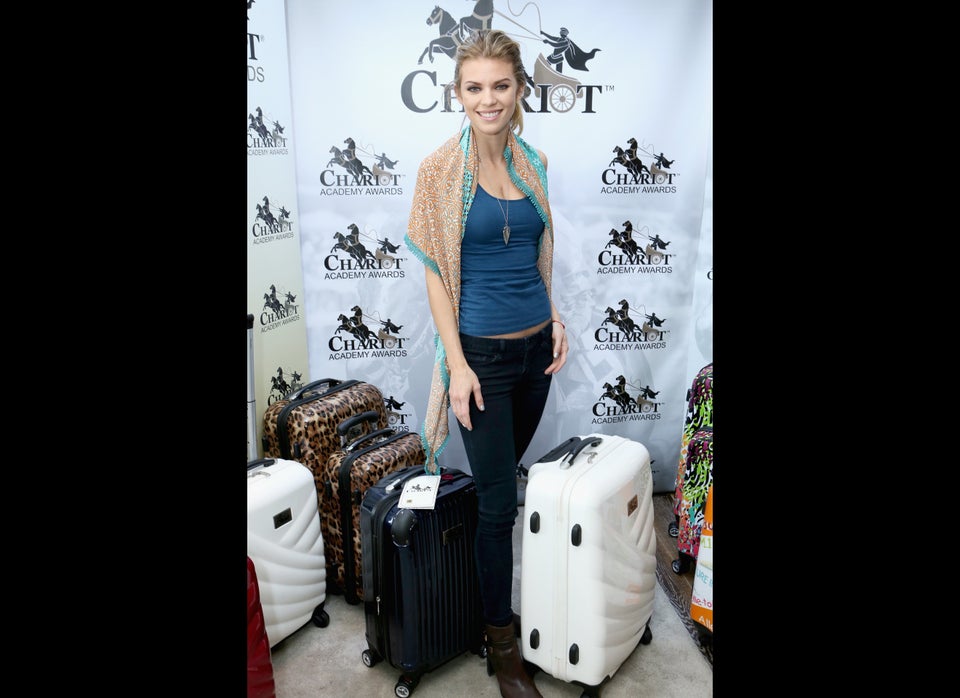 Related