He may not have an "S" across his chest but this pooch is most certainly a hero. 
Harley, a chihuahua from Berthoud, Colorado, who was rescued from a puppy mill four years ago, was named the American Humane Association's 2015 American Hero Dog. Harley, who is missing an eye and has deformed legs among other medical issues from his time at the mill, is now a "spokes-dog" against puppy mills. He serves as the adorable furry face of the "Harley to the Rescue" campaign, which raises funds for the National Dog Mill Rescue, according to a press release.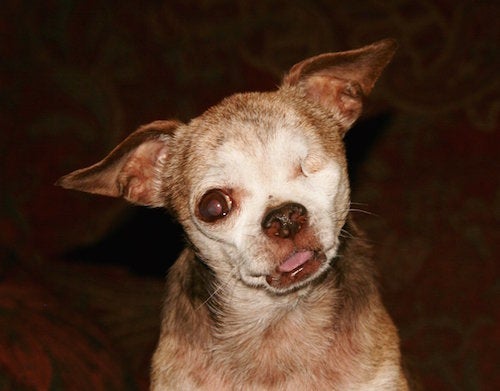 Harley was also named the winner of the Emerging Hero Dogs category.
"It was just four years ago that he was pulled from the cage in the puppy mill and left to die," Harley's owner, Rudi Taylor, said during the awards show at the Beverly Hilton Hotel in Los Angeles this past weekend, according to Today.com. "We never would have ever thought he would live this long and make such a difference for so many puppies."
The pooch was one of eight finalists up for the American Hero Dog and was chosen as the winner through both public votes and voting by a panel of animal advocates and celebrity judges, the press release noted. The finalists all won $1,500 to be donated to one of American Humane Association's charity partners, with Harley receiving another $5,000 to go toward his charity partner, New Leash On Life.  
According to the release, Harley spent 10 years at the puppy mill, and endured rough treatment there, which led to his many medical issues. He lost his eye as a result of his cage being power-washed with him inside.
The pup was rescued back in 2011 and adopted by Rudi and her husband, Dan, despite being given only two to three months to live, Today.com reported. Harley exceeded all expectations and eventually began his work in the rescue field. The pooch isn't just the face of his campaign, he also goes on rescue missions and makes public appearances at events and schools to raise awareness for puppy mills. Through the money raised from Harley to the Rescue, the pup has helped save 500 dogs from puppy mills over the past two years. 
This incredible work is all due to the pooch's fighting spirit. 
"Harley survived in hell for 10 years and there's only one thing that allows the spirit to do that, and that's to be indomitable," Dan said during the awards, Today.com reported. "That spirit is allowing him now to be the voice for dogs who cannot speak for themselves ... and give everybody hope that tomorrow's going to be a better day." 
PHOTO GALLERY
Dogs of Fashion Week
Calling all HuffPost superfans!
Sign up for membership to become a founding member and help shape HuffPost's next chapter