New York City is on the precipice of spring and that can only mean one thing -- it's time, once again, for the annual Brooklyn Nightlife Awards.
This is the third year that Brooklyn's nightlife community will come together under one roof to recognize one another's work, accomplishments and triumphs over the course of the past year. An event unlike any of its kind, it's the one time of year (save for the Bushwig Drag Festival) that this massive, performance-focused community simultaneously comes together in a demonstration of support and celebration for their fellow queers.
The Brooklyn Nightlife Awards, first featured in our series "Queer New World," is organized and curated by Brooklyn drag icon Merrie Cherry. As an event, the BNAs provide an important opportunity to recognize, honor and celebrate both collaborative and individual accomplishments within Brooklyn nightlife, as well as the valuable cultural production occurring throughout this outer borough.
PHOTO GALLERY
2014 Brooklyn Nightlife Awards
"A lot will change in the next five to ten years in Brooklyn," Merrie Cherry told The Huffington Post. "People will move away for whatever reason, some people will stop doing nightlife and some people will inevitably die. But I feel like the BNAs are a legacy of what has happened over the last several years. The most [historical context] we get of the nightlife community from the '90s are cute photos and hazy memories from people who got really fucked up -- and oftentimes it just feels over-glorified and self-serving. The awards show puts a stamp on our individual names and, even if we don't get on TV like so many kids from the '90s are now, this is something that will help leave an imprint for what we've accomplished as a community."
The BNAs are also about visibility, especially in a queer community where some modes of performance tend to recieve more attention than others. The ceremony honors individuals all across the spectrum of identity within the Brooklyn nightlife community, including promoters, artists, drag kings, drag queens, burlesque dancers, DJs, photographers, performers and everyone outside and in-between.
"Brooklyn, as far as nightlife goes, has always represented a sort of counter culture to the already eccentric NYC nightlife scene," Mocha Lite, 2013 Drag Queen of the Year, previously told The Huffington Post. "Brooklyn artists take pride in just how free their minds are permitted to be while on stage, despite what they may walk away with at the end of the night, simply because NO ONE will tell them 'no, that doesn't work' -- ever. There's a sense of freedom and rebellion here, even within a community already considered so far left. There have been many competitions and pageants, but nothing in my time here this major!"
A total of 21 different awards will be given away throughout the night, alongside a number of performances from some of Brooklyn nightlife's most notable faces. The award categories are wide-reaching, including Best DJ, Scene Kid, Best Writer/Blogger, Best Vocal Artist, Best Visual Artist, Best Fashion and Drag Queen/King of the Year.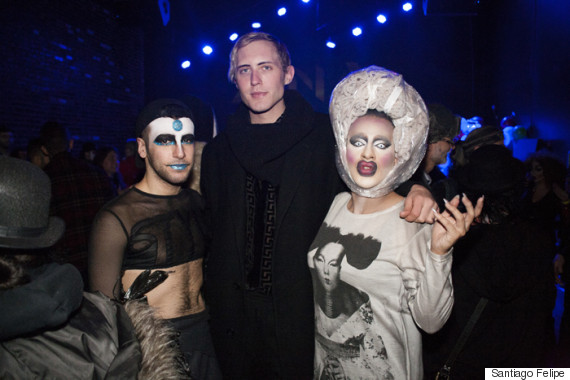 As for last year's winner of the coveted Drag Queen of The Year title? Bushwig co-founder Horrorchata has high expectations for the performer that takes the crown from her.
"I want to see whoever wins to bring it for the year, honey, because it's the title that you've got to carry," Horrorchata told The Huffington Post. "I'm ready to give my torch to the next queen... but they have some pretty big heels to fill."
The Brooklyn Nightlife Awards will take place on Saturday, March 21 at Lot 45 in Bushwick. Head here for more information.
Calling all HuffPost superfans!
Sign up for membership to become a founding member and help shape HuffPost's next chapter