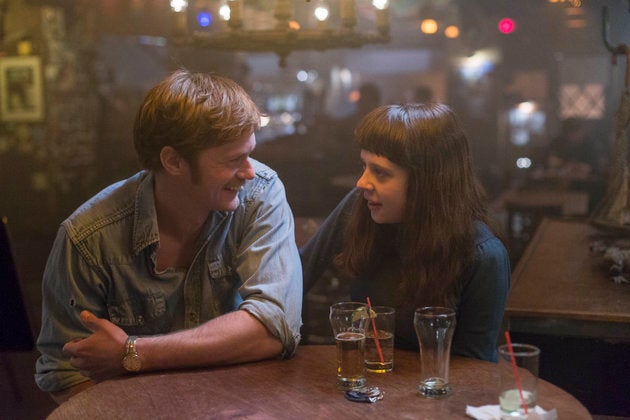 In the Oscars' 88-year history, only four women have been nominated for Best Director, and this year's ballot prompts another damning Hollywood statistic: Of all the non-documentary narratives up for an Academy Award, only one -- Deniz Gamze Ergüven's "Mustang" -- was directed by a woman.
What gives? Well, a lot of things: As of 2012, the Oscar voting pool was 77 percent male. And in 2013 and 2014, women made a mere 1.9 percent of the 100 highest-grossing movies. In other words, it's a vicious cycle for female auteurs. But it's not one that's impossible to remedy. Almost half of the movies nominated for the Oscars' two screenplay prizes (adapted and original) were written or co-written by women, which is fantastic. And ladies did direct movies in 2015, no matter what awards season might imply. We have a list of 11 that are worth a watch, and here's to hoping the 2017 Oscars will be a far more hospitable place for people of all genders, races and sexualities.
"The Diary of a Teenage Girl"
Written and directed by Marielle Heller
One of the most inventive movies from 2015 was this coming-of-age dramedy about a 15-year-old aspiring cartoonist's sexual awakening. Marielle Heller poured refreshing energy into her adaptation of Phoebe Gloeckner's 2002 graphic novel of the same name, incorporating spontaneous illustrations throughout the film. The results -- which feature bravura performances from Bel Powley,  Kristen Wiig and Alexander Skarsgård -- are charming, open-minded and invigorating. - Matthew Jacobs
"Sleeping with Other People"
Written and directed by Leslye Headland
It's difficult, at this juncture of the rom-com, to make the genre feel fresh again. However, Leslye Headland's film, starring Alison Brie and Jason Sudeikis, manages to do it. Brie and Sudeikis' characters tackle the age-old question of whether men and women can be platonic friends, but don't get tripped up in cliché. Headland also wrote and directed 2011's quietly brilliant "Bachelorette," a subversive take on female friendships and bridal parties. - Jillian Capewell
"Infinitely Polar Bear"
Written and directed by Maya Forbes
Mark Ruffalo's turn as a father with manic depression (also known as bipolar disorder) earned the actor a Golden Globes nomination for Best Actor in a Musical or Comedy. His character, Cam, takes on the duties of chief caretaker for his two daughters when his wife (Zoe Saldana) is accepted to Columbia University. Forbes, who had written for "The Larry Sanders Show" and "Monsters vs. Aliens," culled from her own experience growing up with a father who had bipolar disorder while creating this film, her first as director. - JC
"Miss You Already"
Directed by Catherine Hardwicke
How "Miss You Already" was so dismissed by the moviegoing public is beyond us. It's essentially a "Beaches" update featuring the divine pairing of Toni Collette and Drew Barrymore. Sure, it's weepy -- that's what's great about it! Catherine Hardwicke ("Thirteen," "Twilight") pours a lot of passion into the movie, and Collette and Barrymore are aces as longtime best friends contending with one's cancer diagnosis. It couldn't even accrue $2 million at the box office. What is wrong with you people? - MJ
"Girlhood"
Written and directed by Céline Sciamma

Oscar voters were never going to pay attention to this French drama, which premiered at festivals in 2014 and opened in limited release last January. But you should: "Girlhood" is a gripping, honest portrait of an underprivileged 16-year-old who joins a gang but realizes it won't provide the sense of belonging she seeks. As directed by Céline Sciamma, this exploration of race, gender and class sizzles. - MJ
"Welcome to Me"
Directed by Shira Piven
This film started off Kristen Wiig's year of indie films (her other two being "Diary of a Teenage Girl" and "Nasty Baby"). Here, we follow a strangely exacting lottery winner who insists on using her winnings to create an "Oprah"-style talk show. As Piven told HuffPost's Matthew Jacobs in May 2015, Wiig's thus-far goofy comedy career wasn't a deterrent to signing her on."We batted around a lot of lists of actresses, but in my mind she was really the one," she said. "I love those performances from comic actors who are asked to do something really heartbreaking." - JC
"Suffragette"
Directed by Sarah Gavron
What already seems like many moons ago, "Suffragette" was expected to factor into the Oscar race. And even though it's a touch too sluggish to be one of 2015's best, the movie boasts sweeping production design and a commendable lead performance from Carey Mulligan. Whatever the reason, "Suffragette" didn't find much of an audience anywhere: It topped out at a feeble $4.7 million domestically. Still, it's an important testimony of how far women's rights have come. - MJ
"Fifty Shades of Grey"
Directed by Sam Taylor-Johnson
OK, so it's not a total surprise this film racked up more Razzie nominations than Oscar nods (although its original song, "Earned It," by The Weeknd, nabbed one), but Sam Taylor-Johnson managed to turn questionable literature into digestible fare, as far as steamy romances go. Consider this: the film, for better or worse, cleaned up at the box office. "Fifty Shades" set records for the highest-grossing Presidents Day opening weekend, with a current worldwide gross of $570.4 million. Those are good numbers to keep in mind when someone says women-led projects aren't profitable. - JC
"The Intern"
Written and directed by Nancy Meyers

A year without Nancy Meyers' enviable interiors and idealistic romances isn't a year at all. And she doubled down on both in "The Intern," even if the central romance was really a companionship between a headstrong e-commerce CEO (Anne Hathaway) and her 70-year-old intern (Robert De Niro). The movie is a charming friendship ode that spans genders and generations. Watch it with your mom. Or your significant other. Or your best bud. Or yourself. It's a film for everyone! - MJ
"Mustang"
Co-written and directed by Deniz Gamze Ergüven
Turkish-born Ergüven describes meeting "Mustang" co-writer Alice Winocour (director of 2012's "Augustine") as such: "It was as if we were coming out of the same spaceship." This interstellar collaboration led to France's submission for the Oscars' Best Foreign Language Film category -- the only movie directed by a woman to receive any recognition from the Academy this year. The film centers around five teenage sisters in a Turkish beach town whose family, finding the girls immoral, keeps them locked up and cut off from society until they are ready to be paired off in loveless matches. - JC
"The Wolfpack"
Directed by Crystal Moselle
This documentary is proof that truth can be stranger -- and more fascinating and endearing -- than fiction. After running into a group of kids on the Lower East Side dressed like "Reservoir Dogs" characters, director Crystal Moselle began to talk with them and learn their story: six brothers kept in near total isolation in a New York City apartment by their religious father. To cope, they turned to their extensive movie collection, going as far to write out scripts from their favorites and reenact them over and over again. What emerges is a uniquely celebratory examination of perseverance. - JC 
PHOTO GALLERY
Best Movies of 2015
Calling all HuffPost superfans!
Sign up for membership to become a founding member and help shape HuffPost's next chapter