We are already midway through the first month of the 2015—and more importantly, midway through the Decade of Vaccines. With much to accomplish, I compiled a quick list of the 10 advances in global health and vaccinations I would like to see in 2015:
A fully-funded Gavi, the Vaccine Alliance, with Alliance partners energized by that success and driving to achieve its ambitious goal of preventing 5 to 6 million deaths and increasing access to vaccines for everyone. Strong routine immunization is a platform for child health programs and makes a big contribution to ending preventable child death.
An end to the Ebola epidemic in West Africa, with the promise of a safe, effective and easy-to-deliver Ebola vaccine realized.
An overhaul of cold chain equipment around the world. Dated equipment that breaks down frequently, freezes vaccines and is expensive to run should be replaced by cutting-edge refrigeration units that are cost-efficient, reliable and keep vaccines stable.
Better immunization data. Health workers need accurate, timely data that they can act on to continuously improve their programs and serve their communities better. Current systems have them filling out too many forms for reports they never see and don't generate data that lead to improved performance. With a strong culture of data and a focus on equity, health workers can assure every woman and child in their community gets the vaccines they need.
Pentavalent vaccine for developing countries at less than $1.00 per dose. We can get there—and this breakthrough in pricing for the newest global immunization system 'bedrock' vaccine would boost sustainability of vaccination programs around the world.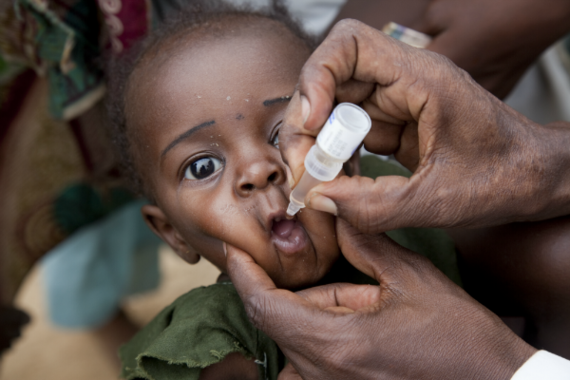 A Nigerian baby receives the oral polio vaccine from a house-to-house polio vaccination team. © Bill & Melinda Gates Foundation
An end to transmission of Poliovirus in Africa. The aim is to stop forever this vaccine-preventable disease from paralyzing any more kids, anywhere. This goal is within reach for Africa as early as this year, and for the whole world before the end of the decade.
Expanded use of HPV vaccines as part of comprehensive cervical cancer prevention programs. To me HPV vaccines are the quintessential 'social justice' tool because they help prevent a terrible disease in some of the most consistently disenfranchised populations around the world—rural women. We need to turn our focus to what it takes to scale up coverage quickly, equitably.
Better use of vital registration and unique identifiers to ensure we reach every woman, man, and child who needs vaccines and other health interventions. Innovations like biometric identification are spurring the assignment of unique identifiers to each person in a country. India, for example, has signed up over 700M Indians to a unique identifier program called Aadhar, which provides residents with unique 12-digit ID numbers that enable them to access to financial, health, and government services. Is this the next 'killer app' for routine immunization programs?
Improved protection against epidemic-prone diseases like measles, meningococcal meningitis, cholera, and Japanese encephalitis. Ebola has shown us how much disruption epidemics cause in local communities and their health systems. Prevention is much smarter than treatment—so we must ensure that every community is protected from the diseases we can prevent, through a combination of routine immunization programs and rigorously implemented vaccination campaigns that reach everyone periodically.
Greater focus on coverage equity and new vaccine introduction in big countries. India is working on both strengthening routine immunization and introducing new vaccines. A 10 year plan for establishing India is a global leader in both would be a great way to help India end preventable child deaths. Nigeria is making great progress on polio. Leveraging that focus on the highest risk communities can also help them narrow the extreme inequities in coverage that characterize the program today. The global community, starting with Gavi, should be prepared to support each country to achieve these goals.
When checking off tasks equates to saving lives, all of our projects become time-sensitive—and with one in five children lacking access to critical vaccines, it's time to pick up the pace. Let's see how much ground we can cover this year. If you like this list or have suggested items that you think should go on it, be sure to share this blog and those ideas using the hashtag #vaccineswork.
Calling all HuffPost superfans!
Sign up for membership to become a founding member and help shape HuffPost's next chapter