With the 57th annual Grammys honoring the best in music on Sunday Feb. 8, numerous parties and events were held around Los Angeles leading up to the big night at the Staples Center.
Musicians and actors had the opportunity to attend gift lounges where sponsors put products in their hands in the hopes to raise brand awareness. This year's lounges ranged in location from Downtown all the way to Westwood and offered an array of goods that included fashion, food, electronic, beauty, travel and more.
GBK's PRE GRAMMY AWARDS VIP GIFT LOUNGE at the Standard Hotel's SPiN STANDARD ping-pong club in Downtown Los Angeles:
ActiveOn Cameras handed out their action cams with built-in LCDs. This HD waterproof camera comes with such features as AQUA mode, time lapse and digital zoom. Accompanying accessories given out to celebs were a headstrap, suction mount and handlebar mount for the best in extreme sports shooting... ClearView Audio gifted their "invisible" blue tooth Clio speakers that, in lieu of a traditional black speaker box, are made with a clear, curved acrylic glass on a inconspicuous base.
Crystal Cruises presented guests with a 10-day "China in Depth" cruise for two that travels from Hong Kong to Beijing.... Fitness trainer Lalo Fuentes gave visitors three personal training sessions and two DVDs featuring his "freeze" technique.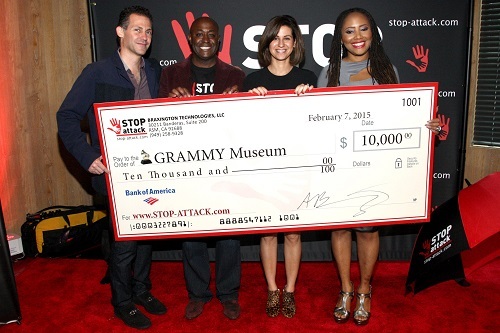 Assault-response app STOP-ATTACK gave a $10,000 donation to the Grammy Museum. GBK founder Gavin Keilly is pictured far left while Grammy nominated singer Lalah Hathaway is far right.
Hard Candy makeup let visitors choose from a shelf of products, including new items and popular staples. The company also unveiled its Hard Candy eyeglass frame line... Luna Mena had eco-friendly, handmade and fair trade accessories created by women and at-risk youth in El Salvador.
There was also Le Medaillon, a 30-month aged champagne, boxed pouches of wine-to-go by Nuvino and low-calorie, organic cocktail mixers from Bare and Nuvino, the latter which gave out certificates for a complimentary bar and server at the recipient's next private function or party.
Other goods included Milena's Candles, Contesta Rock Hair products founded in Rome, Italy, the latest from Tweezerman (makeup brushes!) and STOP-ATTACK, an assault-response app that acts a virtual witness to verbal and physical assaults. Proceeds from the event went to such charities as literacy program Alfalit International and the GRAMMY Museum.
THE OFFICIAL GIFT LOUNGE FOR THE 57TH ANNUAL GRAMMY AWARDS hosted by Distinctive Assets at the Staples Center:
Presenting sponsor, Japanese beauty company MTG, gave out its Inbeaute finger head spa, a vibrating claw-like device that massages the head. The company had on display all sorts of beauty products including the Facial Fitness Pao, a mouthpiece with weights that exercises facial muscles when the wearer nods the head.
Sean Combs' Sean John had an array of clothing and accessories from velour tracksuits to nylon duffel bags to limited edition scented candles from the Sean John HOME line.
Dr. Jane Cases and her line of Wellness 360 products gave celebs an array of products such as dietary supplements, protein powder as well as scalp and skin serums from its Healing Saint line.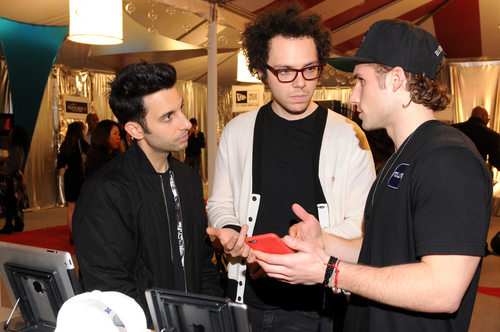 Chad Vaccarino and Ian Axel of A Great Big World speak with a vendor at Distinctive Assets' official Grammy gift lounge.
Electronic toymaker WowWee had battery operated dancing Electrokidz, figurines whose crazy hair moves to the beat of any nearby music. The company also had its MiPosaur robotic dinosaurs that react and interact with their environment. An accompanying TrackBall changes their personalities from friendly puppies to treat-beggars to nest-protectors and more.
Legacy, a national public health foundation which funds the youth smoking prevention campaign TRUTH, was promoting their latest video, Left Swipe Dat, to call attention to the impact that smoking images on social media have on teens. At the same time, they also gifted custom designed Truth skate decks, backpacks and tank tops
RED CARPET EVENTS L.A.'s GRAMMY'S STYLE LOUNGE 2015 at the W Hotel in Westwood benefiting the African Millennium Foundation.
Ancestry.com, specializing in genealogy and family trees, gave out their DNA kits that will breakdown down the recipients ethnicities....Teeny Wingkini had fairy swimwear for little girls that come with attachable fairy wings... accessories and fashion retailer Artizan by Robin Barre was giving out everything from statement necklaces to scarves.
Beauty products included haircare by Jonathan, argan hair treatment by Arganesse, coffee-infused skincare by Java and make-up setting spray from Divine Intervention by Victoria Duke Beauty.... Santa Monica-based Tikkun Holistic Spa (recently praised by Gwyneth Paltrow on her GOOP website for its detoxing vaginal steam 'throne') gave out day passes along with skincare samples from Karen's Product, which the spa carries.
Celebs left with additional gift bags full of products such as Sevique skincare, lace bustiers from Ceremony by Joanna August and grain-free dog treats by I And Love And You.
Popular in the Community