Welcome to the holidays! And frankly, we don't care which one you observe or if you observe any at all, this season of the year should be fun and festive regardless of beliefs. But what makes it even more fun and festive is finding the perfect gift for that, shall we say, spirit connoisseur in your life.
We've been scouring the country to try to find some great gifts you might not have otherwise heard of, including different spirits, beer, books and general gifts. If there are any others that people should know about, add them to the comments below.
We hope you enjoy this year's list (bigger than the previous two years') and find something you like. As a disclaimer, we don't have any connection to any of the things we list below.
For the American Whiskey Lover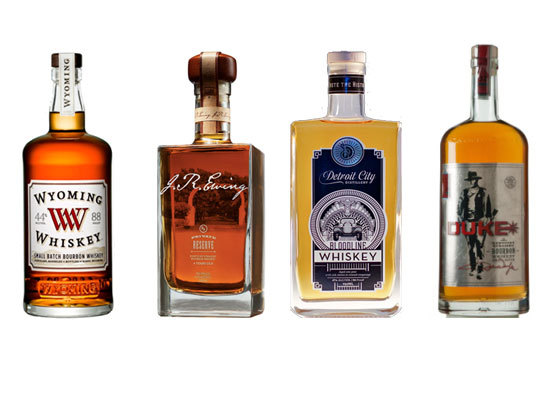 Wyoming Whiskey
What do you do if you've just retired after spending 33 years of your life at one of the premiere Bourbon makers in America? Well if you're Steve Nally, Bourbon Hall of Fame distiller for Maker's Mark, you move to a tiny town in Wyoming and open up your own distillery. His product is, to put it mildly, sublime. Smooth as can be with hints of caramel, vanilla and oak. This is a whiskey made to be sipped neat. Give this to someone who's not in a hurry, who has a moment to sit in a leather chair in front of a fireplace and appreciate a fine spirit. Image courtesy Wyoming Whiskey.
JR Ewing's Private Reserve
For those who remember the original Dallas series in the 1980s, they'll of course remember the elder heir to the Ewing oil empire, JR Ewing. JR Ewing's Whiskey was made to honor the character, beloved as nasty as he was, in a partnership between Southfork Bottling Company (created specifically to bottle this Bourbon) and Warner Brothers who own the rights to Dallas and all the characters. It is a good sipping Bourbon and is fine over rocks. We suggest you get this for someone who has at least seen the show, but it still makes a beautiful present even if they haven't. Image courtesy Southfork Bottling Company.
Bloodline Whiskey
This up and coming small batch distillery turned to history for inspiration and found Detroit in the roaring 20s. Reminiscent of prohibition period whiskey -- aged less than a year -- and made using Michigan barley, winter wheat and a propriety mix of malts this whiskey is Detroit City Distillery's ode to the past. Though the MSRP is a very reasonable $40 you might have to look high and low to find a bottle as it is currently considered RARE with availability extremely limited in most major retailers. This is a shoe in with that rare spirit or whiskey collector on your list. Image courtesy of Detroit City Distillery.
DUKE Kentucky Straight Bourbon
The Duke, John Wayne....the Man. A fact not commonly known of the Duke was he had plans to start his own distillery prior to his untimely death. This Bourbon was created using recently discovered tasting notes left behind by the Duke in combination with whiskeys found in his personal collection. This Bourbon is the perfect gift for that John Wayne fan on your list. Image courtesy of Duke Spirits.
For the Single Malt Whisky Lover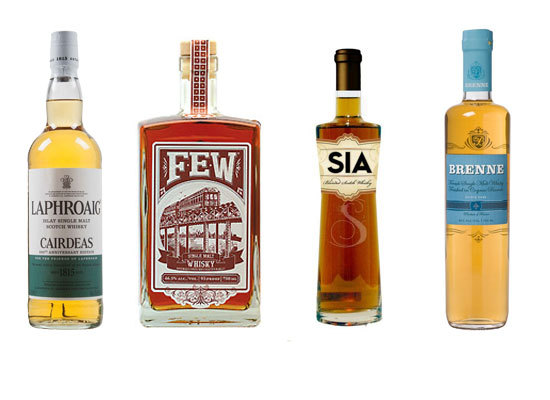 Laphroaig Cairdeas 2015
John Campbell, Laphroaig's Master Distiller is really taken with holiday spirit. At least we think he his; why else would he release a limited edition whisky every year around the holidays? The release, a limited edition called Cairdeas, which means friendship in Gaelic, "pays homage to Laphroaig's bicentennial anniversary, and is Master Distiller John Campbell's interpretation of how Laphroaig would have been produced at the distillery 200 years ago." Laphroaig, which celebrates intense peet-smoke flavor (which some liken to drinking an ashtray), is intense already, but the limited edition Cairdeas is even more so, and somehow more pure at the same time. A great Scotch for someone bored with the run of the mill. Image courtesy Laphroaig.
Few Single Malt Whisky
They claim it's "nothing like a Scotch" but single malt whisky lovers will really savor this American Single Malt produced just outside of Chicago. Like many other recently opened artisan spirit companies, Few Spirits tries to incorporate ingredients from their region. In fact, everything they use is located within 100 miles of their distillery, and everything from the bottling to the aging is done in-house. They only smoke a portion of their barley with cherry wood, which provides a very subtle, smoky flavor. This is a great addition to any single-malt library. Image courtesy Few Spirits.
SIA Blended Scotch Whisky
SIA (pronounced "SEE-a") is a modern twist to the age old classic scotch. Featuring citrus, spice, smoky vanilla and hints of hazelnut and toffee it is a nod to scotch's history while recognizing today's riskier palates (read Fireball Whiskey and Apple Crown.) A great gift for the scotch lover who is looking for a new and unique blend. Image courtesy SIA Scotch.
Brenne Single Malt Whisky
In Cognac France (well known for its' namesake brandy) you'll find a master distiller with a passion for... Whisky. Intrigued? You should be. Made from 100% organic barley and aged in French Limousin oak barrels (one of the most expensive barrel types in the world) the whisky is highly regarded, scoring 93 points from Wine Enthusiast, and reasonably priced at less than $60 a bottle. With an almost perfume like scent, warm spice, orange and butter on the front and a peppery finish it will make for a great holiday whisky. Image courtesy Brenne.
For the Rye Whiskey Lover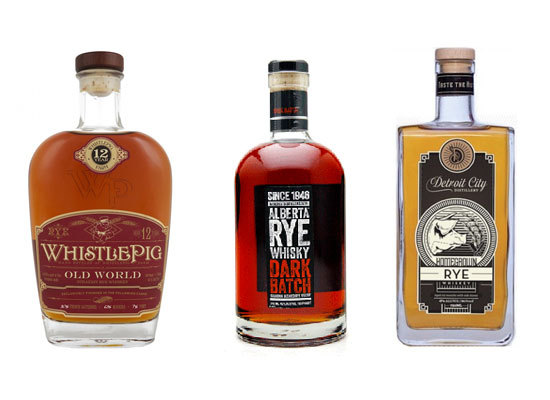 WhistlePig 12 Year Old World Rye Whiskey
WhistlePig is well known for their 10 year old rye whiskey made in Vermont, but they have just recently released a new rye, aged 12 years. What makes this particular whiskey so delicious is that it is aged in a series of wine barrels, including Sauternes, Madeira, and Port wine barrels. The result, according to WhistlePig is "boldness of American rye together with the elegance of European wine." In truth, the rye finishes smoothly with light tones of fruit. This has to be one of the most delicious rye whiskys on the market. Image courtesy WhistlePig Rye.
Alberta Rye Whiskey Dark Batch
Around since April, Alberta Rye is about as complicated a spirit as can be made. First, it is made with rye (91%), Bourbon (8%) and sherry (1%). Then half of the rye is made in pot still and aged in American oak barrels for six years. The other half is made in column stills and aged in newly used Jim Beam barrels for 12 years. If all that's not enough the producers claim that the arid climate and altitude of Alberta create a much more sophisticated or aggressive maturation process. The result is a dark rye with notes of fruits that, according to their master distiller, is best used in vintage craft cocktails. Give this to your mixologist friend. Image courtesy Alberta Rye.
Detroit City Distillery Homegrown Rye
Okay, this is our second item from Detroit City Distillery and no, we are in no way sponsored by or paid to endorse the distillery. We just love the story, their spirits and a can do attitude from a business in a city that has had little to celebrate in recent years. As such, we recommend Detroit City's Homegrown Rye, an ode to bootleggers, farmers and family and whose taste has been described simply as spicy and buttery. At 97% rye it is sure to make for an exceptionally potent rye this holiday season. Image courtesy Detroit City Distillery.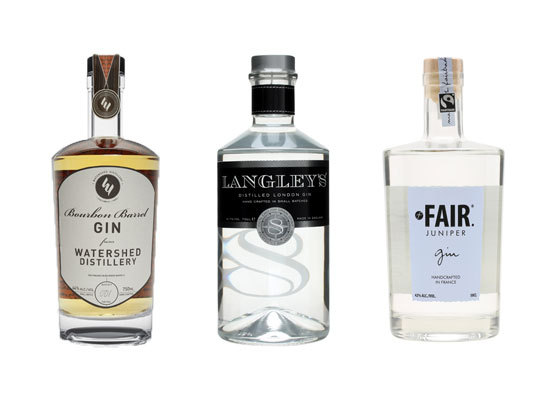 Watershed Bourbon Barrel Aged Gin
Of the many things being aged in Bourbon barrels today (aside from Bourbon of course) add gin to the list. The folks at Watershed have been leaving their delicious Four Peel Gin in used Bourbon barrels for 12 months and the result is amazing. The Four Peel Gin is already heavy on citrus, especially grapefruit, but the Bourbon adds a sophistication unmatched by other gins. The result is an amazing gin meant to sipped and savored. Image courtesy Watershed Gin.
Langley's No. 8 Gin
The Langley Distillery has been making award-winning gin since 1920, so just about anyone you try with their name on it will be amazing, but the No. 8 Gin takes it to another level. It was created, according to Langley, to "satisfy a man's palate" and so breaks from the more current trajectory of sweetness that many new gins are taking. The "8" in the name refers to the 8 botanicals they use, including nutmeg, coriander and cassia bark. In the end the gin is dry with floral and citrus throughout. This is a traditional gin as gin was meant to be made. Image courtesy Langley's.
FAIR Gin
What happens when you mix a drive to create high quality spirits distilled from ethically and sustainable sources? You get FAIR Spirits, an up and coming distiller with a lineup of unique and outstanding spirits. Part of their lineup includes their Juniper Gin. Made using their in house quinoa vodka as a base, they macerate it with a combination of juniper berries and spices for a period of one week followed by stilling the concoction all at once. With its soft palate this gin is set to be a great gift for that discerning gin martini drinker on your list. Image courtesy Fair Spirits.

For the Vodka Lover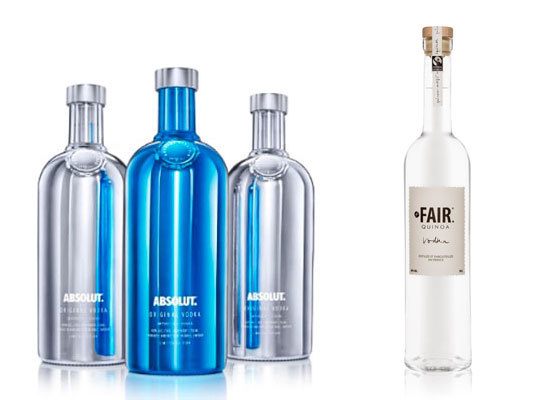 Absolut Electrick
For an inexpensive vodka to bring to your holiday party or give to your friends, you can't go wrong with Absolut. This year they've rolled out the special edition Electrik bottles, which, in terms of packaging, are very, very cool. They feature two of these special bottles, one blue and one silver, each coated with a semi-transparent metallic paint. Inside is still found the same vodka that's been a popular spirit since 1879. Image courtesy Absolut Vodka.
FAIR Vodka
FAIR claims to be the first socially responsible line of spirits. In essence, they work directly with their farmers to ensure they are paid a fair price for the ingredients they use. This is in contrast to sourcing from worldwide distributors who could be getting the ingredients from who knows where. The grain used for their vodka is also pretty special: quinoa. This grain has become very fashionable lately as a "superfood" and only grows in the 3,000 meter Altiplano plateau in the Bolivian Andes. The result is a very clean, smooth vodka that begs to be mixed with the highest quality mixes. Image courtesy Fair Spirits.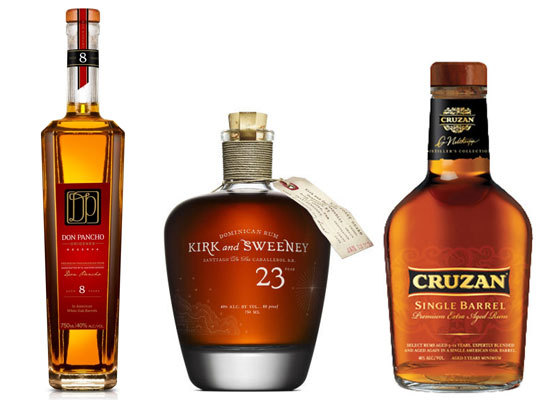 Don Pancho 8 Year Old Origines Rum
Don Francisco Fernandez spent 40 years as Master Blender and Distiller for Cuba's Havana Club Rum before finally leaving and settling in Panama. There he created a number of rums for other clients, but now he makes his own brand, called Don Pancho, and uses the same techniques and standards he first applied in Cuba. Hailed around the world as perhaps the finest expression of his expertise, Don Pancho 8 Year Old is the youngest in his selection (there are also 18 and 30 years old selections). This is a sipping rum, with a beautiful caramel color and notes of honey and sugars. Image courtesy Don Pancho Rum.
Kirk and Sweeney 23-Year Dominican Rum
This rum doesn't just deliver a beautiful sensory overload of delicious, caramel-like Dominican rum, but also a great story. The Kirk and Sweeney was a schooner used during prohibition to deliver bootlegged contraband to New York's Long Island. It was finally chased down and confiscated in 1924, but its legend lives on in the bottle of this rum. Adorning the bottle are nautical maps, displaying the route the Kirk and Sweeney took on its various journeys. And on the seal are printed the longitude and latitude of the beach on Long Island that was used as the delivery point for the rum the ship bootlegged. In other words, as a gift, this is not only a wonderful rum, but a fantastic conversation piece. Image courtesy Kirk and Sweeney.
Cruzan Single Barrel Rum
As the craft cocktail craze has taken to world by storm so too has small batch and fine spirits. In line with that trend is Cruzan's Single Barrel Rum. As a multiple award winner that is aged for 12 years this isn't your typical mixing rum. Instead, this is a rum meant to be sipped neat, on the rocks or in a classic cocktail like the Sidecar. Image courtesy of Cruzan Rum.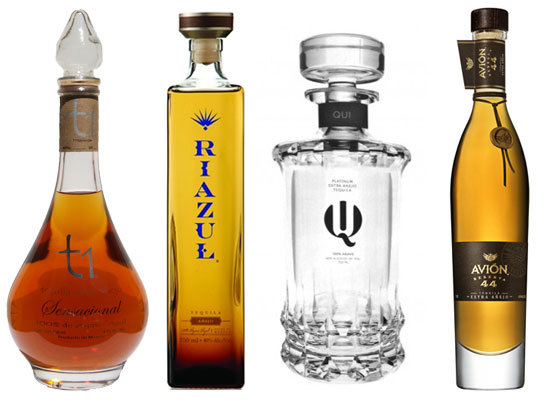 Tequila Uno Sensacional
This just-released tequila is made by master distiller German Gonzalez, creator of the award-winning Tears of Llorona. This extra anejo tequila is aged for 3 ½ years in first-used Scotch barrels. Its deep warm amber color is rich mysterious, and hints at the also-rich taste of the tequila, with orange peel and earthy, wooden notes throughout. Tequila like this, smooth and deep, is more like a fine Cognac, meant to be sipped neat to fully experience the flavors and aromas. Image courtesy Tequlia Uno.
Riazul Premium Anejo Tequila
Another premium anejo but a bit more economical than the Tequila Uno Sensacional, Riazul is aged in French white oak barrels first used for aging XO Cognac. The result is a deep amber color, consistent with many of the flavors. Many reviewers talk about warm fruits, like banana or spicy pineapple, but we taste more of the darker sugars and candies, like caramel, chocolate and toffee. They also produce reposado and blanco tequilas if you're looking for something with the same care and quality to be used in a cocktail. Image courtesy Riazul.
QUI Tequila
Described as "the world's first platinum extra anejo tequila" Qui Tequila is a new spin on an old classic. Aged in American Whiskey and French Bordeaux barrels and using proprietary filtration and distillation processes it claims to have the smoothest finish in the world. This is by and far not your standard shooting tequila and should be enjoyed neat or on the rocks to really be appreciated. A great gift for that Tequila lover on your list or someone looking for a new rendition of a classic. Image Courtesy of Qui.
Avión Reserva 44
Hand bottled, initially aged 44 months then immediately followed by a month in daily rotated petite barrels, bottled in a fire-polished crystal bottle and wrapped up in a luxury gift box this tequila is not for the everyday shot taking drinker. At $140+ a bottle and with limited supplies this is a tequila meant to be sipped neat, or on the rocks, and enjoyed on special occasions. A perfect holiday gift for the tequila connoisseur. Image courtesy of Avion.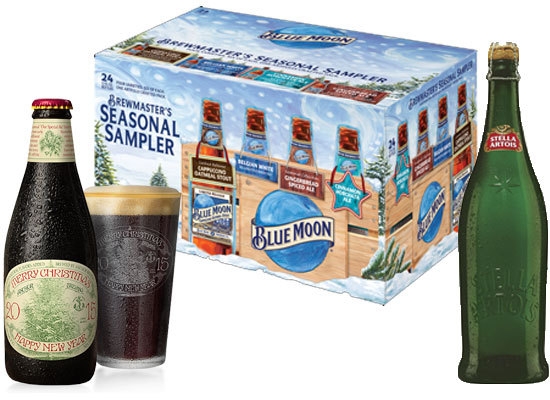 Anchor Steam 2015 Christmas Ale
Special Christmas ales have been made throughout history. Until the 15th century, Norwegian households were required by law to make beer to celebrate Christmas. The tradition began in the United States in 1975 when brewers at the small Anchor Steam Brewery in San Francisco began brewing a Christmas Ale. They've carried on the tradition since then and have delivered a slightly different variation every November. This year's is no different than previous in that it is a dark, rich colored ale with a tan head and full body. However, while 2014 featured heavy spice, this year's is easier on the spice (brewers report using fewer ingredients to get back to basics) and so what shines through is the malt with more subtle spiciness. Image courtesy Anchor Steam Brewing.
Blue Moon Winter Collection
Blue Moon is a distillery known to celebrate the holidays and this year is no different with their holiday collection pack. Featuring Belgian White -- a Belgian style wheat ale, Gingerbread Spiced Ale - an amber ale brewed with molasses and ginger, Cinnamon Horchata Ale - a creamy textured ale with a sweet and cinnamon finish, and a Cappuccino Oatmeal Stout - brewed with cocoa and a rich decaf coffee this holiday collection is bound to have something in it for everyone. Pick it up for that holiday gathering that needs lots of holiday themed selections. Image Courtesy of Blue Moon Brewing Co.
Stella Artois Holiday Gift Pack
The Den Hoorn Brewery was established in Leuven, Belgium in 1366, but it was in 1708 that Sébastien Artois became the head brewer, bringing renown to the once small brewery. He bought the Den Hoorn in 1717 and added his last name, Artois, to it. Fast forward to 1926 and the Artois brewery decided to produce a special, high-quality pilsner to celebrate the Christmas season. They named the new beer, Stella, after the Christmas star, and released it, at first, as a seasonal, winter beer. Eventually they began brewing and selling it year-round, and now we can find it just about anywhere at any time of the year. This year they are releasing a limited edition Holiday Gift Set featuring a handcrafted chalice, but also a beautiful recreation of the green, glass bottle the beer was first packaged in back in 1926. This is a great gift for lovers of beer history. Image courtesy Stella Artois.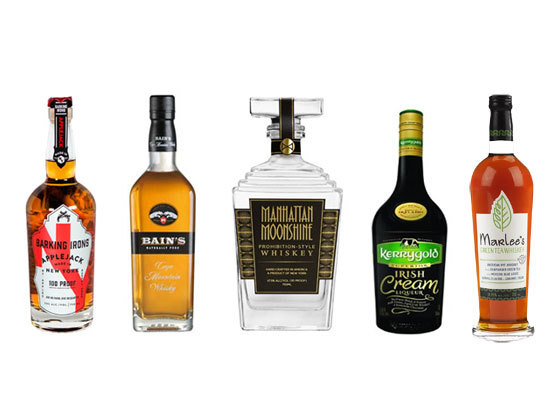 Barking Irons Applejack
According to historians the very first distillery in the American colonies was on Staten Island, was built by the Dutch in 1640, and was most likely making Applejack -- a distilled spirit made from apple cider. Barking Irons, a design company in the Bowery district of New York City, is known for designs influenced by the history of America, and so it's fitting that they've reached back into their region's past to re-introduce Applejack. Made with 100% New York apples, this newly released spirit, akin to a fine brandy with a beautiful apple nose and finish, may soon be the "it" drink poured across the country. If you can find a bottle, get it! Image courtesy Barking Irons.
Bain's Single Grain Whisky
This isn't exactly new to the market (in 2013 it was declared the World's Best Grain Whisky at that year's World Whiskys Awards), but it is fairly new to the United States (imports began this fall). Hailing from South Africa and made to the strictest of standards of master distiller Andy Watts, this whisky is a beautifully subtle spirit made to be sipped and appreciated. Matured in first-used oak Bourbon barrels, the whisky has notes of vanilla, toffee and hints of spices. This is new to our market and may be difficult to find, but it will be oh so worth it to someone who loves unique and well-crafted spirits. Image courtesy Bain's.
Manhattan Moonshine
Moonshine has been making a huge come back as of late and lucky for us we got to try this tasty rendition of an American classic. Described as a super-premium prohibition style northern moonshine it doesn't disappoint. The nose is strong, as one would suspect of an un-aged whiskey, but the finish is surprisingly smooth, clean and with just the right amount of after-burn. Try it straight up or, our personal favorite, in a Moonshine Gimlet. Image courtesy Manhattan Moonshine.
Kerrygold Irish Cream Liqueur
We couldn't write this list without adding at least one spiked cream, after all what are the holidays without the various Irish Cream-based shots and drinks you'll be serving at your parties? For a great party gift we like Kerrygold's new Irish Cream Liqueur. Kerrygold is already known for making cream,Irish butter and just about anything else you can think of with their dairy operations, but now they've decided to mix that cream with Irish whiskey and chocolate. The result is a luxurious, rich Irish cream that we think is just about the best on the market. Image courtesy Kerrgold.
Marlee's Green Tea Whiskey
Ok, we aren't going to lie, the first time we tried Marlee's Green Tea Whiskey we were a little hesitant (on the surface it just seemed like another addition to the blended whiskey fad - read Fireball, Crown Apple, etc.). But we were pleasantly surprised. Featuring a combination of American Rye Whiskey and Chinese Gunpowder Green Tea it is surprisingly smooth, flavorful and refreshing. Throw in that an 8 oz serving has more antioxidants than most cups of green tea and you have win-win drink. Our advice, try it on the rocks with fresh squeezed lemon juice. Image courtesy Marlee's Green Tea Whiskey.

Still not sure? How about a Gift Box or Subscription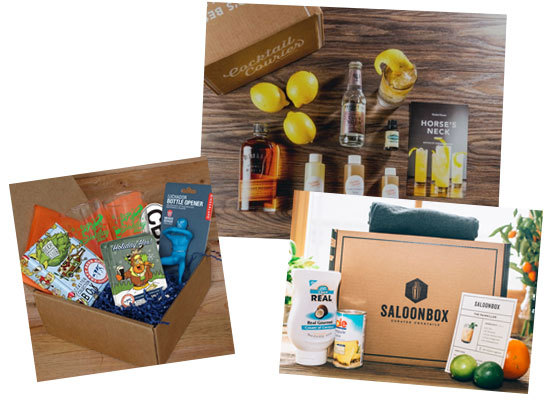 Craft Beer Hound Gift Box
For craft beer lovers, Craft Beer Hound, a specialty designer and gift store focused on craft beer geeks, gift boxes are a great idea. With an assortment of boxes to choose from for dark beer lover, IPA lovers or just a general beer appreciation box, each is an assortment of well thought out items a true beer lover will appreciate. Each box ships with one or two unique beer glasses, a specialty gift, and various other items (like coasters or stickers). You can opt to do a subscription, in which case one will be shipped every month, or to do a one-off purchase. Image courtesy Craft Beer Hound.
Cocktail Courier
Wine and craft beer subscriptions have been around for a while, and spirit subscriptions are starting to be offered too, but what about actual cocktails? Cocktail Courier has come up with a wonderful subscription service to fill this gap. Every month, you (or someone you really love) will receive a boxed set of all the ingredients needed to create a premium cocktail developed by the world's best bartenders. What's more - they even include the booze that's needed. Many cocktails tie into a monthly theme, so the December cocktail will focus on the holidays, while a box delivered in October may include a gin-specific recipe in honor of National Gin Day. Image courtesy Cocktail Courier.
Saloon Box
Are you yourself a closet mixologist or bartender? Do you know someone who is? Or do you or someone you know simply like to try new and/or seasonal cocktails? If the answer is yes to any of those you should consider signing yourself, or them, up for Saloon Box. Similar to Cocktail Courier, Saloon Box is a unique monthly subscription service that sends you a box with everything you need to make two different cocktails right at home (there is enough in each box to make two of each cocktail.) Use the service to try new cocktails and increase your library of cocktail recipes. Image courtesy of Saloon Box.
And if you just can't find anything...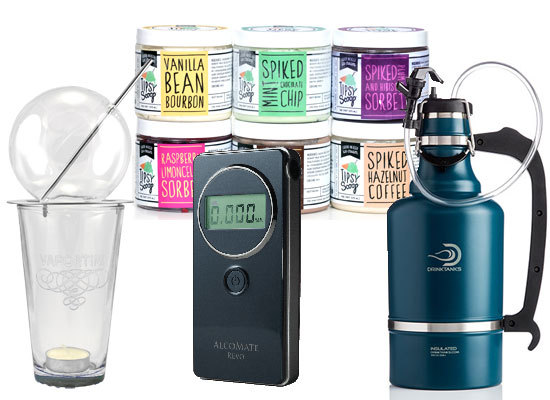 Vaportini
Okay, if drinking has become boring, then here's something new that you might need to try: the Vaportini. Inspired by Helsinki saunas that pour vodka over hot coals, this device, available from Touch of Modern, was created by restaurateur and entrepreneur Julie Palmer. Essentially, it allows you to inhale your favorite spirit instead of taking the time to drink it. The upshot is that you feel the effects MUCH quicker (because the alcohol is going pretty much directly to your bloodstream instead of all that pesky digestion stuff), and you don't get any of the calories. Image courtesy Touch of Modern.
Tipsy Scoop Ice Cream
You NEED this at your holiday party! Tipsy Scoop Ice Cream finally answers the question: why can't ice cream get me drunk? Based in Harlem, Tipsy Scoop has been serving alcohol-infused ice cream and sorbets since 2013 but has only recently made it available in stores. And, even better, it's also available via online ordering. Their creations range from the simple -- Spiked Mint Chocolate Chip - to the much more seasonal and limited -- Candy Corn Vodka Martini. Honestly, how could you not be serving this to your adult friends throughout the year? Or, better yet, save it for yourself for the ultimate Netflix binge... Image courtesy Tipsy Scoop.
The Juggernaut 1 gallon insulated growler
128 oz? Check. Keeps your beer cold for 24+ hours? Check. Durable? Check. Dishwasher Safe? (Cause some of us just don't have the time to hand clean everything....) Check. Available in multiple colors? (So we can match it to....whatever....) Check. Maybe we should ask what doesn't the Juggernaut have..... In short this has just about everything one could ask for in a large growler. Perfect for that micro-brewery lover, camper or tailgater this growler is the take large quantities of your favorite cold (or hot) beverage anywhere. Image courtesy of Drink Tanks.
AlcoMate Revo portable breathalyzer
Ok, we have never and would never encourage drunk driving. But if you, like millions of others, enjoy having one or two glasses of wine, cocktails or beers with dinner, during 18 holes, watching the game or whatever it is you might be doing, consider picking up AlcoMate's TS200. It is the only fuel cell breathalyze with a user-changeable sensor cartridge that never needs factory calibration. Never be unsure if you are legal to drive again. Image courtesy AlcoMate.
Finally, For the Bibliophile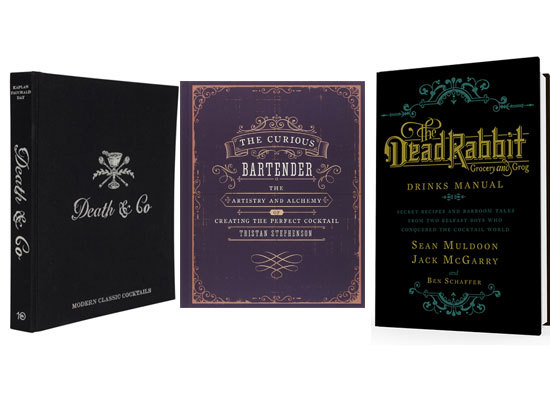 Death & Co: Modern Cocktails
At the forefront of the mixology and craft cocktail movement was Death + Company, founded in 2007 in East Village, Manhattan. This small bar has been a consistent draw for lovers of beautiful drinks and sophisticated atmosphere, drawing high ratings from critics and the public alike. Late last year they released this beautiful hard bound cocktail book listing over 500 recipes engineered by their award-winning bartenders over the last seven years of drink-slinging. They also include much of their philosophy on making and finding quality ingredients and tools to make drinks set to the highest standards. Image courtesy Death & Co.
The Curious Bartender
Written by Tristan Stephenson this instant classic delves into the intrinsic alchemy of cocktails, their ingredients, the art of mixology and the characters and origins behind them all. Perfect for that bartender, mixologist, party host or cocktail connoisseur on your list, especially for the cocktail "geek" who might want to know a bit more about the drinks than most other, more simple recipe guides will give them. Image courtesy Amazon.com.
The Dead Rabbit Drinks Manual
On July 18th of this year, at the Tales of the Cocktails annual conference in New Orleans, judges of the annual Spirited Awards named this Financial District, two story saloon the Best Bar in the World. And the award is so deserved. The cocktails hail from vintage drink houses of the 19th century. They are original and innovative, made with the utmost care and ingredients, and worth every penny you pay and minute you wait. And now the secrets from behind the bar are wrapped in this entertaining read released just this October. Not only do readers get a number of their award-winning recipes, but they also get the inside story about how the owners went from rags in Ireland to riches in Manhattan. An inspiring and entertaining read. Image courtesy The Dead Rabbit.