Del Records recording artists Regulo Caro and Luis Coronel are putting regional Mexican music on the U.S. map.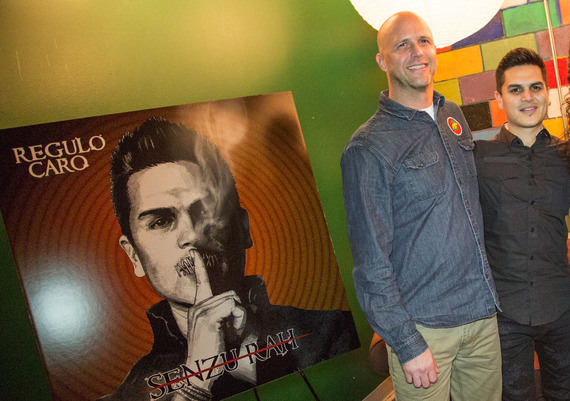 Steve Weathersby and Regulo Caro (photo courtesy of Del Records)
You probably don't know the names. You may not know the music. But that would only put you in an ever-shrinking minority. Take it from me. I got to see firsthand a phenomenon as organic as the Beatles, as real and as terrifying right up close when I went to interview two rising stars who are carving a niche and making money in music at a time when many are saying it can't be done.
Regulo Caro and Luis Coronel, two artists on one of the biggest emerging record labels in regional Mexican and Hispanic music and entertainment, Del Records, were meeting me in my hometown (and Caro's) of Long Beach at the Queen Mary for tea and to tape a TV segment at Chill, the seasonal ice rink next to the ship. I hopped on a pre-production 2015 Indian Scout motorcycle and pulled up to the now-80-year-old landmark right on time with heads turning. (The bike is a real show stopper.)
I first met Luis Coronel, with publicist Justino Aguila and management, aboard the ship at he Promenade Cafe. After lunch we were walking to Chill so he could skate for a Telemundo TV segment about the holidays. Well, in today's connected world, people on the Queen Mary had heard somehow he was aboard. Suddenly, young girls and their moms were coming up begging for pictures. One was crying so hard she dropped her phone and Coronel had to hug her so she would stop. Twenty feet further along: more photos, people getting out of tour groups, coming from downstairs, the help stopping, taking photos.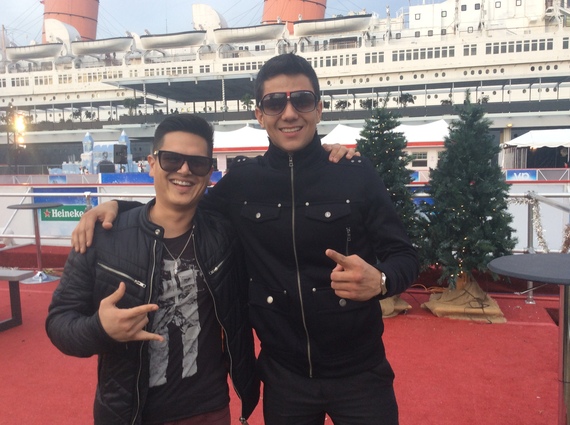 Regulo Caro (left) and Luis Coronel at the Queen Mary in Long Beach (photo by Charles Karel Bouley)
As this was going on, Aguila recounted an appearance for label mate Regulo Caro the night before. It seems he was at an autograph signing in Inglewood, California. Over 300 women rushed him at once, and he had to be ushered away or be crushed.
Caro had yet to arrive, and it was probably a good thing. We might have had to call actual security if it got worse. As we strolled and chatted, there wasn't two minutes of solace without someone asking for a photo. And word seemed to be spreading.
"How are you handling this?" I asked Coronel. He's remarkably young (well, when you're 52, who isn't? But I digress); at a mere 18, this Arizona native is a sensation. And he has the swagger and smile to prove it. Hell, he charmed the heck out of me, to the point where I wanted a photo within minutes.
"It's all so great; not one moment of it isn't wonderful," he commented as we sat down so he could put on ice skates for the next interview. "It's happening so fast and getting so big so quickly that I just have to keep up and keep focused."
Focused indeed. While Aguila and I earlier sat talking aboard the ship at the Promenade Cafe with Coronel and others, he was singing repeatedly in to his iPhone.
"I have an idea I need to get before I lose it," he told me, apologizing for singing at the lunch table. "Songs just come to me whenever, and I have to let them happen."
Happen they do. Coronel is a Del Records success but was building his own brand prior. He took the route of so many millennials, those born between 1980 and 2000: social media.
"I began singing in Arizona wherever I could," he told me, "and posted the videos on YouTube. People began watching. I got a few people interested in handling me off the social media success, and they introduced me to Del Records. Since then it's been nonstop."
In early October 2014 Coronel became the youngest solo artist in 13 years to hit No. 1 on the Billboard Top Latin chart, fueled by the strength of the ballad "Tenerte." That song also topped the Regional Mexican Airplay chart, first landing at No. 1 in mid-August 2014. Sept. 30 saw the release of the album Quiero ser tu dueño, which then topped the Top Latin chart.
Label mate Regulo Caro came to Del Records and chart success differently, first as a songwriter. The first time I met him was at an autograph signing at Amoeba Records in Los Angeles. Hanna Bolte, leader of Bolte Media, a company that works closely with Del Records for promotional and brand support, had invited me to see a side of music I don't normally cover, and I am glad she did. Inside Amoeba were throngs of young and old alike, mostly Hispanic but others whose demographic was not so easily identifiable. Daughters and mothers alike, and young men, all with product in hand, were waiting to meet Caro. He's popular, and with the key demographic today.
And he's gathering these crowds by singing a genre of music almost as old as his culture itself. Caro's newest album, Senzu-rah debuted in the Top 15 of Nielsen SoundScan as published in Billboard magazine, and his rise has continued, reaching No. 5 (Dec. 22-28) on Monitor Latino's Regional Mexican chart for the single "Soltero disponible," to support the recent release of his album. His previous album, Música polvora y sangre, went gold in 2014 as well.
"Regional Mexican music is a traditional form derived straight from Mexico," Steve Weathersby, Vice President of Del Records, told me recently on The Karel Cast, when I asked what exactly Coronel and Caro do and the specialty Del Records seems to have found. "To liken it to a genre in the U.S., it's like our country music, or even our folk. It dates back to revolutionary days. It's about stories and goes back many years.
"It's unbelievably popular," he continued. "I don't think many understand how popular and strong this genre is in terms of demographics in the U.S. There's a large population, in this country, of Hispanics, and this music is strong to the soul of their culture."
Large indeed. According to a U.S. Census Bureau population estimate, as of July 1, 2013 there are roughly 54 million Hispanics living in the United States, or about 17 percent of the population. To put that in perspective, African Americans make up about 13.1 percent, or 39 million people, according to the same report. And in the key demographic of millennials, by 2018 the minority population of those 18 and younger is expected to become a numerical majority within their age group, with Americans of all ages following suit in 2043. The number-one minority of those groups will be Hispanic. In California 30.6 percent of the population, or about 11.4 million people, identify as Hispanic. That's quite a market waiting for product.
"It is surprising how many regional or Mexican formatted radio stations are out there programming this music," Weathersby stated when reflecting on how Del plans on getting Caro, Coronel and their stable of other artists, fighters, TV personalities and other content to the masses. "Every market is seeing expansion in this format and genre, and it's performing very well." And he is encouraged that the market for the products is growing increasingly younger.
"There was never a young contingent to this music. It was usually the elders. But what we see is younger musicians and artists taking this and making it their own. So now you're seeing the younger artists bringing their sounds, their attitude, their vibe to this very traditional music. The demographic is getting younger and younger, along with the artists themselves. And it's a very bilingual crowd. They know the English pop songs, the Latin pop songs, but they're getting the regional Mexican and artists as well, and they're loving it. Even non-Spanish-speaking members of the demo are embracing this music, and that certainly helps growth."
Caro joined us at Chill at the Queen Mary, and he and Coronel began horsing about as two young men having the time of their lives are prone to do. And word got out not one but two stars were there, and suddenly a small line formed outside Chill (which was closed for two more hours) for photos with them both.
Caro could be the elder statesman of the two. Now at the ripe old age of 24, he formed his first band at 13. Born in Sinaloa, Mexico, in 1990, he grew up with regional Mexican music all around him. He took a break from music to attend college, where he received a degree in business administration. Then his cousin, Gerardo Ortiz, recorded a few songs Caro had written, and they became hits. Caro then wrote for Latin hit makers Julión Alvarez, Los Bohemios de Sinaloa, Los Nuevos Rebeldes, Banda MS, Raúl Hernández, and Los Buitres y Alfredito Olivas. His cousin Ortiz brought him to Del Records, and 2011 saw his first solo release. He has released a total of five albums now, each building on the critical and commercial success of the previous one.
"This music is part of my soul, my family, my heritage," he told me as he prepared to film with Telemundo as well. He won't be on skates, as he has a recent minor problem that he doesn't want to aggravate. "When it came time to record, I wanted to record what was special to me and to those around me. I'm sure I'll do all forms of music, but regional Mexican has so many great melodies, instrument possibilities. It's great music to sing."
And while he and Coronel enjoy making the music, Del is ready to bring it to the United States market in a big way.
"We have a strong social media team, with about 5,000 online social media promoters," Weathersby elaborated when asked how Del Records plans to expand Caro, Coronel and their other artists in 2015. "Making our music available, communicating to the people, they'll be crossover with different markets and demos as it spreads. We are exploring organic opportunities for our artists to do English-speaking records and perhaps duets, but we're not going to make any of them do it. If it fits, then we'll do it. Regional Mexican is going to continue to explode globally with technology. There's many Spanish-speaking nations out there, and they have a hunger for this music. Yes, we want sales in the United States, but there are many places out there where our music is doing well and will only continue to do so."
The only 2014 album by an American artist to go platinum was Taylor Swift's 1989. The only other platinum-selling album in 2014 was In the Lonely Hour by Sam Smith, who holds the honor of being the only artist to have a platinum album in the United States and the UK. If the fervor around these two artists is any indication, that's about to change in 2015. And as their stars grow in regional Mexican music, it is inevitable that they'll cross over to English-language music or simply have hits in their native language. (Songs in other languages at times do hit in the United States.)
So get with it. Hop on to your favorite music service and look up Regulo Caro and Luis Coronel. You don't have to understand it to enjoy it, and you will. And when Coronel, Caro or both names are as popular as Iglesias (Enrique or Julio), remember I told you first, and millions of people around you, in their earbuds, home or car stereos, already know and are making superstars out of two names that may be unfamiliar to you, for now.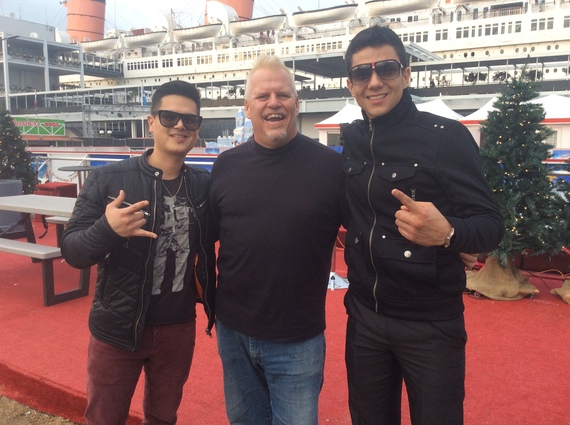 Regulo Caro (left), Charles Karel Bouley, and Luis Coronel at the Queen Mary in Long Beach (photo by Justino Aguila)
To hear this or other interviews, get the free Karel Cast app, subscribe in iTunes to the podcast, or simply go to the most incredible website on all the planet, save this one, karel.media.
Popular in the Community