This weekend's MTV Movie Awards brought out the annual gifting suites that pop up locally around Los Angeles to honor those celebs who are nominated, presenting or simply attending to have a good time. Visitors picked up everything from high-end beauty products, jewelry, iPhone accessories, clothing, gift certificates for trips and more. Below is a sampling:
GBK's 2015 MTV MOVIE AWARDS GIFT LOUNGE at the Roosevelt Hotel in Hollywood benefiting Alfalit International and Lambda Legal.
Presenting Sponsor LifeCell gifted from their cruelty-free, anti-aging skincare line. Guests also received cool and stylish empowerment t-shirts and hoodies from Bible Los Angeles Clothing Co. whose mandate is to spread the message of good news.
There was good news for kids since Hasbro was gifting from their Nerf Rebelle toys such as the Strongheart Bow and Secret Shot - a purse that transforms in to a blaster gun in one click....Party Princess Productions was giving out gift certificates for a two-hour character themed party that includes a visit from a movie character of choice, face-painting, dress-up, photography and more.
Trips being gifted were a three night stay Hotel Ripa in Rome, Italy and CeBlue Villas in Anguilla.... Locally, Boulevard Hospitality Group gave out gift cards for all of their properties in Los Angeles such as Hemingways, Superclub, Golden Box and more.
The Artisan Group gifted their collection of handcrafted jewelry, beauty products, hair accessories, stationery, cosmetics and more from their collective group of artisans.
Other goodies included V-Moda headphones, stone jewelry from Dara Ettinger, lash lengthening wands by Grande Naturals and fitness training sessions with Lalo Fuentes.
Visitors could sample low-calorie cocktails Bare Organic Mixers or sample wine from Nuvino's single serve pouches from four different regions around the world. Meanwhile Naughty Girls Donut Shop had some unique flavors of coffee and donuts.
SECRET ROOM EVENTS MTV MOVIE AWARDS STYLE LOUNGE at the SLS Hotel benefiting Rocket 4 Reef.
Spec handed out hard cased for the iPhone 6 and the iPad mini. Wiley X Eyewear - as seen in the feature film American Sniper - let celebs choose from a range of its men's and women's line.
This suite featured numerous skincare products including EMK Beverly Hills with its botanical placenta ingredients and Japanese skincare line Karen's. Joey New York debuted it's This N That multi-use liquid beauty fix that targets 15 different problems on the body including shrinking pores, diminishing redness, exfoliating dry patches and more.
Dr. Jason Emer, MD performed on-site non-invasive skin tightening treatments and gave out gift certificates for more at his Beverly Hills-based office.
New York matchmaker Matt Titus was gifting his newly launched three-piece fragrance collection, Y.O.U. with each letter representing a different title and scent: Yourself, Outrageous and Unique.
For kids, there were "sleepy lights" by Aloka in upright designs such as butterflies, horses, rockets, dragons and more. Each stand in an LED base and come with a remote control with setting that can cycle through different colors turn off at designated times.
Author Barb Lawson-Miller and her Barb-A-Mel Books gave out board books for the little wee ones where parents can insert their own pictures to tell their own stories with titles like "I Love Mommy Because.....'
Celebs left with giftbags that with items such as candles by Volcano and Aromatique, a portable deep pressure massager by Thera Cane, ceramic flat irons by Ferrum and baby clothes by The Mini Classy.
DEBBIE DURKIN'S ROCKNROLLA ECOLUXE LOUNGE at the Avalon in Hollywood.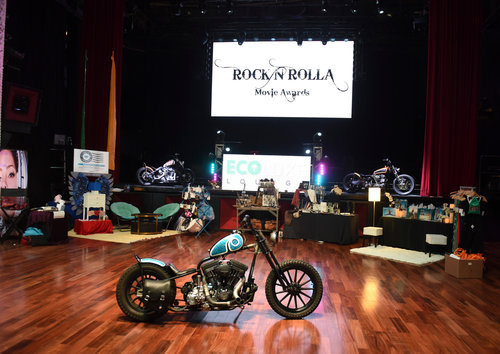 Guests picked up items like yoga jump suits from Shama Jade and jewelry from Glamarella Junk. They also received gift certificates for glamping vacations to Moab and Glacier National Forest from Under Canvas.
There was a pet lounge from Camp Run-A-Mutt and tattoos by Adam Daniel. Make-up artist Victoria Rowe was doing touch-ups while Stephanie Martinez was styling hair.
Visitors sampled alcohol infused sweets from Suger and Spyked and burgers from the Fresh & Meaty food truck.
Choices Recovery filmed celebrity interviews to raise awareness about addiction in their lounge which featured a "Sweet Choices Candy Bar" buffet of treats courtesy of Infiniti Sweets.