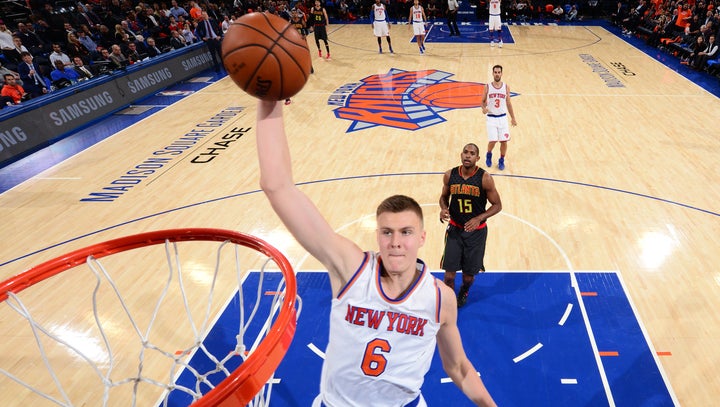 The 2015-16 NBA season is only five games old, so it's high time to get knee deep in overreactions to small sample sizes. Over the course of a season, studying wins and losses, analytics and endless hours of game film will become the "best" way to judge a player, but when the sample size is so small, a player's best highlight holds greater weight. Or, at least, we like to pretend it does. So, to take advantage of this period of statistical insignificance, let's determine who's already leading the NBA's Most Vined/GIF'd Rookie of the Year race. 
9. D'Angelo Russell, Los Angeles Lakers point guard
Is this a pre-season clip of a pass against a non-NBA team? Yes. But look, the Lakers have only played four games. The season has just started. D'Angelo Russell is a point guard, which probably means he takes more time to develop (I'm uninterested in doing the analysis).

The Lakers are the Kobe show, so maybe Russell is just taking a backseat for a year. He'll probably be faster in a year or two. Stronger, too. Confidence takes time. Right? RIGHT!?!? Those are all the excuses I can make as of now for what looks to be like a really bad pick. Please D'Angelo, do something cool. And fast.

Signed, Bitter Lakers Fan
8. Mario Hezonja, Orlando Magic shooting guard
It didn't work this time, and Hezonja wound up with the Magic, where he's logged anywhere between 5 to 25 minutes during the team's first five games. Inconsistent usage, yes, but against the Washington Wizards in his NBA debut, Hezonja nailed this clutch fourth quarter basket. As seen above, Hezonja cold-bloodedly hit a catch-and-shoot three-pointer to put the Magic up 85-82 with just over two minutes left in the game. And thus, the Mini Mamba was born.
7. Jerian Grant, New York Knicks point guard
In the third quarter against the San Antonio Spurs on Monday night, Jerian Grant took the ball for a baseline walkabout past one of the best defenses in basketball, kept his dribble and went right at All-Star power forward LaMarcus Aldridge. 
The 2014 17-win Knicks didn't have a single perimeter player who could do this last year. Meaning: Actually attack the basket and score amongst the league's bigs. Grant, who Phil Jackson drafted with the belief that he's "NBA ready," certainly seems poised and aggressive early on.
He's already the NBA's top rookie cheerleader too. Four full years of college ball at Notre Dame will give you that team spirit. HOLD ME BACK!
6. Emmanuel Mudiay, Denver Nuggets point guard

Not a "true point guard"? No problem. Emmanuel Mudiay is cool with displaying creative scoop layups, like this one against the Houston Rockets in his NBA debut, and plenty of assist-dishing drives. 
Mudiay enters the NBA pissed as hell, which can only serve him well -- especially against the Lakers, the point guard-needy team that passed on Mudiay in last June's NBA Draft to select Russell. Lakers head coach Byron Scott said on Monday that he didn't see Mudiay as a natural point guard. Mudiay followed Scott's comments with a 12 point, 10 assist game against the Lakers on Tuesday night. His rebuttal was perfect:
5. Stanley Johnson, Detroit Pistons small forward
4. Jahlil Okafor, Philadelphia 76ers center
Watching a 6-foot-11-inch, 275 pound human move like this is what makes the NBA so damn unique. Here, Jahlil Okafor dribbled his weaker left hand and ran right into Cleveland Cavaliers center Timofey Mozgov's massive chest for the basket and the foul. That's one way to answer pre-draft criticisms about favoring your dominant hand. 
3. Justise Winslow, Miami Heat small forward
HELLO JUSTISE WINSLOW, NICE TO MEET YOU.
One question though: WHAT???!!!!
2. Karl-Anthony Towns, Minnesota Timberwolves power forward
This is one of the best two-way plays you'll see all season. Karl-Anthony Towns, all 6-feet-11-inches of him, has no business spotting up above the break and draining a damn three-pointer. But, in deference to every power forward who's made his living in the paint, Towns did just that late in the fourth quarter against the Portland Trailblazers on Monday night, and then blocked All-Star point guard Damian Lillard on the defensive end.
Towns' ceiling is somewhere between mid-2000s Kevin Garnett and wherever basketball superhuman Anthony Davis ends up, meaning: OHMYGOD, is he going to be awesome. 
1. Kristaps Porzingis, New York Knicks power forward 

Kristaps Porzingis is evidently not Shawn Bradley, but props to Jackson, the game's "zen master," for getting some clutch confrontational leadership results out of his first round draft pick. 
Editor's note: Justin Block is a Knicks fan, and what is this biased garbage.
PHOTO GALLERY
Monster Dunks From The 2015-2016 NBA Season
REAL LIFE. REAL NEWS. REAL VOICES.
Help us tell more of the stories that matter from voices that too often remain unheard.