2014 was a huge year for plant-based nutrition. From top tier celebrities, critical nutrition studies, amazing books, cookbooks, documentaries, and a dizzying selection of new vegan products on the market, veganism is quickly moving from the margins to mainstream awareness. What's in store for 2015? We are lucky to work with a number of nutritionists, doctors, and thought leaders in the vegan community. We asked them for their plant-based predictions for 2015 with regard to the science, awareness, and popularity of the vegan diet. Here's what they had to say.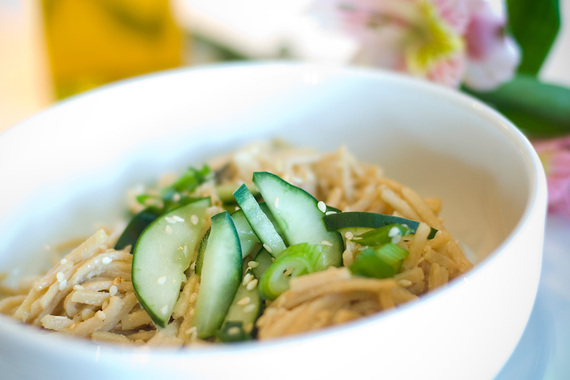 Over the past year, we published three meta-analyses showing that plant-based diets improve body weight, blood pressure, and blood sugar, adding to the huge body of evidence showing the power of plant-based nutrition. Although there is always a lot of "noise" about low-carb diets, etc., the scientific basis for setting aside animal products is now very, very strong, and I expect continued growth in acceptance by the scientific community, doctors in practice, and the public. Meanwhile, the popularity of plant-based diets has been growing exponentially for years, and now we are at a cultural turning point and a scientific turning point. Restaurants are steadily increasing vegan and vegetarian menu options -- Chipotle added the wildly successful tofu Sofrita. Even Dunkin' Donuts now carries almond milk. Celebrity chef Jose Andres declared veggies are the new bacon. Popular celebrities -- like Ellen DeGeneres, Joaquin Phoenix, and Peter Dinklage -- are all very vocal about their healthful diets. -- Dr. Neal Barnard
I believe that the movie documentary PlantPure Nation has the capacity to generate discussions that will increase "awareness" of this message like no other event. This film addresses not only relevant questions about why the whole food plant-based diet message has not been heard by most people but also challenges the way "authority" (institutions, companies, regulators, politicians) has controlled what the public gets to know on many topics and in many unseen ways. I believe that it speaks to the widespread public disconnect of government activities. -- T. Colin Campbell, Center for Nutrition Studies
The growth of the plant-based diet and lifestyle over the past few years cannot be ignored. With countless best-selling books, award-winning documentaries, more vegan festivals and events than we have seen in history, and a growing number of celebrities, professional athletes, and influential people adopting and endorsing a vegan lifestyle, there is plenty of optimism for a compassionate future. There were some bumps along the way with the increasing popularity of the Paleo diet, for example, but I remain positive and optimistic that the health of our planet and the inhabitants that call it home, will lean toward the direction of love, peace and compassion.

My prediction is that 2015 will be another breakout year for the vegan lifestyle. I have already been asked to write the foreword for multiple vegan books, have been featured in a new documentary that aims for worldwide exposure, and I am booking my own tour events around the United States, and all of those opportunities and invitations happened over just the past two weeks. This gives me an impression that the awareness of the vegan lifestyle is at an all-time high. My other prediction is that along with 2015 being a breakout year for successful vegan projects and endeavors, we will see more scientists, world experts, and influential public figures enthusiastically endorse a plant-based diet and a compassionate vegan lifestyle. I am excited to see what this new year brings. -- Robert Cheeke, Vegan Bodybuilding
With all the mixed messages and competing claims about healthy diets, it is increasingly challenging to break through the noise. However, modern science continues to affirm that an organic, whole food, plant-based diet provides the most effective pathway towards healing and wholeness through nutrition. I predict we will see consumer demand for organic vegetarian products continue to grow and the marketplace responding to this demand. This said, it is incumbent upon those of us who work in the field of natural nutrition and wellness to continue to spread the word in every way we can. -- Bhava Ram
I think that more and more plant eaters will be sprouting up all over! Pun intended. Thanks to movies like Forks Over Knives and Cowspiracy, people are waking up to the truth. I just got my own TV show, Healthy Living with Chef AJ, and I hope to inspire a younger audience to take control of their health destiny. -- Chef AJ
I honestly see the science of veganism improving dramatically. Just recently there have been many reports of the advancement on certain plant-based food: I truly see this as the beginning of that movement. Awareness and popularity grew at the end of 2014, and I see even more people becoming aware as the year 2015 comes in. With more people becoming vegan, they are turning into prime examples of how the body can function with proper nutrition. Also, there are more people becoming aware of the treatment of the animals. That is something that a lot of people turned a blind eye to in the past but are starting to pay attention to more and more. -- John Lewis, BADASS Vegan
Welcome to the plant-based revolution. Over the last 12 months, major fast food restaurant chains including Subway, Chipotle Mexican Grill, and Johnny Rockets began serving vegan options. In December, Zagat named a vegan restaurant #1 in Philadelphia. All-vegan Native Foods has announced expansion plans for 200 stores across the United States. There is a growing number of meat reducers all over the world, and in 2015, the rise of the part-time and full-time vegan will come to prominence like never before. -- Nancy, Ordinary Vegan
I have my fingers crossed that all the scientists currently studying the body's microbiome will stop suggesting we take probiotics and start understanding that pickled vegetables, miso, and other naturally fermented foods do the trick much better than pills. -- Jessica Porter
With the latest trend of big tycoons investing in the technology and science of lab-grown meats and meat substitutes, 2015 could be a breakthrough year for plant-based alternatives and lab-grown options. While we all know that it will take a few years for those options to become widely available and lucrative, I expect to see some big developments on this front in 2015, leading us one step closer to a cruelty-free food production system. -- Sivan Pardo Renwick, Founder of The Vegan Woman
It seems to me that the "eat whole foods" movement is only picking up steam, and to me that's a great thing for our society, regardless of whether one's particular brand of whole foods is vegan or not. And I know that for a lot of people, eating real, whole food is the first step towards a more plant-based diet. -- Matt Frazier, No Meat Athlete
I think the public will continue to become more informed and choose more plant-based options, but I also think the establishment will continue pushing back. Health and wellness is threatening to those who make money from unhealthful, inhumane products. But I see that as an indication that we're winning. -- Colleen Patrick-Goudreau, The Joyful Vegan
As we choose to eat good quality natural foods, we have the ability to change unhappiness to happiness and sickness into health. This applies not only for ourselves individually but for our family, friends, and our global society. As more people become educated about the power of food, the change will be remarkable. As more research is undertaken this year, the health effects of diet on blood pressure, heart disease, and even cancer will clearly show how diet plays a significant role. If not now, then when: let's make 2015 the year to spread the word on the incredible importance on how the powerful connection between one's diet and one's health is just a few steps away... right in our own kitchen.
-- Sandy Pukel

Sandy Pukel is a nationally recognized educator and a highly respected nutritionist who has an international reputation as a leader in his field. He has been involved with the natural food movement for over forty years. He is the founder and creator of Holistic Holiday at Sea, an educational and gourmet vegan and natural food cruise. He also co-authored a vegan cookbook, Greens and Grains on the Deep Blue Sea which features recipes that can be enjoyed on his annual inspirational, educational and gourmet natural food cruise. In the years leading up to his natural food cruise. Sandy owned and operated the Oak Feed Store which became a Coconut Grove, Florida landmark and crossroads for those seeking lifestyle change. He is considered a guru to those whose lives and health he helped transform to a better state of wellness.
Related