In a knowledge sharing and hyper-connected economy, where on-demand services are fueling business growth and customer advocacy, companies must differentiate with faster, smarter, proactive and personalized service. Precision and velocity is what separates high-performing service organizations.
Salesforce.com recently published their annual survey of more than 1,900 global customer service leaders to better understand and highlight service trends in 2015. The research focused on three areas of interest:
The most common goals, obstacles, and success measures for today's service teams
What sets high-performing service organizations apart - high-performing service teams are those that most consistently keep up with customer's changing expectations.
The areas in which service is supercharging efforts to grow business in 2015 and beyond
Not surprisingly, the research found that customers today expect service on their own terms: whenever they need it and in whichever digital channel they inhabit. The challenge for service providers is to ensure delivery of consist customer experience, across all channels, at all times.
The research found four prominent findings:
Omni-channel customers drive a service sea change.
Agent empowerment is a mark of top teams.
Proactive service emerges, fueled by smart technology
The changing customer mindset triggers a surge in self-service.
For your consideration, here are 15 takeaways of the 2015 State of Service research report that you can use as guiding principles for how to design, develop and manage a high performing service strategy:
1. Defining success for today's service teams begins with three service priorities: 1. Always-on service (54%), 2. Personalized Service (53%), 3. Faster service (50%)
Always-on can be addressed with human capital, but personalized and fast service requires investment in lean processes, employee training, collaboration and knowledge management mobile technologies and a service culture of empowerment. Faster path to resolution also includes integration of CRM solution with other systems of record and engagement outside of the services organization - quality, engineering, supply chain management, sales operations, product marketing and service partners.
2. Top 3 service challenges
51% - customer having to re-explain the issue
46% - customer expanding moderate to high effort to resolve an issue
40% - customer failing to find answers on their own (self-service not available)
The challenge is to deliver faster and smart service with strong self-service options. Welcome to the on-demand economy, where access to answers through self-service and personalization is key to service differentiation. Prior knowledge of customer (contact history, org, purchase history, customer surveys, feature requests, business related service level agreements, etc.) is vitally important to minimize effort.
More importantly, the speed of knowledge transfer and in-service processing peer and inter-departmental collaboration - anywhere and everywhere - is the only viable path of minimizing the customer effort. Here's where the power of community comes into play. A vibrant, knowledgeable and engaged community is an excellent extension to high-performing service teams.
3. Top 3 service success metrics:
Average handle time (47%)
Number of cases handled (38%)
Customer satisfaction (32%)
Salesforce Research notes:
Efficiency is king. There is direct correlation between efficiency and your customer's perception of product and service quality. The balancing act here is to drive down costs but not at the expense of customer satisfaction and potential for advocacy.
In my experience, one of the most effective ways to improve service effectiveness and efficiency is the use CRM enabled balance performance scorecards to demonstrate relative performance of service agents. The key is to co-create the key performance indicators, determine a stretch goal, baseline current performance and then educate, empower and recognize above average performers, while coaching team members that are below the group average. The use of CRM integrated collaboration tools will also drive higher performance.
4. High performers lead the shift to services via mobile apps - the percentage of teams providing or planning to provide service via mobile apps is:
High performers (36% already provide, 24% plan to provide)
Moderate performers (17% already provide, 39% plan to provide)
Underperformers (7% already provide, 33% plan to provide)
Among service leaders, 60% are providing or plan to provide service support via mobile apps in the two years. Based on my experience of managing an award-winning global customer service organization, a mobile-first service delivery strategy is key to achieving stronger customer satisfaction and net promoter scores.

5. The customer service success triangle - mobile customer service, omni-channel interactions, and social sense and response.
Nearly 200 million people in the U.S. have mobile phones and for the first time, the number one use of web is social networking. Your customers are mobile and social and they expect your business to be the same. According to the OECD, in the U.S., 26% of time spent on smartphones is social networking.
High-performing service teams are at least four times more likely than underperformers to have outstanding or very good capabilities in mobile customer service, social sense and respond, and omni-channel interactions. Meeting customer needs within a particular channel helps create a more efficient service interaction. - Salesforce Research
6. Mobile and social top the list of growing service channels
Mobile apps - 38%
Mobile chat - 32%
Social networks (Twitter, FB, LinkedIn) - 24%
Customer portal - 19%
Desktop chat - 19%
Key takeaway:

High performing service teams believe landline phone inquiries to decrease by ~9% over the next 12-18 months

Over the next 12-18 months, inbound service requests will increase more than 20% across mobile apps, mobile chat, and social networks.
7. Service teams double usage of technology to manage mobile and social customer interactions - the spike will come from mobile apps, mobile chat, and social networks. The features needed to address contact volumes across digital channels include mobile video chat, offline mobile cases, and social media monitoring. I believe video streaming services like Meerkat and Periscope will be widely adopted, and overtime, similar video streaming and community integrated capabilities will become preferred contact methods into service organizations.
8. High performers fully empower service agents to ensure customer success - 65% of high-performing service teams say their agents are completely empowered to make customers happy. Compared with underperformers, winning teams are 3.4 times more likely to completely empower service agents.
If efficiency is kind, then agent empowerment is the only viable path to scale and speed. What is important here is to trust, but also validate. Service analytics and real-time agent performance dashboards can enable managers to fully empower front-line agents to delight customers, and at the same time, manage conformance of organizational compliance, governance and escalation procedures. Only data-driven service organizations are fully comfortable with large-scale employee empowerment.
What does data-driven mean? The value path looks like this: data -> insights -> rapid decisions and actions -> customer value -> rinse and repeat.
9. Tech adoption fuels top service teams - 33% of high-performing service teams qualify as heavy tech adopters (defined as: above 1 standard deviation from the average number of functionalities currently being used).
10. Wearable technology and embedded service will evolve the customer experience - service organizations are using wearable technology for the following purposes:
Customer service escalation and routing - 20%
Workplace security access - 19%
Loyalty / rewards programs - 19%
Integrated shopping experience - 19%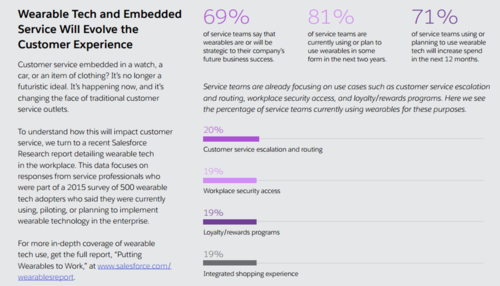 The face of traditional customer service outlets is changing and most service organizations fully understand the importance of wearable tech and changing customers purchasing and serviceability behaviors. Today, research firms are predicting that wearable tech can and will replace smartphones.
69% of service teams say that wearables are or will be strategic to their company's future
business success.
81% of service teams are currently using or plan to use wearables in some form in the next two years
71% of service teams using or planning to use wearable tech will increase spend in the next 12 months.
11. Top teams excel at predicting customers' service needs - High-performing service teams are capitalizing on the opportunities of predictive customer service. In fact, 55% of high performers say they can predict customer service needs more than 80% of the time -- three times more often than the rest.
Based on my experience as the chief customer officer and head of global services organization, high performing service delivery team must graduate from descriptive, to predictive, and ultimately prescriptive analytics frameworks. Today, high-performing organizations are using regression and weighted-sum algorithms to predict customer temperature using historical service and sales data sets.
After the temperature scores are defined, service organizations are then assigning different service level agreements to ensure fast service delivery to 'hot' temperature clients. Service teams are using analytics to predict the next best action based on contextual intelligence that can be fully optimized using an integrated sales and services CRM strategy.
12. Analytics improves service agent insights - "Compared to underperformers, the best service teams are three times more likely to be outstanding or very good at using analytics. They're also 3.9 times more likely to be outstanding or very good at customizing dashboards to track KPIs, aligning performance metrics across the organization from executives to frontline agents," Salesforce Research.
Here are the four key areas of analytics capabilities:
Customize dashboards using defined KPIs and share insights across the organization
Gather insights across the entire customer lifecycle
Use intelligence to predict customer needs and activity based on monitoring tools
Collect, analyze, and act on prospect/customer feedback via multichannel surveys and social listening platforms
In my experience, the entire customer lifecycle insights is absolutely key to manage interdepartmental dependencies and associated opportunities to accelerate collaboration and time to resolution improvements. High performing service organizations cultivate a culture of transparency and accountability with customizable dashboards.
13. High performers are using emerging tech to provide proactive customer service - High performers are 3.6 times more likely than underperformers to use smart technologies like predictive analytics in their service organization.
14. High performers are tapping into the power of community management and self-service portals - Today's customers want the ability to find answers on their own without reaching out to a contact center.
Top service teams are four times more likely than underperformers to maintain a self-service portal and nearly 11 times more likely to create and manage online communities.
• Self-service portals - % currently using
i. High performers - 42%
ii. Moderate performers - 30%
iii. Underperformers - 11%
• Community creation and management - % currently using
i. High performers - 39%
ii. Moderate performers - 24%
iii. Underperformers - 4%
What high-performing teams already know is that helping customers help themselves creates a two-fold benefit. For customers, they find answers quickly without exerting much effort. And for service agents, call volume drops, which frees up their time to focus on more complex cases."

"The use of self-service portals and community creation/management is expected to jump 89% and 115%, respectively, over the next 12-18 months.
15. Millennials prefer self-service and online support - The study found that 39% of millennials check a company's FAQ first when they have a question, showing a clear preference for finding answers on their own. Here's the breakdown:
It is very clear based on this global research of nearly 2,000 service professionals that for businesses to succeed, they need to deliver faster, smarter, and more personalized service at all times, across the mobile customer's channel of choice, with a high degree of precision based on contextual intelligence derived from analytics. In addition, high performing service must embrace emerging technologies - wearable and Internet of Things - as part of their fully integrated CRM strategy across sales, marketing, service and communities in order to always meet and mostly exceed the connected and empowered customer.
Related
Popular in the Community