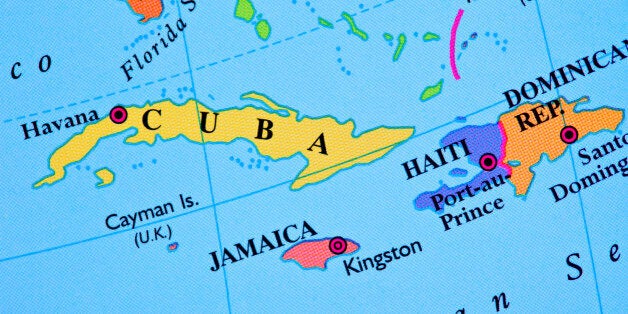 Cuba and Haiti -- two Caribbean island neighbors separated by the Windward Passage -- are worlds apart. Cuba is an example of failed communism; Haiti of failed capitalism. If either country is to progress, it will have to significantly change its political and economic system.
Both islands have impressive histories: Haiti is the world's only example of a successful slave revolt and Cuba was Spain's Pearl of the Caribbean. Both countries face momentous challenges in 2015. The role of our government and the American people is to help empower Haitians and Cubans so that they can make wise choices that reflect the hopes and aspirations of the majority of their countrymen and women.
However, a word of warning: in both countries, the process of change will require time, attention and commitment. There will be successes and failures. But we must continue to support the measures that will grow democracy, assure stability, and result in economic growth.
In Haiti, if President Martelly and his new Prime Minister can organize peaceful Presidential and local elections before year's end, Haiti will have taken an enormous step forward in consolidating democracy and stability.
In Cuba, with President Obama's decision to normalize relations and significantly ease the unilateral U.S. embargo, the people have been given a chance to transform their country.
There are many facets of the new policy, but none more important than Obama's decision to remove the U.S. embargo on communications. We can anticipate that the new regulations will permit U.S. media networks to freely broadcast to Cuba. In addition, Cubans will be able to buy -- or be given -- all manner of communications equipment, including radios, cell phones, television and computers.
No longer will the embargo on communications help Cuban state security limit and control the type of information Cubans received. Both the Obama and Bush administrations recognized that information was key to change in Cuba. They sent Alan Gross -- recently freed from a Cuban prison -- and others on clandestine visits to distribute and facilitate access to communications networks outside Cuba.
The Administrations' efforts ultimately failed because they were too limited and too dangerous. If, over the next year, the Cuban Government allows even a partial opening in its own embargo on information, access to the Internet -- now one of the lowest in the world -- will double or triple within a year. As a result, Cubans will be better informed and more capable of determining what is in their interests. They will also be able to share their ideas freely and gain support for their activities.
Changes in embargo regulation will make it easier for Americans to provide business training and resources to foster the growth of the private sector. As Cubans create more successful small businesses and earn their own money, they will become far less reliant on the Cuban state's.
Perhaps most importantly, the Cuban government no longer has an enemy that it can use as an excuse for curtailing freedom of speech and assembly, limiting democratic change, and State control over the economy. Raul Castro has taken a big risk. He is betting that he can manage the reform process without losing power, even when he has lost Cuba's perpetual enemy.
In the past, Fidel Castro always managed to back away from any attempt to remove his No. One enemy. Fidel had other priorities. He preferred to be a major player on the world stage rather than deal with the administrations of Presidents Carter and Ford. And when President Clinton began to modify the embargo, Castro stopped the process by demanding the return of a child, Elian Gonzalez, found floating on a raft in the Florida Straits.
Although Raul has taken measures that Fidel would not have agreed with, his fundamental objective -- like Fidel's -- will be to assure the continuance in power of the military and party hierarchy.Therefore we should not be surprised that Raul's government recently detained 12 dissidents, including Reinaldo Escobar, an independent journalist and spouse of the well-known blogger Yoani Sanchez, or that it shut down Tania Bruguera's call to Cubans to express their opinions publicly and by microphone in Revolution Square, where over the years the Castros have addressed the Cuban people.
These repressive actions should not be used as reasons to roll back or stop the process normalizing relations. To do so might well be exactly what the Castro government wants. Rather, we should applaud the fact that dissidents are testing the degree to which they can press for reform. Some critics of the new policy, like Marc Thiessen in a Washington Post editorial, claim that Cuba's dissident community opposes President Obama's decision to normalize relations. Their claim is harmful to the unity and credibility of the dissident movement and untrue. The dissidents have different views on the embargo -- some oppose its removal, some favor its removal, some would only agree to remove it if the Castro government makes concessions.
I was in charge of the U.S. Interests Section in 2002 when Osvaldo Paya successfully collected 30,000 signatures calling for a referendum on the Cuban Constitution. When I asked Paya what his position was on the embargo, he told me that he would not take a stand because it was U.S. -- not Cuban -- policy.
In my view, using dissidents to support or oppose U.S. policy is a disservice to them because doing so creates divisions and disharmony. Worse, it makes the dissident community appear to be managed by interests in the United States.
Undoubtedly, dissidents were upset because the Administration did not consult them prior to the announcement. But to my knowledge, dissidents are about evenly split between those who support the removal of the embargo and those who do not. In December in Mexico City, the Konrad Adenauer foundation hosted the largest conference of dissidents ever held outside Cuba. In my remarks, I advocated the removal of the embargo and pressed the dissidents to speak on behalf of the Cuban people.
Two well-known dissidents stood up and adamantly opposed my position. However, in side conversations, other dissidents, including Reinaldo Escobar -- now jailed -- suggested that a credible institution in the United States should host a debate by the dissidents on the embargo and U.S. policy. In this way, the dissidents could speak for themselves.
To the Hemisphere and the world, United States policy was the principal barrier to democracy in Cuba. Now that Cuba's enemy has vanished, it is up to the Cuban civil society -- dissidents, artists, and the religious communities -- to seize the opportunity to peacefully transform the island.
This post is part of a Huffington Post blog series called "90 Miles: Rethinking the Future of U.S.-Cuba Relations." The series puts the spotlight on the emerging relations between two long-standing Western Hemisphere foes and will feature pre-eminent thought leaders from the public and private sectors, academia, the NGO community, and prominent observers from both countries. Read all the other posts in the series here.
If you'd like to contribute your own blog on this topic, send a 500-850-word post to impactblogs@huffingtonpost.com (subject line: "90 Miles").
Popular in the Community