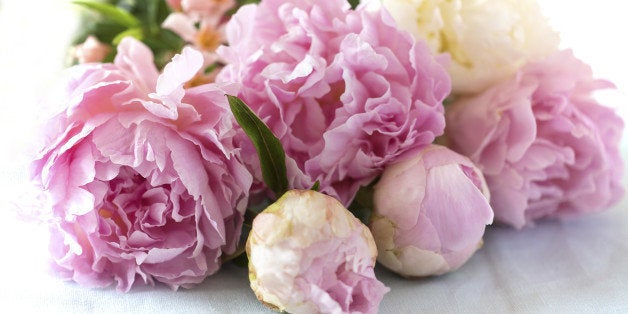 In honor of 2015, here are 15 wedding trends that you will be seeing throughout the year. You may recognize some of these trends from last year, and even years past. While some of our picks are new on the scene -- we certainly hope they'll stick around.
Whatever your budget or style is, we're confident there is a trend on the list that will work for your Big Day!
1. Colors: 2014 brought us a lot of pinks, whites and creams, and 2015 is going to bring in those same colors but muted way down! That mono-chromatic look is going to be huge from winter weddings to kick off the year and straight through Fall of 2015. We will be seeing less pops of the bright pinks, and colors that are very close together. The bold colors that we haven't really seen since 2013 when emerald was Pantone's color of the year, will start making a comeback in late 2015, early 2016. By that time, we think couples are going to be ready to move past the soft colors and let their colors pack a huge punch.
2. Flowers: Peonies, hydrangea, spray roses, sweet peas and garden roses are going to be popular early in the year and during the spring. We will see a lot of these flowers in whites, and the brightest color will be a pale pink. While 2014 put these flowers in clear vases, 2015 will bring in statement pieces in gold, silver and especially copper. Since the flowers are going to be so pale, the best way to make them stand out will be to place them in containers that are bold. Gold and silver will still be staples, but we will be seeing the use of copper and mercury glass more and more. We will see less of the bold wildflower variety in the summer and fall, and more classic colors. Baby breath is going to be very popular....again.
3. Ombre. We will also continue to see the trend of ombre bridesmaid dresses, except the colors will be very close together. Pale bridesmaid dresses were paired with bright pops of flowers in 2014, but 2015 will bring pale flowers and heavy greens like dusty miller.
4. Copper Madness. Copper is going to make a surprising appearance as well as couples try and find a way to make pale wedding still "pop". Copper was very popular in the holiday decor, and some rental companies are even offering copper chairs for guests. This is a trend we have not seen in a long time and it works with every style of wedding from casual barn to upscale loft.
5. Glitter. The shine and sparkle factor is also going to be way up in 2015 because there will be no competition in the color arena. For the brides that want their bridesmaids to carry those pale blooms, we will see sparkly gowns and some will be in head to toe glitter. Since not everyone looks amazing in sequin everything, brides will be able to put their maids into chiffon with touches of glitter anywhere
from the shoes, to a belt to yes, even headpieces.
6. Wedding Gowns: Off the shoulder gowns. The most recent bridal fashion week showcased dozens of off the shoulder gowns, and now that they are in stores, fashion forward brides are going to scoop them up. This has not been a popular look for quite awhile now, but the way it was presented during fashion week was very classic and clean, sometimes with a whimsical look. With more and brides stepping away from traditional weddings (i.e. bye bye churches) covering your shoulders at the ceremony is not a concern for many anymore, so this look is going to be embraced.
7. No ceremony. Speaking of non-traditional. We are getting many inquiries for "just a party". People are waiting longer to get married, putting their careers first and their love lives on hold. When "the one" is found, typically couples will live together first before the big day, and even more aren't interested in a formal ceremony. Sometimes couples want to just run down to city hall and make it
official. They then want to plan a huge party where people can show up, dance, drink and not sit through a formal ceremony.
8. Cocktail Receptions. Everyone's favorite part of the wedding is the cocktail hour. The best food, lots of everything, and a chance to mix and mingle sans toasts and formal dances. Many couples don't want a formal sit down dinner for fear of the party coming to a halt. Instead, couples are now offering a cocktail reception where food is available all night and people can eat when they want instead of being told when to eat.
9. Catering: Couples are all about the comfort food. For the couples looking to serve a buffet or a sit down dinner, many are looking to bring in outside caterers to create a rustic menu. With rustic still being a huge trend, caterers are providing options to work well with the decor. This includes comfort food with a twist like mac and cheese with different types of cheeses and even soups with a hearty tomato base. Since many venues already offer in house catering, couples are taking more time to find their venues and wanting to have a tasting before putting down a deposit. If they are going for the more casual "non-banquet hall" feeling, they might luck out and be able to visit the restaurant ahead of their booking to try out the food.
10. Rustic Chic. Mason jars, burlap and lace are all still trendy and probably will be through 2016. But as this trend overwhelms the wedding population, couples are trying to find a way to make it unique. Instead of wildflowers and wooden signs, couples are trading them in for pink colored containers and big fluffy peonies. The burlap is being replaced by sparkly linens, and the bistro lights are coming down in favor of chandeliers. This trend was already expensive, but the price tag is going to be higher. Rentals will almost always need to be brought in to these venues to make them look "less rustic".
11. Loft spaces, restaurants and galleries. Even though couples are looking to get out of the traditional banquet hall spaces, not everyone loves a barn. Couples are turning to museums, restaurants and loft spaces for their event. This gives them the option to still create the wedding they want (with whatever caterer they want, or one that can work with them) but not be stuck on a farm in the middle of nowhere. Loft spaces are plentiful in New Jersey and especially in Brooklyn. They come with a hefty price tag and a lot of work (a planner is a must here) but for the couple that is anti-banquet hall and anti-farm they are a popular and wonderful alternative.
12. Food trucks. Food have been very traditional for the past several decades: sit down or buffet. There is an overhaul being done as if everyone just noticed "wow, we have changed everything except for what we eat" at weddings. Food trucks are becoming a huge trend and it's something that couples are just learning about, so it's going to be a big deal in 2015 and beyond. Food trucks aren't just limited to fried goodness, they include cupcake trucks for your guests to stop by as they leave (no more favors!!), mini-everythings from cheesesteaks to sliders, tacos, falafel and more. There is no "wrong" here and couples are even using these instead of a formal dinner. Just make sure you have enough so that a line doesn't build! For the couple that wants the "after party" without a separate room, separate DJ, etc. a food truck is a great way to send guests home.
13. Rose gold. This is a trend we see coming in hard for 2015 and then disappearing so quickly that you will forget it was so trendy. Rose gold is one of the reasons we're not fans of making your plans around things that are trendy. Rose gold is beautiful and you can incorporate it into your engagement ring, decor and total design. But we caution our clients to only use this color if you truly are in love with it. You always want to look back at your pictures and see that your wedding was classic and not trendy. If you like rose gold, we recommend small touches such as the containers that your flowers will be held in, or the necklace that you wear. Remember, that engagement ring is for life!
14. Wedding Gown Accoutrements: The detachable train. As informal as many weddings are becoming, many of our brides still want the grand sweeping train. The problem with a long train is that it will need to be bustled, and many brides want to dance the night away in a gown that doesn't weigh 100 pounds. A detachable train was seen all over the runway in the most recent bridal fashion week and it's a great option. Women will see it like clipable hair extensions: no commitment, and you can take it off when you really want to let loose. It's also like having two separate dresses because once you take the train off (as opposed to bustling it), it's completely different look. Added bonus? Bustling isn't always 1-2-3.
15. Entrances. It used to be that at the beginning of the reception, the newly married couple, their wedding party and parents would be introduced by the emcee before going into the first dance of the evening. Now, couples are opting to either only introduce themselves or going all out with a major entrance and choreographed dance. We are seeing couples work with choreographers to surprise their guests right at the start of their reception. While this was always seen at Sweet 16s and Mitzvahs, brides and grooms are bringing this trend to their own big day. Don't be surprised if at the next wedding you attend, a full out dance starts as the entire party is introduced.