Before there was Christian Grey and before J. Lo got it on with the hunky boy next door, there was Marty of the 1955 movie of the same name.
By his own account, Marty is "fat and ugly, fat and ugly." To complete the picture, he's a hesitant never-been-married gap-toothed 34-year-old Bronx butcher who still lives with his mother.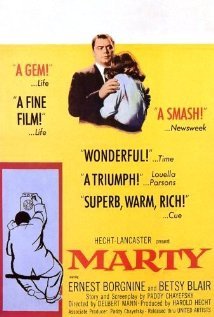 Clearly, he's not who E. L. James would describe as "the epitome of male beauty" - fully-credentialed (facially and anatomically) to take a young woman (according to John Oliver, crediting Wikipedia) "on a journey from frumpy nerd to fully-realized sexual being."
Furthermore, Marty is light years from being obsessed with erotica in the stalker-thriller mode. Today, his awkwardness, decency, and reverences might have him tabbed as a prude; certainly socially inept. In the 60 years since the film's release, have big-box-office movie-makers increasingly shed charm along with underwear; and for particular movie-goers, is lurid the lure?

Outtakes from Inmates
In a community-college literature-and-film course I taught in a men's prison in several Spring semesters, I showed Marty as a Valentine's selection. The inmate-students (a number of whom were serving time for aggravated assault and manslaughter) had considerable experience with drabness, boredom, and a kind of loneliness that comes from being incarcerated amid hundreds.
Whereas many 18- and19-year-olds on the outside reacted to the movie derisively, with mockery, most of the inmates (ranging in age from late-twenties to mid-fifties) were gently amused and, some, even touched.

Could several shades of plain be a new black?
One inmate appreciated Marty's "high morals" for not jettisoning the plain-Jane who had already been abandoned by a blind date. Good-hearted Marty and the plain-Jane are veterans of rejection. Their heartache and companionable sorrowfulness make for a bond.
Marty resists the entreaties to get rid of her in exchange for what a lewd buddy assures him, in a low conspiratorial tone, is "a sure thing" ("a good deal here, Maahty; money in the bank").
The inmate who appreciated Marty's "high morals" wrote approvingly of Marty's "childlike" qualities. The inmate thought his nephews might do well to adopt Marty's mores in their social forays.
Several inmates noted that the Saturday-night Bronx dance-hall femmes were referred to as "squirrels" and "tomatoes" - and some as "dogs." The vast majority of the dance-hall males were "stag." Un-antlered, these bucks critically eye the herds of does, hoping "to get something" for the evening. Yet there is nothing provocative in their attire (bucks in jacket-and-tie; does in neck-to-ankle party dresses), nor in their come-ons or dance moves.
Most of the prison inmates commented sensitively regarding Marty's awkwardness, lack of self-confidence and lack of self-esteem. Repeatedly, Marty has been told that he should feel ashamed for not being married.
Perceptively, a number of the inmates wondered if rejection and disappointment worked on him to the point where there was little self-regard to be salvaged. Inmates know from shame.
Discussions turned to what it means to be a family man - for those removed and physically distanced from family. I think screenwriter Paddy Chayefsky (whose initial script was performed as a TV teleplay) would have been delighted with the inmates' discourse.

In a remake, would Marty be on the make, via the Internet?
If he were alive today, I wonder if Paddy Chayefsky (who won screenplay Oscars for Network, The Hospital, and Marty) would have Marty being coaxed and prodded into joining an Internet dating service. Here's what Marty's 2015 profile might reveal:
Relationship Status: bachelor
Ethnicity: Italian
Want Kids: Sure, I'm Catholic.
Weight: a few extra pounds (but prime cut)
Body Type: spherical, somewhat oblong
Favorite Books: pulp fiction
Favorite Writer: Mickey Spillane
Favorite Character: Mike Hammer
Occupation: Cuisine Provisioner and Food-
Market Aggregator
Ahh, but would Paddy Chayefsky still have Marty smoking cigarettes? Maybe vaping? Would Marty still be so considerate and solicitous of his mother and his grouchy no-pleasing-her aunt? Would he still be vulnerable to put-down judgments from his fellow stags regarding the girl he likes ("scrawny" - "a real nuthin").
How would Marty describe his perfect first date and his ideal match? Would he be on Facebook and Twitter?
The Marty of 1955 was not given to long walks on sun-kissed beaches followed by moonlight serenades. He wasn't the kind to go to bungee-jumping in a remote rain forest; snorkeling in shark-infested waters; long-distance cycling in the Serengeti. Hard to imagine him at an opera, a ballet, or a six-hour performance-art "show" in a hip "Beat" venue. But maybe, in a remake.
The film, which is plain spoken about the hurt feelings of the plain-spoken, warmed hearts in 1955 and won the best picture Oscar.

In an imagined 2015 movie about an Internet dating venture, would Marty be unguarded about his desires and reluctances? his loneliness? Or, would he be goaded to pose as a "player," with "an elegant profession," and warm to the ruse, in a hot-tub time-machine sequel?
Is there someone out there in screenplayland who would take on an intelligent, even reverential, update? If so, you got my 75 cents. Oh, wait, make that $12.50.
Calling all HuffPost superfans!
Sign up for membership to become a founding member and help shape HuffPost's next chapter