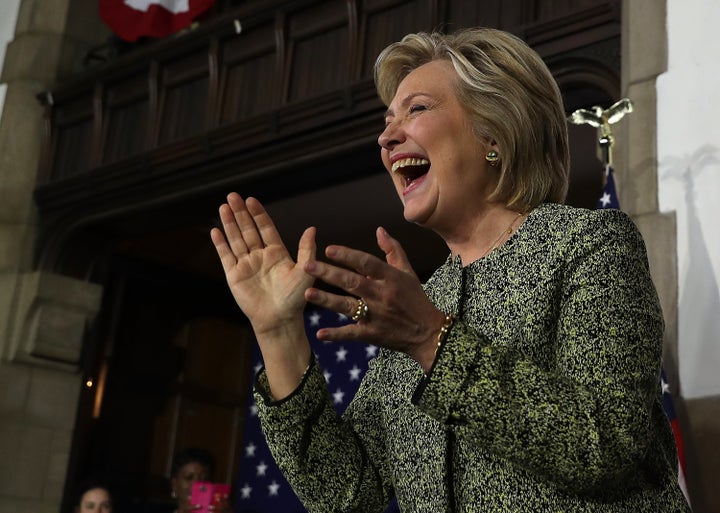 The disparity in fundraising has allowed Clinton to create a massive television advertising gap between herself and Trump. Her campaign, in conjunction with the Democratic Party, has hired a massive staff spread across the various swing states. The same cannot be said for Trump's campaign nor the Republican National Committee, which has suffered from its odd relationship with its own nominee.
Overall, Clinton, the Democratic National Committee and her main super PAC, Priorities USA Action, raised more than $700 million through the end of August. This total will be pushed higher when her two joint fundraising committees disclose what they have raised and not transferred to other committees in the coming weeks. For his entire campaign, Trump, along with the RNC and the three main super PACs supporting his bid, has raised over $400 million. Like Clinton, his totals will increase when calculating the spending of his joint fundraising committees.
Democrats also held an advantage in funding for the state parties in the 10 most important swing states. Each of these 10 Democratic state parties raised more money than their Republican counterpart in August and all but Nevada finished with more cash on hand at the end of the month. The Democratic Party directs money to the state parties to pay for their ground game ― an advantage they had in both 2008 and 2012.
Republicans hold a monetary advantage only with their national party committee at the presidential level. The RNC has raised $231 million through August, compared to the DNC's $181 million. But both totals are down about $50 million from where they were at this time in 2012.
The DNC has, however, raised more than the RNC in July and August. That is quite different than in 2012, when the RNC fundraising could come close to doubling the DNC's take in the summer months leading up to the election. In August, the DNC raised $29 million and the RNC pulled in $23 million.
Clinton benefits from a huge super PAC money advantage. Super PACs are supposedly independent political committees that can raise unlimited contributions from nearly any source. Priorities USA Action, which backed President Barack Obama in 2012, raised $29 million in August. The group has raised $132 million overall for the entire election cycle putting it on pace to be the most well funded single candidate super PAC in their short history.
Priorities USA Action is heavily funded by wealthy donors making seven-figure contributions. Media mogul Fred Eychaner and Slim Fast founder S. Daniel Abraham both separately gave $3 million to the group in August. Hedge fund billionaires George Soros and S. Donald Sussman gave $2.5 million and $2 million, respectively. Henry Laufer, another wealthy hedge fund investor, and his wife, Dr. Marsha Laufer, combined to give $2 million. Another $2 million contribution came from the Emerson Collective, a limited liability company operating as the philanthropic investment vehicle of Laurene Powell Jobs, the billionaire widow of Apple founder Steve Jobs.
Two labor unions, the Service Employees International Union and the National Air Traffic Controllers Association, and one super PAC that labor unions fund, Working for Working Americans, gave $1 million each. The final seven-figure donation came in the form of a $1 million check from Elizabeth Simons, the daughter of hedge fund billionaire James Simons, who is also a donor to the super PAC.
Rebuilding America Now, Trump's main super PAC, will not report its latest fundraising for another few weeks, but two other pro-Trump super PACs did disclose on Tuesday.
Great America PAC, a super PAC that longtime Republican strategist Ed Rollins runs, raised $3.6 million mostly from small donors.
Another pro-Trump super PAC, Make America Number 1, which hedge fund billionaire Robert Mercer founded, raised just over $1 million in August. Cherna Moskowitz, the widow of the bingo operator Irving Moskowitz, gave $1 million. The group also received $50,000 from the Erik Prince, the former head of the private security firm Blackwater.
Support HuffPost
The Stakes Have Never Been Higher
Popular in the Community