Republican front-runner and real estate mogul Donald Trump said that if he were president, he would close U.S. borders following such an attack.
"I would close up our borders to people until we figure out what's going on," he said on Fox News' "Fox & Friends."
"We have to be very, very vigilant with who we let into this country. We are taking in people without real documentation," he continued.
Trump proposed banning all Muslims from entering the U.S. in the wake of last year's deadly terror attacks in Paris. It's unclear whether he would broaden that to other groups of people after Brussels.
"We don't know who they are or where they're from," Trump added. "We don't learn. I will tell you, I've been talking about this for a long time. This whole thing will get worse as time goes by."
In a separate interview on CBS News, Trump said a Brussels-like attack was "going to happen in the United States." And on NBC's "Today Show," Trump again called for the use of waterboarding on terror suspects.
"They're just a city that used to be one of the finest and one of the most beautiful and one of the safest cities in the world, and now it's a catastrophic, very dangerous city where the police have very little control," he said.
Sen. Ted Cruz (R-Texas) offered his thoughts and prayers to the victims of the attacks, and said the blame fell squarely on practitioners of radical Islam.
"Radical Islam is at war with us. For over seven years we have had a president who refuses to acknowledge this reality. And the truth is, we can never hope to defeat this evil so long as we refuse to even name it," Cruz said in a statement. "That ends on January 20, 2017, when I am sworn in as president. We will name our enemy -- radical Islamic terrorism. And we will defeat it."
In a press conference Tuesday, Cruz continued on that theme.
"We need a president who sets aside political correctness," he said. "In the wake of Brussels, we don't need another lecture from President Obama on Islamophobia, we need a commander in chief."
The Texas conservative called for "serious scrutiny" on those entering the United States, adding that the country's visa waiver program was "designed for a different time" and needs to be reconsidered. He further called for "carpet bombing" Islamic State positions in Syria and urged U.S. officials to use "overwhelming force, kill the enemy and then get the heck out."
Cruz also criticized Trump, who on Monday said the U.S. ought to curtail its financial commitments to the NATO military alliance.
"It is striking that the day after Donald Trump called for America weakening NATO, we see Brussels, where NATO is headquartered, the subject of a terror attack," he said.
Ohio Gov. John Kasich (R) expressed his condolences and said he was "sickened" by the carnage in Brussels.
"The wave of terror that has been unleashed in Europe and elsewhere around the world are attacks against our very way of life and against the democratic values upon which our political systems have been built," he said in a statement. "We and our allies must rededicate ourselves to these values of freedom and human rights. We must utterly reject the use of deadly acts of terror."
Democratic presidential candidate Hillary Clinton called the attacks "deeply distressing" and urged American authorities to be vigilant in protecting the homeland.
"We've gotta tighten our security," Clinton said on the "Today Show," adding that "we've got to be absolutely strong and smart and steady in how we respond."
But, Clinton added in a reference to Trump, "it's unrealistic that we're going to completely shut down our borders, that would stop commerce for example."
The former secretary of state also rejected his call to reinstate waterboarding, stating that "we don't need to resort to torture."
Democratic candidate and Sen. Bernie Sanders (I-Vt.) offered his condolences to the victims of the "barbaric" attack.
"Today's attack is a brutal reminder that the international community must come together to destroy ISIS. This type of barbarism cannot be allowed to continue," he said in a statement.
This post has been updated with more comments from Cruz and Sanders.
Before You Go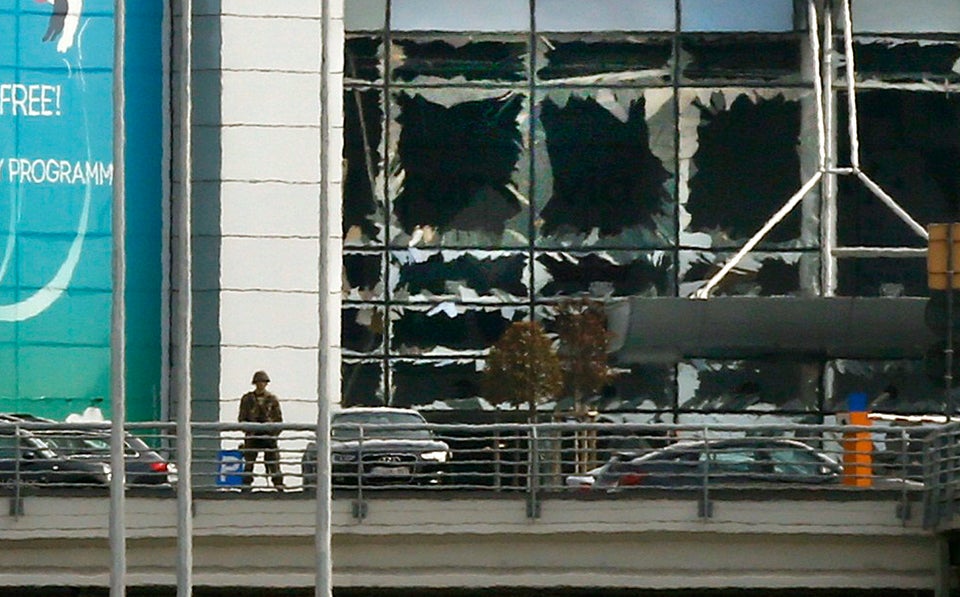 Explosions In Brussels
Popular in the Community