WASHINGTON -- Republican presidential candidates quickly criticized the nuclear agreement between the United States and Iran on Tuesday, saying that it posed a threat to American national security and would do little to limit Iran's nuclear ambitions.
The deal between Iran and six countries, including the United States, would curb Iran's nuclear program in exchange for relief from economic sanctions. It would also require the country to reduce its supply of low-enriched uranium and shut down centrifuges, significantly limiting its ability to produce a nuclear weapon for over a decade, The New York Times reported. The deal would also allow UN International Atomic Energy Agency inspectors to request visits to military sites in Iran -- though those visits could be blocked, reported the Associated Press.
"The international community will be able to verify that the Islamic Republic of Iran will not develop a nuclear weapon," President Barack Obama said during a televised appearance at the White House early Tuesday morning.
But Republicans seeking the White House said the deal, which still needs to be approved by Congress, did not go far enough to prevent Iran from developing a nuclear weapon.
"President Obama's nuclear agreement with Iran will be remembered as one of America's worst diplomatic failures," Wisconsin Gov. Scott Walker (R) said in a statement. "The deal allows Tehran to dismantle U.S. and international sanctions without dismantling its illicit nuclear infrastructure -- giving Iran's nuclear weapons capability an American stamp of approval. In crafting this agreement, President Obama has abandoned the bipartisan principles that have guided our nonproliferation policy and kept the world safe from nuclear danger for decades. Instead of making the world safer, this deal will likely lead to a nuclear arms race in the world's most dangerous region."
Sen. Marco Rubio (R-Fla.) accused Obama of "negotiating from a position of weakness" and said that he did not expect the deal to be approved by Congress.
"Failure by the President to obtain congressional support will tell the Iranians and the world that this is Barack Obama's deal, not an agreement with lasting support from the United States," Rubio said. "It will then be left to the next President to return us to a position of American strength and re-impose sanctions on this despicable regime until it is truly willing to abandon its nuclear ambitions and is no longer a threat to international security."
Former Florida Gov. Jeb Bush (R) said that the agreement wasn't diplomacy, but appeasement. "The nuclear agreement announced by the Obama Administration today is a dangerous, deeply flawed, and short sighted deal," he said. "Based on initial reports and analysis, it appears this agreement does not 'cut off all of Iran's pathways to a nuclear weapon' -- in fact, over time it paves Iran's path to a bomb."
Sen. Ted Cruz (R-Texas) echoed the criticisms of his fellow Republicans, but also referenced Americans currently being detained in Iranian prisons.
"In his remarks this morning, the President glossed over the truth about Iran's world-leading state-sponsorship of terrorism that is violently destabilizing the region, and would grow more deadly should the Iranians get a nuclear bomb," Cruz said in a statement.
"He failed to mention American citizens Saeed Abedini, Amir Hekmati and Jason Rezaian, who continue to languish in Iranian prisons, or Robert Levinson, who is still unaccounted for. For them, today is no 'opportunity to move in a new direction,' as the President claimed," he added.
While Republican candidates said they were committed to undoing the deal if elected president, former White House adviser Dan Pfeiffer tweeted that he doubted that would be the case.
The deal could be a possible "death sentence" for Israel, according to Sen. Lindsey Graham (R-S.C.). The foreign policy hawk told MSNBC on Tuesday that it was "the most dangerous, irresponsible step I have ever seen in the history of watching the Mideast. Barack Obama, John Kerry, have been dangerously naive about the Mideast in general."
Former Arkansas Gov. Mike Huckabee (R) made similar comments, saying that the deal would allow Iran to "wipe Israel off the map" and "bring death to America," according to Reuters.
The deal is likely to lead to an arms race in the Middle East, said former Hewlett-Packard executive and Republican presidential candidate Carly Fiorina on CBS This Morning.
"Iran has demonstrated bad behavior for 30 years. We know they have been trying to cheat on this deal, we know they have been funding proxies with a strategic objective of destabilizing the region. We know that when sanctions will be lifted there will be more money to fund those same proxies," Fiorina said.
New Jersey Gov. Chris Christie (R) tweeted that Obama had made "humiliating concessions" and "should have walked away."
However, Democratic presidential candidates were quick to express support for the deal. Former Secretary of State Hillary Clinton told Democrats on Capitol Hill that she believed the deal was "worthy of support," Reuters reported.
"This is an important step in putting the lid on Iran's nuclear program," Clinton said on Tuesday.
Sen. Bernie Sanders (I-Vt.), who is seeking the Democratic nomination, called the deal a "victory."
"I congratulate President Obama, Secretary Kerry and the leaders of other major nations for producing a comprehensive agreement to prevent Iran from obtaining a nuclear weapon," Sanders said. "This is a victory for diplomacy over saber-rattling and could keep the United States from being drawn into another never-ending war in the Middle East. I look forward to learning more about the complex details of this agreement to make sure that it is effective and strong."
UPDATE: 5:30 p.m. -- Sen. Rand Paul (R-Ky.) tweeted on Tuesday afternoon that the deal was "unacceptable" and that he planned to vote against it. Paul argued that relief from sanctions would take place before Iran demonstrated compliance with the terms of the deal and that Iran would be left with the capacity to develop a nuclear weapon.

Before You Go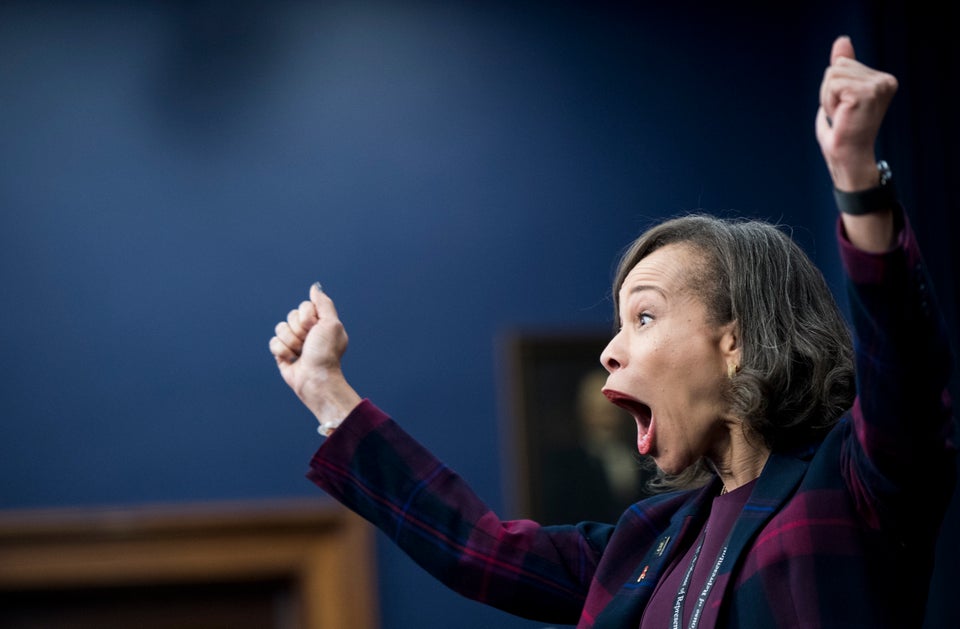 Scenes From 114th Congress And Capitol Hill
Popular in the Community