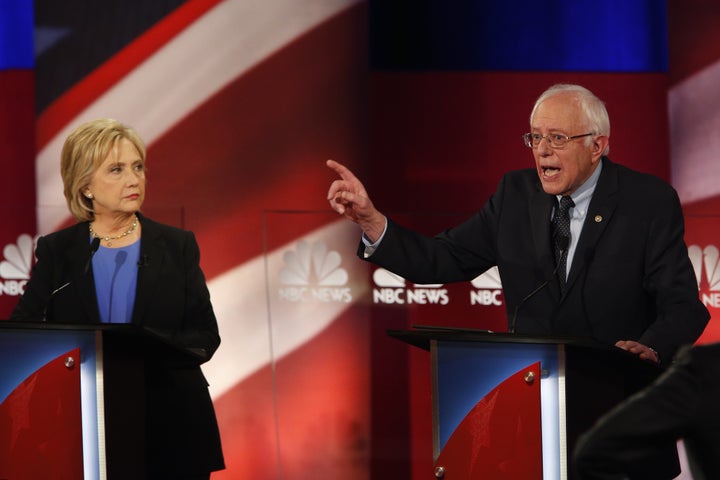 WASHINGTON -- Forty-three years after the Supreme Court established the right to a safe and legal abortion in Roe v. Wade, the stakes have never been higher for those on both sides of the abortion debate. States have enacted 288 new abortion restrictions in the past five years that have shut down a slew of clinics across the country, and the next president could nominate Supreme Court justices who will determine the fate of legal abortion for decades to come.
But even as abortion access for millions of women hangs in the balance, the issue has somehow been neglected by presidential debate moderators, causing the issue of reproductive rights to fade from the 2016 race. The Democratic candidates haven't been asked about reproductive rights at all in any of their four debates, and the Republicans have only been asked about abortion and funding for Planned Parenthood in the first two of the six debates they've participated in so far. 
Advocates working for and against abortion rights are baffled by the silence.
"There are real and important differences between candidates here, and it's a loss for American women that they haven't been explored," said Jess McIntosh, a spokeswoman for EMILY's List, a group that helps elect pro-choice women to office.
NBC moderators did not ask how Sen. Bernie Sanders' (I-Vt.) new health plan, released just two hours before the Democratic debate the network hosted Sunday, would handle public funding for abortion, and did not press Hillary Clinton on her view that federal restrictions on Medicaid funding for abortion should be repealed. Sens. Marco Rubio (R-Fla.) and Ted Cruz (R-Texas) haven't been asked in the past four GOP debates about their opposition to allowing victims of rape or incest to get abortions, a position that is significantly more conservative than those held by prior Republican presidential nominees.
The only abortion-related question GOP frontrunner Donald Trump has fielded during a debate was back in August, when Fox's Megyn Kelly asked him about his 1999 comment that he was "very pro-choice." His stance on abortion is much murkier these days, but no other moderators have chosen to ask him about it.
Americans United for Life, an anti-abortion group, wants candidates on both sides to explain whether they support public funding for abortion or the kinds of clinic regulations that conservative states have passed to make it difficult for abortion providers to stay open.
"Pro-life Americans would love to know whether candidates support health and safety standards for women who are exposed to great risks in abortion clinics," said Kristi Hamrick, a spokeswoman for AUL.  

On the Democratic side, Clinton took it upon herself to mention Republican attacks on reproductive rights and Planned Parenthood in the first Democratic debate in October, even though the question she had been asked was about the political feasibility of passing paid family leave legislation. Neither Sanders nor former Maryland Gov. Martin O'Malley have brought up abortion or Planned Parenthood in any debates.
None of the networks The Huffington Post reached out to would say why they hadn't asked about reproductive justice in the Democratic debates they have sponsored. One network spokeswoman even asked whether such a debate question would be "exciting," since, she presumed, Clinton and Sanders hold similar positions on the issue.
Ilyse Hogue, president of NARAL Pro-Choice America, suggested the moderators simply don't care about the nuances of a "pro-choice" position.
"Unfortunately, we're battling decades of conventional wisdom of 'check-the-box pro-choice-ism,' which is just say you're pro-choice and move on and talk about things people really care about," Hogue said. "The idea of how and when and if we grow our families is integrally tied up with our economic progress and our education and our debt and everything else. So I think it's an old model of thinking about things that we've been very pleased to see Hillary breaking through."
After Sunday's debate, Clinton campaign chairman John Podesta argued that reproductive rights have "just not been a big issue" for Sanders. Sanders' camp obviously disagrees. Tad Devine, a senior campaign strategist, told HuffPost that "Bernie is one of the strongest supporters of a woman's right to choose" and that reproductive rights would be "one of his core principles" as president. Jeff Weaver, Sanders' campaign manager, said that Sanders' health care plan would cover abortions. 
"You just do it when you pass the plan," Weaver said. "It's part of the list of comprehensive benefits that are covered by the plan."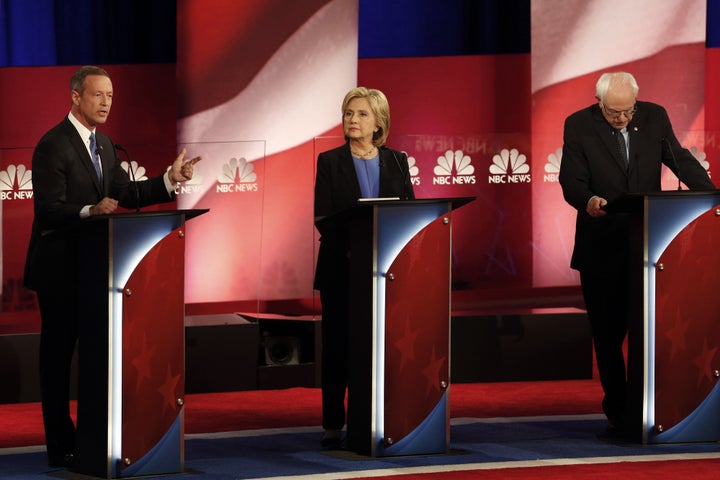 Sanders has criticized GOP candidates for their stances on abortion, spoken out against abstinence-based education and said he would "expand" funding for Planned Parenthood. He's said he supports the EACH Woman Act, which would mandate insurance coverage for abortion services, and said in a statement Friday that he would "rescind the Hyde amendment and resist attempts by states to erect roadblocks to abortion." 
But the senator didn't endear himself to reproductive rights groups earlier this week when he called Planned Parenthood and NARAL part of "the establishment." He partially walked back those comments on Thursday, after intense criticism, saying that such groups are "fighting the important fights that have to be fought." But he had already alienated himself from some advocates by characterizing abortion as a "social issue" in an interview with Rolling Stone last year. Those who back Clinton argue that reproductive justice and economic justice are intrinsically linked and that Sanders doesn't seem to understand the connection.
Hogue said NARAL endorsed Clinton over Sanders because Clinton is more outspoken and proactive on abortion and is the most vocal in calling for the repeal of the Hyde Amendment, a measure inserted regularly into appropriations bills that prevents federal dollars from paying for most abortions. Clinton has spoken this election season about Hyde's disproportionate impact on low-income women of color.
"We need champions. And a champion means not just voting right when it comes up on the floor, but actually sponsoring legislation, which Hillary did a lot more in her time in the Senate," Hogue said. "It means actually speaking about things on the stump."
The Democratic candidates don't disagree about the need to fight back against conservative attempts to restrict health care access. But Clinton frequently talks about those attacks in her stump speech, while Sanders does not. That's a revealing difference that moderators should explore in the primary's two remaining debates. 
PHOTO GALLERY
Abortion Protests Around The Nation
Calling all HuffPost superfans!
Sign up for membership to become a founding member and help shape HuffPost's next chapter