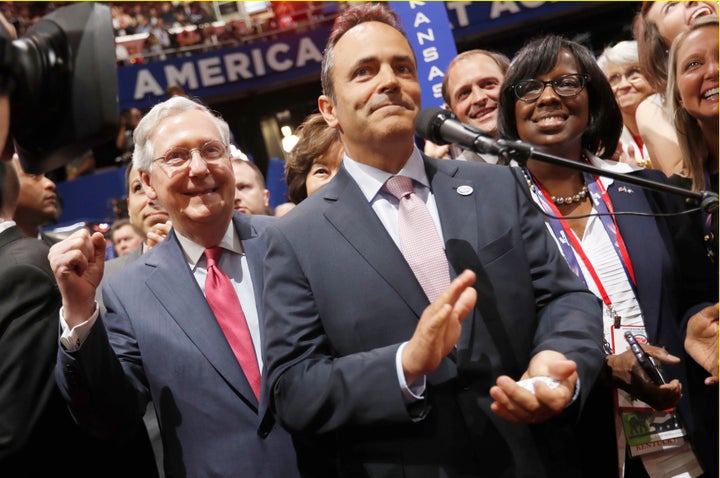 Republicans seized control of the Kentucky House of Representatives on Tuesday, wrestling away the last state legislative chamber in the South held by Democrats.
Bolstered by Republican presidential nominee Donald Trump, who handily defeated Democratic nominee Hillary Clinton in the state, the Kentucky GOP swept through races across the state on their way to what early returns indicated would be its first state House majority since 1920. Among the Democratic victims: House Speaker Greg Stumbo, who was first elected in 2003.
Democrats began the evening with a 53-47 majority in the House. By Tuesday night, Republicans controlled 64 of the chamber's 100 seats, with one race still undecided, according to the Lexington Herald-Leader.
Kentucky has traditionally voted red on the federal level. Both U.S. senators and five of its six members of Congress are Republicans, and only Bill Clinton and Jimmy Carter carried the state in presidential contests since 1964. But total control of the state legislature remained elusive even after the GOP first won back the state Senate in 1999. 
The House majority landed firmly in GOP crosshairs after Republicans won back the governor's mansion a year ago, and state Rep. Denny Butler switched party affiliations to become a Republican shortly after.
Although Southern Democrats were prematurely declared extinct a few years ago, this is literally the last nail in their coffin.

U.S. Rep. Thomas Massie (R-Ky.)
The Republican takeover will give Gov. Matt Bevin ― whose victory in 2015 was only the second for Republicans in a governor's race there since 1967 ― wide latitude to enact sweeping changes to the state government. 
Kentucky, where unions had held a strong presence, is the only Southern state that hasn't enacted a right-to-work law.
Kentucky lawmakers celebrated the victory in Washington, where winning control of the state legislature has long been a priority for Senate Majority Leader Mitch McConnell (R-Ky.).
"Tonight's state House victory for Republicans finally closes the chapter on Democrat rule in Frankfort and clears the path for Gov. Bevin to implement overdue reforms to our tax code, the state pension system and our labor laws," said U.S. Rep. Thomas Massie, a Republican. "Although Southern Democrats were prematurely declared extinct a few years ago, this is literally the last nail in their coffin."