More Americans are starting to pay attention to news about the 2016 presidential contest, according to this month's poll numbers from Pew Research. "More" does not mean "a lot."
Twenty-seven percent said they are following news about the candidates very closely, up from 16 percent when Pew last asked the question in May.
The percentage is higher than it was in previous election cycles at this point. Typically in September of the year before an election, only 10-15 percent of Americans are really following the race. Even in the high-interest presidential elections of 2008 and 2012, those paying close attention were hovering just over 20 percent with 14 months of campaigning to go.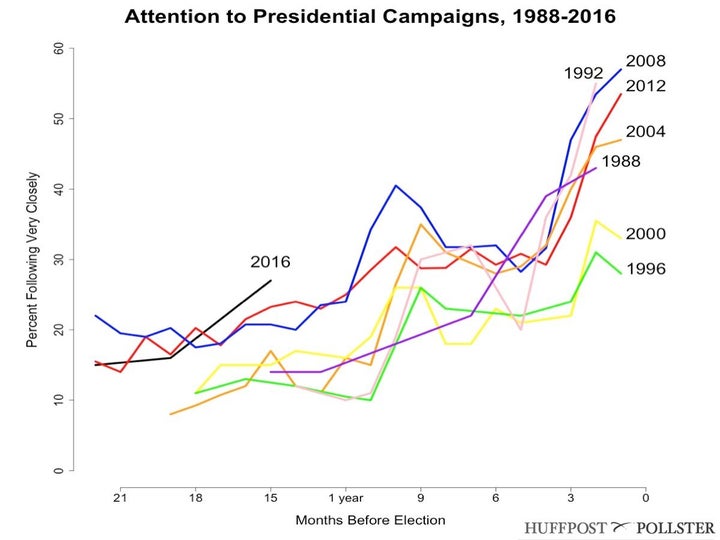 In May, attention to the 2016 race was on par with what it had been in 2008 and 2012. Over the summer, however, attention picked up more than it has in previous years. Although the difference isn't large -- 27 percent in September of 2015 versus the low 20s at the same times in the 2008 and 2012 cycles -- this summer's race has been notably eye-catching.
In early August, the first Republican primary debate on Fox News pulled in a record-breaking 24 million viewers, a larger audience than those for this year's Women's World Cup final and NBA playoffs. By comparison, the most-watched primary debate in the 2012 election cycle drew 7.6 million viewers. The over-300 percent increase in viewership was widely attributed to celebrity mogul Donald Trump's participation in the event -- and Trump took credit on Twitter.
The large Republican field has garnered significant attention even without specifically considering Trump. At its peak, 17 candidates were in the race for the nomination, the most that a primary field has seen since the 1976 Democratic primary. Throughout the spring and summer of 2015, every week seemed to bring a new GOP candidate's announcement, starting with Sen. Ted Cruz (Texas) in March and not ending until former Virginia Gov. Jim Gilmore entered the contest on July 30.
But another way of viewing the data is that even with these anomalies, only 27 percent of Americans are paying close attention to the 2016 presidential race -- meaning more than 7 in 10 are not. There are, after all, still four months to go before the first primary votes are cast, and 14 months before the general election. Most Americans just don't live and breathe politics even when Trump is involved.
Focusing on the great majority of Americans who aren't yet following the race very closely provides a reality check on how much stock we place in the current polling. Every week brings new polls showing Trump leading the Republicans and Sen. Bernie Sanders (I-Vt.) gaining on his Democratic rival Hillary Clinton, and those new polls trigger the writing of thousands of words about what it all means. But if 73 percent of Americans aren't really paying attention, what do these horserace polls actually show?
For national primary polls, the answer is probably not much. All the candidates are focusing their efforts on New Hampshire, Iowa and sometimes South Carolina because these states vote first. But the three states make up only about 3 percent of the nation's population. The other 97 percent probably haven't had much exposure to the candidates and -- with the exception of those few paying close attention -- are likely responding to the poll question with not much information.
In Iowa and New Hampshire, voters are probably more focused on the candidates and campaigns -- although we can't say for certain since recent polls in those states haven't asked a question about attention like Pew's. But even in these states, primaries are notoriously difficult to poll, and again, we're still four months away from any ballots being cast.
Until more of the nation is paying attention -- which Pew's historical data indicate will happen when primary elections get underway in the winter and spring of next year -- caution is warranted. Polls tell us where opinion stands right now, but with little more than one-fourth of the Americans really following the campaign, that opinion is likely to be highly volatile.
Popular in the Community