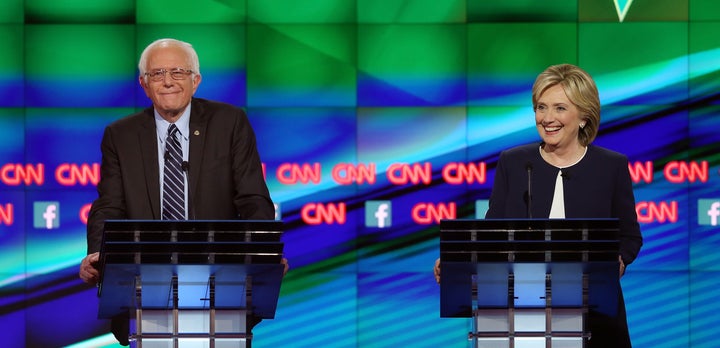 Some candidates relied heavily on large contributions -- including former Florida Gov. Jeb Bush, Ohio Gov. John Kasich and New Jersey Gov. Chris Christie on the Republican side, and Democratic front-runner Hillary Clinton. Others financed their campaigns with vast pools of small donors -- including retired neurosurgeon Ben Carson and Texas Sen. Ted Cruz with the GOP, and Democratic candidate and independent Sen. Bernie Sanders. 
How candidates raise money can have a major impact on their financial viability over the long march to November 2016. 
Campaign finance laws limit the amount of money a donor can give to a candidate for federal office to a maximum of $5,400 -- $2,700 for the primary election and $2,700 for the general election.  That means a candidate overly reliant on a smaller pool of large donations can run out of money if as the campaign wears on, the candidate runs out of donors able to continue giving money. Early cultivation of a large pool of small donors can be crucial, for the campaign can tap them over and over again.
The Huffington Post ran the numbers for the 17 (likely more viable) presidential candidates who reported raising more than half a million dollars from July through September.
* Wisconsin Gov. Scott Walker dropped out of the race on Sept. 21.
Republican establishment favorites Bush, Kasich, Christie and Florida Sen. Marco Rubio have all relied on donors giving $2,700 or more for their primary campaigns. Cruz and outsiders like Carson, former Hewlett-Packard CEO Carly Fiorina and even the mostly self-funded Donald Trump received either the majority of their money or significant sums from donors giving less than $200 each.
Carson is the leader in the small donor race among Republicans with $12.4 million raised from those giving under $200. His fundraising, however, is not entirely organic.
The Carson campaign spent approximately half of its third-quarter total haul of $20 million on fundraising expenses. That means it cost the campaign 50 cents for every dollar raised, and it will be difficult to increase spending in other areas without imperiling fundraising.
Bush, meanwhile, is deeply reliant on max-out donors. His campaign pulled in $9.5 million from donors giving $2,700 or more -- 71 percent of his total. That's slightly down from the first 15 days of his campaign when 85 percent of his total came from donors who gave $2,700 or more. His campaign was aided by 340 bundlers raising at least $17,600 each.
The third Bush for president struggles mightily with small donors. He raised only $876,603 from them -- just 5 percent of his total.
But Bush was not the most reliant on big donors in the third quarter. That honor goes to Christie with $3.2 million of his $4.2 million total coming from max-out contributors. The New Jersey governor raised only $141,428 from small donors, one of the lowest amounts in the entire Republican field.
The fundraising difference among the Democratic candidates -- or at least between the top two candidates -- looks even more dramatic. Clinton has raised large sums from donors giving $2,700 or more, while Sanders has pulled in strikingly little from max-out contributors.
Sanders received almost all of his money from small donors, including those giving more than $200. Out of his $26 million third-quarter haul, just $305,734 came from donors giving $2,700 or more. Small donors giving less than $200 combined to contribute $20 million, or 77 percent of his total, which is the highest percentage of any of the 17 candidates examined.
Clinton raised $16 million from max-out donors, or 53 percent of her total. Unlike the Republicans who leaned most heavily on big donors, the former secretary of state received significant sums from small donors as well. Her campaign pulled in $5.2 million from donors giving under $200. She has also cultivated a base of repeat donors making numerous small donations.
Big donors accounted for 39 percent of former Maryland Gov. Martin O'Malley's total and 28 percent of Harvard law professor Lawrence Lessig's haul. Small donors accounted for 11 percent and 38 percent of their totals, respectively.
Calling all HuffPost superfans!
Sign up for membership to become a founding member and help shape HuffPost's next chapter