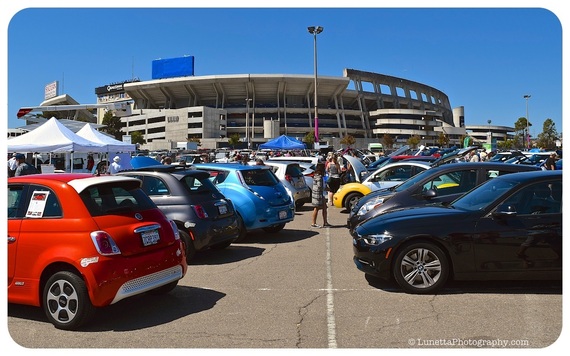 Photo Credit: Mary Lunetta, taken at the San Diego, CA National Drive Electric Week Event in Sept, 2016.
This past December brought in the highest electric vehicle (EV) sales in the U.S. ever - by a lot. According to Inside EVs, American consumers bought nearly 25,000 EVs last month, an amazing 80 percent increase over December of 2015 and a more than 7,000 car increase over the last monthly high last September. In fact, electric vehicles really hit the road throughout 2016, with the total increase from 2015 to 2016 jumping an impressive 37 percent. This contrasts sharply from the previous year-on-year comparison, which was about a 5 percent decrease in sales.
To put this milestone in context, 2016 saw three times the 52,000 EVs sold in the U.S. in 2012 -- a major leap for any industry in just four years.
Some EV models had very high year over year jumps from 2015 to 2016: Chevy Volt (60 percent increase), Ford Fusion Energi (63 percent increase), and BMW i3 (44 percent increase).
Tesla had a particularly successful December, selling more than four times as many Model S and Model X cars than the previous month, but according to editor of Inside EVs Jay Cole, Tesla sales numbers were particularly high in December since many planned October and November deliveries were put off until December. Overall, though, Tesla was indeed the top U.S. EV seller in 2016 out of all the manufacturers, but General Motors, Nissan, Ford, BMW, and others did sell many thousands each of their (mostly less expensive) EV models. Notably, BMW is the first automaker with five different plug-in offers available in the United States.
But consumers who do make the extra effort to seek out and buy or lease EVs are immensely glad they did. Customer satisfaction of EVs at a variety of price points is extremely high.
In September, the sixth annual National Drive Electric Week celebrated a record number of 235 events across 212 cities in 46 states, giving the public a chance to check out and test drive several new and existing models that were revving up consumers -- like the Chevy Volt (with an all new sleek appearance in 2016); Audi's 2016 A3 Sportback e-tron, and VW's 2016 eGolf to just name a few. The Nissan LEAF, BMW i3, and Tesla Models S and X were crowd-pleasers, too.
But you don't have to wait until next September to check out EVs near you. Many government agencies and community groups are teaming up with auto dealers on surprisingly good deals for EVs that provide thousands of dollars in discounts. And there and more and more used EVs coming onto the market making it possible to drive off the lot - quietly and with fantastic torque - in a clean car that costs less than $10,000.
In 2016, many cities and states boosted the appeal of EVs to their residents. New York made room in its budget for a $2,000 consumer rebate (to be launched in early 2017); Massachusetts more than doubled its EV rebate funding; and San Diego approved 3,500 new charging stations to be installed in 350 sites, making EV charging more convenient at home, at work, and in public. Nationwide, there are now more than 14,000 public EV charging stations.
New models roaring to market in 2017 include the Chevy Bolt with a starting price of $36,620 (before federal and state incentives) and 238 miles of range, making it the first 200+ mile electric car priced for the masses. They also include the first plug-in hybrid minivan to hit the market, the Chrysler Pacifica; the Prius Prime plug-in hybrid (which hit the streets in late 2016); the Hyundai Ioniq with its three versions -- electric, hybrid, and plug-in hybrid; and of course the the long-awaited Tesla Model 3, when it makes its exciting debut. U.S. Model 3 deliveries are expected to start in late 2017, and its 400,000 pre-buyers finally get to sit in the driver's seat.
Even with low gas prices, December's record-breaking EV sales show that consumers are beginning to prefer clean and convenient electric vehicles. The increasing options, mileage ranges, and affordability of electric vehicles are moving us in a direction that's not only good for the consumer, but good for the planet, too. If this trend continues, 2017 will be a big year for EVs and their happy drivers. It's clear we're headed in the right direction, but we need to do more to pick up the pace.
For a full list of the plug-in cars on the market and their specs, check out Sierra Club's online EV Guide (where you can also learn about state and local incentives available in your area).
This post was co-authored by Mary Lunetta, the Sierra Club's Electric Vehicles Initiative Campaign Representative.
Support HuffPost
The Stakes Have Never Been Higher
Related
Popular in the Community