The Emmy Awards over the weekend prompted Hollywood to celebrate the festivities with various gift lounges around town. Below is a sampling of what celebs were invited to attend and the goods that were being shared with them.
PILOT PEN AND GBK's PRE-EMMY LUXURY LOUNGE at the L'Ermitage Hotel in Beverly Hills:
Chef Filippo Sinisgalli from Il Palato Italiano was on hand from Italy to provide one-bite food samples while gifting oversize loaves of his baked Panetone Milanese. Swedish bed company Hasten's was showcasing their mattresses and bedding, while gifting a three-night stay in a five-star Swedish resort. For those who preferred something more tropical, Belmont Resort on the Caribbean island of St. Martin was also gifting stays.
Plastic surgery center Viva Youth gave out gift certificates for $1000 towards services, while Heal and Soul hand] certificates for a private yoga session, massage and magnet healing session.
On the electronic front, there was the PowerCube, cube-shaped power sockets containing four additional outlets and two USB ports. Meanwhile, the portable AudioCube received by celebs provides a perfect 360 surround sound due to the omnidirectional speakers.
Face and body products - including new skin polish - was gifted by Heather Marianna's Beauty Kitchen. Teen celebs or celeb with kids received a gift certificate for a Beauty Kitchen Spa party at the recipient's home that incudes various custom stations for creating their own products such as lotions, bath soaks, face masks and more.
Swimline Water Sports let celebs choose from various floating loungers and inflatables such as giant swans and flamingos, pizza rafts, bagel rings as well as ride-on for kids like giant ducks and turtles.
There were embroidered and monogrammed bathrobes and blankets from Wrapped in a Cloud, whose warm, plush material makes you feel exactly that! Jewelry was provided by Seven Sisters, while Burke Williams Spa had on-site massages and invited guests to their brand new Hollywood location.
The artist collective, The Artisan Group, gifted goody bags from their roster of artistic creatives that included iPhone cases by Joy Merryman, dog collars by Canine Karma, candles by Chantry 1975. And of course, presenting sponsor Pilot Pen made sure celebs had all the latest writing instruments they needed.
THE ULTIMATE PRIMETIME TV LOUNGE produced by the Accessories Council Dreamhouse, Marketing and Branding Group. and Madison & Mullholland at the W Hotel Hollywood.
Royal Treatment Pampering Services had on-site massages that included table or chair options. Image Spa MD gave out $500 gift certificates for laser and skin rejuvenation services.
Madison Mulholland had over-the-shoulder bags made of vegan leather complete with a cell phone charger that threads through a buttonhole and connects to the cell phone pocket.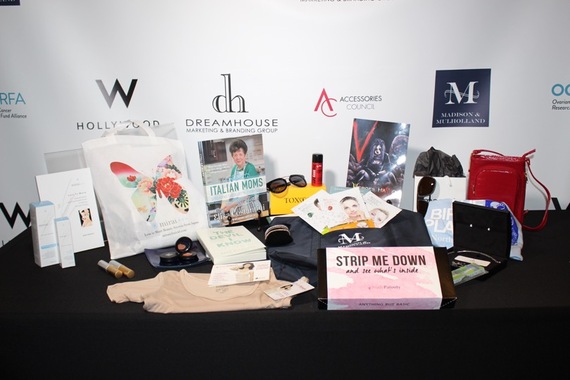 Guests were treated to such goods as sunglasses by the ultra-hip Toxic Eyewear. There were tailored t-shirts, tanks and undershirts from Nudy Patooty, made from bamboo fabric with an invisible fit to disappear under most outfits. A special technology in the underarm area protects clothes from sweat, bacteria and deodorant stains.
Beauty and make-up products included moisturizing feet masks by Masqueology, Japanese skincare by Mirai and Lady J Cosmetics. Readers had lots to choose from including Bess Richards' non-fiction The Devil I Know, Mario Simon's graphic novel Heroes Haven and Elsa Costantini's cookbook Italian Moms.
DORIS BERGMAN'S SEVENTH ANNUAL EMMY STYLE LOUNGE & PARTY at Fig & Olive in West Hollywood.
Hot ticket items included a wireless virtual reality headset by Fibrum with HD lenses to be used with smartphones, along with an $80 giftcard to download VR games. Dioo Audio handed out earbuds in black, white and even a dusty rose pink!
There was the FootMate System, a footbrush scrubber and massager for the shower, jewelry by Twisted Silver, dresses by The Single Dress, and soap-filled sponges by Spongelle. Venus Legacy gifted vouchers for complimentary eye lifts valued at $200.
Celeb favorite My Saint My Hero was back again with blessing bracelets in new colors such as navy and grey. Another new item was the Benedictine necklace, whose cross is considered the most powerful symbol of protection.
CELEBRITY CONNECTED's LUXURY GIFTING SUITE HONORING THE EMMYS at the W Hotel Hollywood.
UASHMAMA had washable paper bags made in Italy using virgin fibers through cultivation, not deforestation. These fashionable bags feel like leather, wash like fabric and come in numerous styles from handbags to carrybags featuring handles or straps.
The Real Co. gave out their "single origin" food products that come from a specific, traceable and ethical source that's fair-trade, organic and non-GMO.
There was the Washdolly a specially designed make-up remover cloth that only needs a water to be activated. Each cloth lasts approximately 1000 washes and eliminates the need for using chemical-ladden make-up removers or disposable make-up removing products.
Other products included Vanessa Blake Cosmetics, anti-aging skincare products from dEp Patch, IPhone cases from The Casey, anti-microbial hand gel and spray by Elyptol and single serving pies-in-a-jar by Shut Ur Pie Hole!
KARI FEINSTEIN'S STYLE LOUNGE at Siren Studios in Hollywood.
Visitors received gift certificates to redeem two complimentary Casper pillows featuring the brand's signature springiness. Savvy Travelers had single-wrapped beauty wipes for all occasions including face wipes, anti-bacterial wipes, nail polish remover wipes, deodorant wipes, disinfectant wipes, teeth wipes and more.
Dogs and moms got matching fashion by Chews Happiness that included apparel, leashes and collars made from Yak-down in Bhutan. Coastal Salt & Soul handed out bars of soap and hand creams made with sea ingredients, herbs and botanicals wrapped up in vintage, seaside packaging.
KP (which stands for Keep Pursuing) showcased its "every day adventure bag," a water resistant sling bag with numerous compartments to hold everything from sunglasses, a water bottle, and electronics. The bag also contains the brand's signature passport-sized secret compartment to keep valuables safe.
There were hair products by Mane & Tail, Lunette reusable menstrual cups and self-adhesive, strapless, backless bras by Nud Wear.
LifeStraw gifted water bottles with a 2-stage filtration that reduces chlorine, odor, chemical contaminants and removes 99.9999% of chemical bacteria. A secondary gift was the "straw," a portable filter enabling users to safely drink directly from streams and lakes. LifeStraw works with numerous organizations around the world to make contaminated water drinkable in developing countries and emergency relief situations.
DEBBIE DURKIN'S ANNUAL ECOLUXE LUXURY LOUNGE IN CELEBRATION OF THE 68TH EMMYS at the Beverly Hilton Hotel.
The Beverly Hilton gifted celebs Babor skincare products and a gift certificate to experience a treatment at the hotel's Aqua Star Babor Beauty Spa.
Interior Designer Ami McKay gifted Bamboo bedsheets from her Pure Design that have the luxurious feel of silk or cashmere while remaining breathable, anti-microbial and thermal regulating.
Kids got to choose from the Middle School Moguls collection of five girls, dogs received bathing products from John Paul Pet and travelers reveled in Chariot Travelware's latest luggage designs which now contain outside contraptions for water bottles and detachable spinner wheels
StrawFree.org handed out bamboo straws, an eco-friendly alternative to single use plastic straws which prevents landfill waste. There was a coffee bar by Bulletproof Coffee that included samples of the company's other products including supplements and food bars.
Christmas came early to the suite as Mr. & Mrs. Claus made an appearance, as did an inflatable human snow globe was, along with a toy drive for Shriner's Hospital for Children, which is opening a new facility in Pasadena next year.
Also at the W Hotel Hollywood, TC Intimates held a Shape Lounge in a private suite where celebrities could get some one-on-one time with the company reps and receive the latest shapewear including high-waisted briefs, thongs and thigh slimmers, bodysuits, and no ride/no lines lace underwear.
Calling all HuffPost superfans!
Sign up for membership to become a founding member and help shape HuffPost's next chapter