Forbes Under 30 Summit, City Hall Plaza, Boston, MA.
Impact is where the heart of this summit is. - Caroline Howard, Executive Digital Editor, Forbes Media
Held from October 16th-19th in Boston, Massachusetts, the tone of the 2016 Forbes Under 30 Summit matched the host city's revolutionary spirit. Instead of ignoring the current tumultuous political environment, the summit embraced this polarization head-on. Over a fast-paced four days, an eclectic mix of entrepreneurs, musicians, celebrities, and athletes, publicly slammed Donald Trump for his blatant bigotry. Numerous influencers urged the over 5,000 young entrepreneurs and game-changers who had converged on Boston "to change the world" to engage in politics, vote in the upcoming election, and ultimately, change the narrative.
This year's Under 30 Summit possessed a distinct sense of urgency. As Katie Meyler, Founder of More Than Me and TIME Magazine's 2014 "Person of the Year," summed up:
We are not enemies. We are not different political parties. We are humanity.
The 2016 Forbes Under 30 Summit was more than just inspiring - it was impactful. The summit's agenda not only highlighted the value of social impact in for-profit business but also sought to expose mainstream audiences to some of today's most pressing social justice issues. Presentations and discussion topics included:
Accurate Representation of Muslim-Americans
As Trump continues to advance destructive rhetoric targeting Muslim-Americans, Amani Al-Khatahtbeh, Founder and Editor-in-Chief of Muslim Girl, provided much-needed visibility for the real Muslim-Americans. Speaking candidly about her own adolescence as a Muslim-American woman, Al-Khatahtbeh recounted how she was once ashamed of her religion - something that she is now rightly proud of.
And I hid. I could not claim my religion. I was overcome by a feeling of shame. I had to compromise who I was out of fear.
Al-Khatahtbeh's experience not only speaks to the persisting reality for far too many Muslim-Americans but also points to the shared experiences of minority groups. For instance, Al-Khatahtbeh's words echo the struggle of "coming out" that continues for so many LGBTQ Americans. Her story serves as a potent reminder that we are more similar than we are different. We are all human beings who should be able to live authentically without fear of retribution or shaming. As Trump tries to pull us apart, we need to remember humanizing words like those of Al-Khatahtbeh to help keep us together.
LGBTQ Rights: Accurate Representation of Transgender People & Non-Heteronormative Families
My favorite part of this year's summit was the screening of the short documentary Where We Are Now, the powerful story of a non-heteronormative family. This documentary continued the summit's theme of separating fact from fiction. Where We Are Now provides a raw, concise, and most of all, truthful account of one non-heteronormative family's journey through their transgender parent's transition. In selecting this documentary, Forbes Media proves its capability and willingness to bring authentic, minority narratives to mainstream audiences.
I've not changed. I can see to the outside world it's a big change. All that has happened is that I get to show the world who I really am. - Transgender parent in Where We Are Now
As Raymond Braun, Founder of RWB Media and Television Correspondent, summed up:
If you don't have a seat at the table, you're probably on the menu.
Accurate and proportional representation is crucial for attaining meaningful social change. Where We Are Now is a definite step in the right direction.
Refugee Rights: Spotlight on North Korea
The summit also featured a powerful talk by Hyeonseo Lee, North Korean Defector, Activist and Author of The Girl With Seven Names. Lee, a champion of refugee rights, talked pointedly about her escape from North Korea and the enduring struggle of the North Korean people.
I paid the highest price for freedom. I lost my friends, relatives, family for 14 years. Freedom isn't free.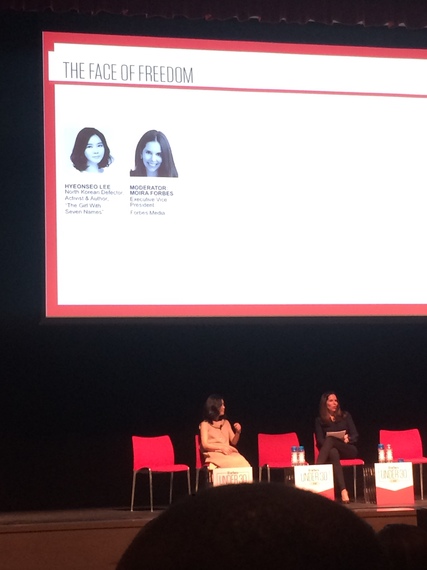 Hyeonseo Lee, North Korean Defector, Activist and Author of The Girl With Seven Names, interviewed by Moira Forbes, Publisher ForbesWoman and Executive Vice President, Forbes Media, in "The Face of Freedom."
Lee's courageous story helped to shed much-needed light on the catastrophe in North Korea. Lee took full advantage of the opportunity to address the most influential gathering of millennials in the world.
Please pay attention. This is a modern day tragedy that is happening in North Korea. I ask that you care about these issues and share this story with the people around you.
Lee's words seamlessly fit into the summit's pervasive sense of urgency: today's injustice needs to be dealt with now. Basic human rights are still not guaranteed in many places, and these issues cannot wait.
Racial Injustice: Highlighting the Black Lives Matter Movement
The summit also featured an enlightening conversation between DeRay McKesson, prominent Black Lives Matter activist, and Adam Foss, founder of Prosecutor Integrity. McKesson and Foss helped to focus the summit's attention on crucial issues of racial injustice. Specifically, they emphasized the importance of recognizing and addressing police brutality and mass incarceration. Like many of their fellow speakers, McKesson and Foss urged attendees to take action and to not shy away from making their own tangible impact.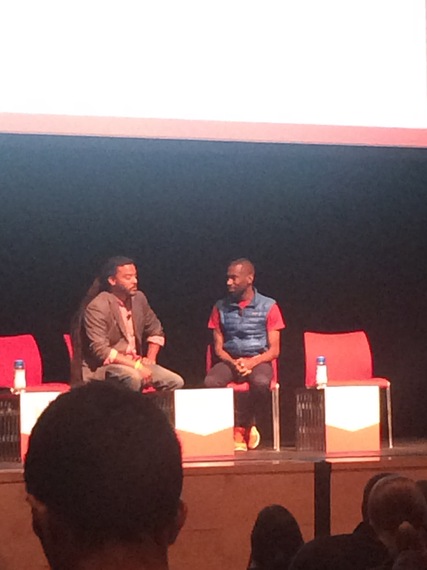 DeRay McKesson, prominent Black Lives Matter activist, interviewed by Adam Foss, founder of Prosecutor Integrity, in "A Movement That Matters."
McKesson and Foss stressed action: everyone can and should actively engage in the Black Lives Matter movement. This is not a time for blind hate, prejudice or complacency. This is not a time for Trump. This is a time to actively engage in activism, social justice, and the advancement of equality.
The Rise of Social Entrepreneurship
Just three years ago, I was wholly unfamiliar with the term "social entrepreneurship." Today, I am a nonprofit social entrepreneur and I am hardly alone. The rise of social entrepreneurship, both for-profit and nonprofit, has been both swift and significant. Particularly, this elevation of social impact has dramatically transformed for-profit entrepreneurship. Companies like Warby Parker and TOMS have clearly demonstrated the economic incentive of incorporating social impact into for-profit business. Specifically, social enterprises appeal to the new millennial "socially conscious" consumer. According to The Social Times:
Millennials make up approximately 30 percent of the population and wield an estimated spending power of 200 billion per year.
At least 70 percent of millennials have purchased a product that supports a cause.
90 percent of millennials are likely to switch from one brand to another -- even when price and quality are equal -- if the second supports a cause.
68 percent of millennials state a company's social/environmental commitment as either being important or extremely important when deciding which products to buy.
66 percent will recommend products or services if a company is socially responsibly.
Shiza Shahid, Founder of New Ventures and Co-Founder of the Malala Fund, urges entrepreneurs to recognize that the greatest business problems are also the greatest social challenges. They are overlapping - not mutually exclusive.
Mission driven companies are the future.
And it is up to each one of us to activate this future. In keeping with the summit's revolutionary spirit and emphasis on active participation, Jasmine Lau, Co-Founder and Executive Director of Philanthropy in Motion (PIM), reminded attendees that young people do not have to wait to be successful or financially secure to engage in philanthropy. Instead, this misguided thinking can actually stunt or even prevent innovation. "You can start now," commented Lau. She recommends pooling together resources and seeking out pro bono mentorship as great places to start.
Companies have to change but also individuals really have to voice out their preferences.
We have to make an impact now. And we cannot make an impact without action. It is up to all of us to act: to vote, to speak out against social injustice, to demand accurate and proportional representation for minority groups, and to reward those entrepreneurs and companies who elevate social impact.
As the 2016 Forbes Under 30 Summit indicated, social impact is key to both nonprofit and for-profit entrepreneurship.
Vote in the 2016 U.S. presidential election.
Subscribe to Muslim Girl.
Learn about Where We Are Now.
Donate to Liberty in North Korea (LiNK).
Get involved with the Black Lives Matter movement.
Calling all HuffPost superfans!
Sign up for membership to become a founding member and help shape HuffPost's next chapter