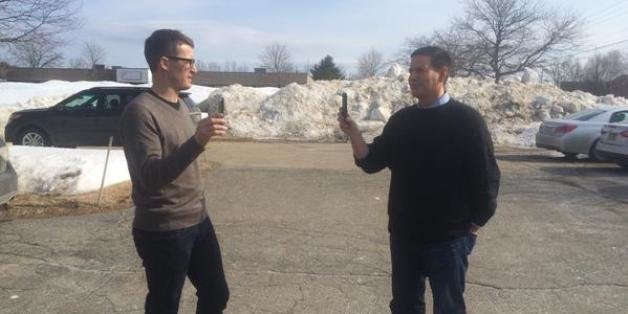 NEW YORK –- Mark Halperin just bought a tripod.
The flexible Joby Gorillapod isn't for the crew on "With All Due Respect," his Bloomberg TV show with John Heilemann. He purchased the iPhone 6 mount, which can wind around a tree, to personally live-stream campaign trail moments using Meerkat and Periscope.

"These apps are achieving the dream of consumers being able to watch live political events themselves without delay or commentary," Halperin, the managing editor of Bloomberg Politics, told The Huffington Post. "We are all C-SPAN now."
Welcome to the new frontier of campaign journalism, a never-ceasing stream of political events that anyone can broadcast or access with nothing but a smartphone. Just how much value live video adds to the already frenzied political process is anyone's guess. As with past technological shifts in political reporting, there's a mix of excitement and anxiety.
Journalists' obsession with the second-by-second Twitter conversation in 2012 played into some of the worst instincts of pack journalism, with fairly mundane moments blown up into mini-scandals and "gaffes." So there's an understandable fear that the ability to easily broadcast live all day in 2016 will only add to the noise level, with lots more content, but not necessarily context.
But Twitter has also had a democratizing effect, allowing the public into the campaign trail in new ways and giving journalists a platform to immediately offer information, analysis and snark outside the traditional structures of the outlets employing them. The question now facing news organizations is whether they can incorporate live video in a way that distinctly enhances coverage, or whether they will end up offering viewers and voters more distractions.
Live video apps like Meerkat and Periscope have implications far beyond politics. Anyone, anywhere in the world can use their phone to broadcast whatever is in front of them. So far, you get everything from the banal, like what's inside someone's fridge, to real-time coverage of a building collapse in Manhattan's East Village. Within the span of five minutes on Periscope, the Twitter-owned app launched Thursday, I watched a sunrise in Edmonton, a tram ride in Milan and house tour in Pakistan.
Closer to home, political journalists and 2016 hopefuls have been broadcasting what's happening in Iowa and New Hampshire.

Halperin began using Meerkat a few weeks ago and has live-streamed former Florida Gov. Jeb Bush taking questions from reporters, Halperin's own political analysis, and an interview with Yahoo News senior political correspondent Jon Ward, a fellow early adopter. Ward holds the distinction of live-streaming the first Meerkat interview, with Sen. John Thune (R- S.D.), a few days before chatting with Halperin outside the Bush event in Hudson, New Hampshire.
When Sens. Rand Paul (R-Ky.) and Marco Rubio (R-Fla.) make announcements in the coming weeks, more reporters on hand can be expected to try out the technology.
This experimentation has already led to pronouncements that a seismic shift is taking place. Former Obama White House communications chief Dan Pfeiffer wrote just weeks into Meerkat's existence that the live video app, or a competitor like Periscope, would "change the 2016 Election for every campaign, reporter and voter."
Campaigns have gotten on board even before their candidates formally announce. Recently, Bush live-streamed his speech in Atlanta, along with an appearance on a Fox News Radio.
Bush spokesman Tim Miller told HuffPost over email the technology allows viewers to get a behind-the-scenes glimpse of the former governor. "On social in particular, authenticity is valued above all else," he said, "so showing him unfiltered through raw, real-time video is a good way to do that."
But that raw footage comes at a potential cost to news outlets. Just as Twitter and Facebook allowed politicians of both parties to speak directly to voters, this technology could allow 2016 campaigns to more easily go around the political press. When asked about that possibility Miller shot back, "Maybe -- TBD!"
For journalists, there is some reason for concern. CNN national political reporter Peter Hamby wrote in a 2012 election post-mortem for the Shorenstein Center that incessant tweeting made candidates more reluctant to engage with the press. The fear was that any stumble, physical or verbal, would be immediately tweeted.
Hamby told HuffPost that campaigns might become even "more reluctant to put their guys or their girls out in front of the press corps" if they expect that every moment is being live-streamed.
While Hamby has concerns about how live streaming could further erode the campaign-reporter dynamic, he's still skeptical that this innovation will become as widespread in 2016 as some expect.
"Twitter itself is only a slice of the American electorate," Hamby told HuffPost. "And then within that, there's a tinier slice of political elites talking to each other. And then within that is a small slice of people streaming video."
"Are regular people going to be tuning in in mass numbers to watch live streams?" Hamby asked. "I have a hunch they're not going to be."
There are several reasons why live video might not yet be ready for primetime. The quality is often amateurish and shaky. There's no set schedule, so a potential viewer will only know something's being streamed if a notification pops up on Twitter or through the app. And by the time they tune in, the reporter already might have stopped broadcasting. Meerkat is ephemeral, with the stream gone once it's over, while Periscope allows for 24-hour playback. Either way, busy viewers might still prefer to get their news via an edited video clip rather than than sitting through unfiltered streams.
Still, the technology is a great leap from the previous cycle.
In his Shorenstein Center report, Hamby described how the TV networks' young reporters embedded on campaigns "were able to put up live satellite signals using a backpack-sized 'LiveU' kit filled with multiple Wifi cards that plugged directly into their cameras and live-streamed video back to their bureaus." The embedded reporters, he wrote, "were not just acting as producers, reporters, bloggers and tweeters," but also "anthropomorphic satellite trucks."

Now reporters don't need the backpack or bureau to broadcast.
Ward acknowledged in an interview that live video could increase "the noise level" in politics. It's up to each journalist, he said, to figure out the best ways the medium can work for them.

"I really would like to pick my spot and use it to add value," Ward said, "and not stick in people's faces."

For instance, Ward said, he live-streamed protesters at the Iowa Agriculture Summit this month, providing color to complement his coverage of the 2016 Republican hopefuls rather than a duplicative stream of the same speech.
Similarly, Halperin said he's "not going to be the 15th Meerkater at a Rand Paul event."
"The challenge and opportunity is you need to provide quality content," he said. "If you're providing people with interesting events or interesting narration, people will come back again."
News organizations and campaigns have both experimented with live streaming in past election cycles, but with seemingly little appetite from the public. But Halperin, unlike Hamby, seems bullish about the possibility of it catching on now. There's an audience seeking immediate video coverage, he notes, and importantly, viewers can now get direct notifications.
"If you stream video of a great event in a forest and it makes no sound, and no one knows it's there, you're not doing much of anything," he said.
New York Times reporter Nick Corasaniti has both consumed live video -- like when Halperin, Ward and Time's Zeke Miller streamed Bush's press availability in New Hampshire -- and recently shot his own at Ted Cruz's Liberty University announcement and the Texas senator's campaign events this past weekend.

Corasaniti said he's used live streaming to add color that might not make it into a Times story, like showing the musical skill of the Christian rock band warming up before Cruz's big speech.
"It certainly pierces the bubble a bit and invites readers in," Corasaniti said.

One problem, Corasaniti noted, was that "after 10 minutes my arm got tired."
It's still 19 months until Election Day. Maybe he'll invest in a tripod, too.
Related