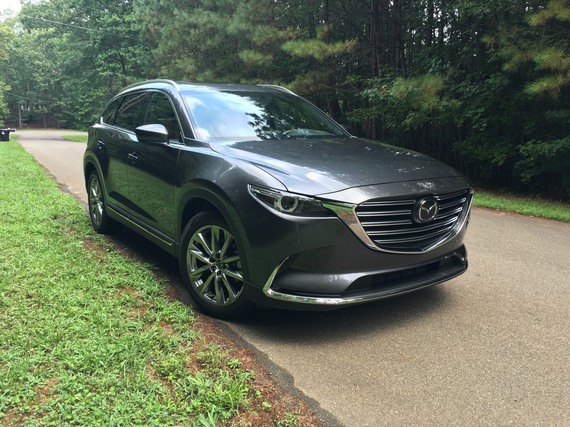 The other day, a luxury SUV with about the same interior space as a Nissan Rogue but with a $50,000 price tag was delivered to our Atlanta offices. I don't want to say the brand, because the vehicle I'm talking about is essentially a 10-year-old design and I know an all-new version is just around the corner - how that makes it worth $50k is beyond my understanding. By the way, new car shoppers: If you're shopping for a new car, pay attention to the model cycle. If the car you're looking at hasn't received a serious update recently (i.e., it looks a LOT like a 2011 model), you might want to look elsewhere or ask for a nice discount. No one wants to buy a new ride only to have it look 5 years old the following month when the newer, sexier, better-equipped model lands at your local auto mall and on your cul-de-sac.
Anyway, back to the pricey SUV -- as the driver pulled the car in, he parked right next to our 2016 Mazda CX-9, which we were all set to return. And that's when it occurred to me just what a really great job Mazda has done with the new CX-9. Sitting next to a pricier but smaller luxury SUV, the Mazda had it easily outclassed by just simply being there. In the coming months, I believe we'll start to see the 2016 Mazda CX-9 win awards, earn nearly universal praise and be featured on some hot reality show -- something like "The Jerks of West LA" or "Coolest Stepmoms No One's Ever Heard Of." But what specifically is so great about this all-new SUV? Here are four things that make the new Mazda CX-9 so good.
Interior Feel
First, there's the interior. This is a notch or two above other nonluxury SUVs like the Honda Pilot and Toyota Highlander. The textures are interesting, the knobs and switches feel precise, and there are nice touches, including real aluminum, maroon leather seating and real wood accents, in the Signature model. Overall, there's a sense of intentional design and elegance that other family SUVs lack.
Exterior Styling
Next, the CX-9's exterior look is above what you'd normally get with a family hauler. In terms of the exterior styling, both the Honda Pilot and the recently updated Nissan Pathfinder have a look that communicates an image somewhat higher than the kind of car little Logan and Skylar normally take their sweet time getting out of at carpool drop-off. But the Mazda CX-9 really takes the idea of a sexy family car to the next level -- this is BMW level in terms of the overall exterior look.
Transmission
Every automaker should buy a CX-9, take it apart and figure out how they got the engine and transmission combination so right. The CX-9 accelerates with ease, and the 6-speed automatic transmission works almost imperceptibly. You don't feel it shifting or searching for the right gear. Both the manual shift mode and sport mode work well and make the car more fun to drive.
Efficient Engine
The 2016 Mazda CX-9 has a 250-horsepower engine. That's not so remarkable on its own -- the 2017 Nissan Pathfinder is good for 284 hp, so the Mazda isn't crushing the competition with brute strength. However, the CX-9's power comes from a 2.5-liter, 4-cylinder engine that's turbocharged (that's a smaller engine than other three row SUVs). However, acceleration is excellent, and fuel economy is good, too: 25 miles per gallon in combined city and highway driving. The Environmental Protection Agency's estimate for a front-wheel-drive 2016 Mazda CX-9 is 22 miles per gallon in the city and 28 mpg on the highway. That's a huge improvement over the 2015 model's estimated 17 mpg city/24 mpg hwy, and a little bit better than the Honda Pilot, the Nissan Pathfinder and the Toyota Highlander.
The updated 2016 Mazda CX-9 feels slightly smaller than some of its 3-row rivals, especially in the third row. Still, it's such a remarkable vehicle that it will change what you expect from a $35,000 family SUV. The top-of-the-line Signature version tops $40,000, but it's clearly worth a test drive.
REAL LIFE. REAL NEWS. REAL VOICES.
Help us tell more of the stories that matter from voices that too often remain unheard.