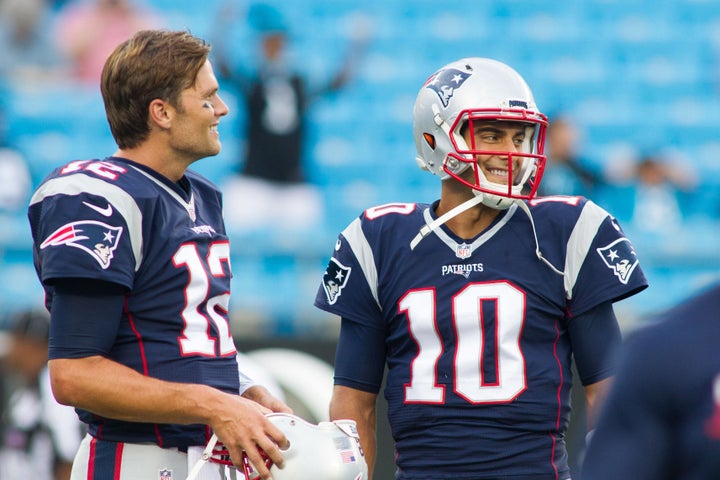 The 2016 NFL season has yet to kick off, which means it's the perfect time to decide which preseason darlings are for real, and which are simply hype trains heading nowhere.
There's buzz around Patriots quarterback Tom Brady's four-game suspension, and chatter regarding a much healthier Green Bay offense. And can we really trust Cardinals quarterback Carson Palmer and Bengals quarterback Andy Dalton during crunch time, considering their suspect playoff history? 
To read my five predictions for this season, click here. To read about 20 breakout stars, click here.
New England Patriots ― Contenders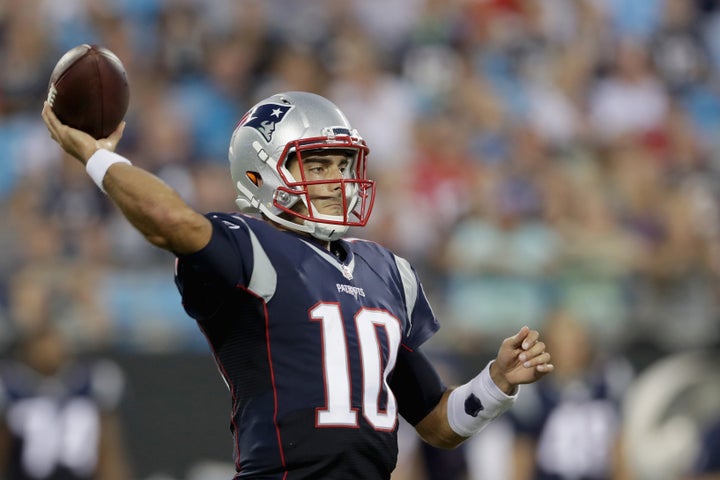 Brady will miss four games, but the Patriots appear to be in good hands with third-year quarterback Jimmy Garoppolo, who will assume control of the offense in Brady's absence.
Garoppolo's scant NFL experience ― he's thrown just 31 passes in his career ― shouldn't overshadow his athleticism around the pocket and more importantly, his accuracy. Preseason is hardly a barometer for success, but the former second-round pick and Eastern Illinois standout has been accurate and steady nevertheless. And when Brady does return, we can expect the 39-year-old to pick up right where he left off, completing one of the best seasons of his brilliant career.
Perhaps the other key question mark for New England is its less-than-stellar receiving core. Julian Edelman hasn't been healthy, and with Brandon LaFell bolting to the Bengals, there isn't a clear-cut No. 2 wide out.
But honestly, what are we really talking about here? The Pats still have Brady, they still have Gronk and they still have "the Hoodie." The AFC East hardly scares anyone, and the Pats open with games against Arizona, Miami, Houston and Buffalo, the last three of which take place at home in Foxborough, Massachusetts. A staggering 14th division title in 16 years seems like a lock, and so does another potential Super Bowl.
Pittsburgh Steelers ― Contenders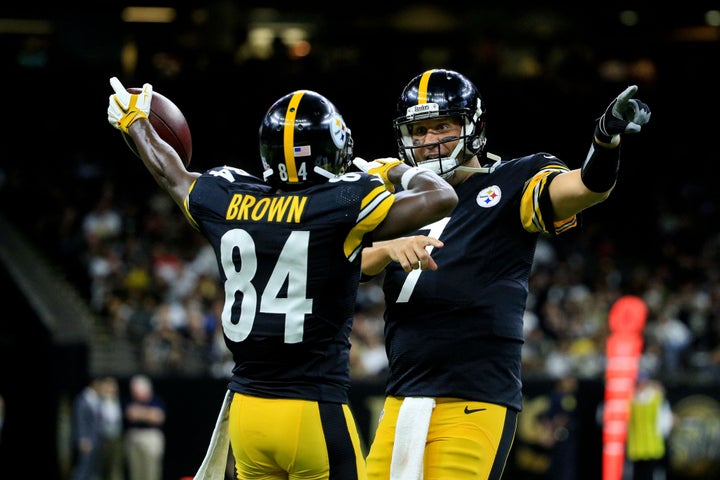 The AFC may not be especially deep, but the Steelers represent as big a threat as anyone. As I previously wrote, quarterback Ben Roethlisberger has a real chance to break the all-time single season yardage record. Antonio Brown is the best receiver in the league, and running back Le'Veon Bell will be lethal once he returns from a three-game suspension (reduced from four games upon appeal).
It's no secret that Pittsburgh's real issue in 2015 was its defense. The team ranked 21st in total defense, 30th in passing yards allowed and 11th in points allowed. Not surprisingly, the front office addressed this gaping hole and upgraded personnel, adding a pure cover corner in Artie Burns and a versatile, athletic safety in Sean Davis with its first and second-round draft picks.
Make no mistake: This isn't exactly Chuck Noll's unit of the 1970s, but second-year defensive coordinator Keith Rivers employs an aggressive, attacking 3-4 scheme that should be better in 2016 with young talent all across the board.
Arizona Cardinals ― Pretenders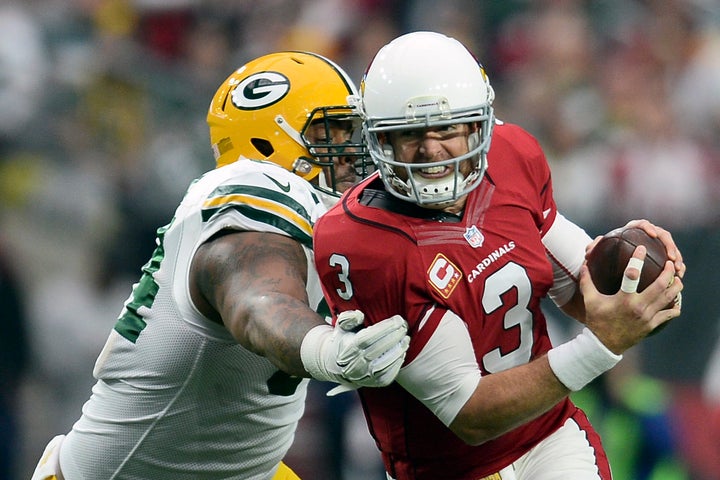 This isn't a knock on head coach Bruce Arians, nor is it a dig at an elite defense with ball-hawkers at every level. The real issue with Arizona is quarterback Carson Palmer, who simply has not been able to achieve success when it matters most ― in the playoffs.
The tricky part is understanding why: Palmer, without question, is a terrific player. He's armed with a resurgent Larry Fitzgerald, rising star John Brown and the gifted Michael Floyd, not to mention last season's second half stud, rookie running back David Johnson.
The Cardinals will put up a ton of points, but can we really trust the 36-year-old Palmer in the clutch? Take last year's NFC Championship, for example: The former Heisman Trophy winner threw four picks and lost two fumbles against Carolina. One week prior, against Green Bay, the Cards won in spite of Palmer, who tossed two more interceptions. The bottom line is that winning a Super Bowl without good quarterback play is a daunting task, and Palmer has not yet shown he can go the distance.
Seattle Seahawks ― Contenders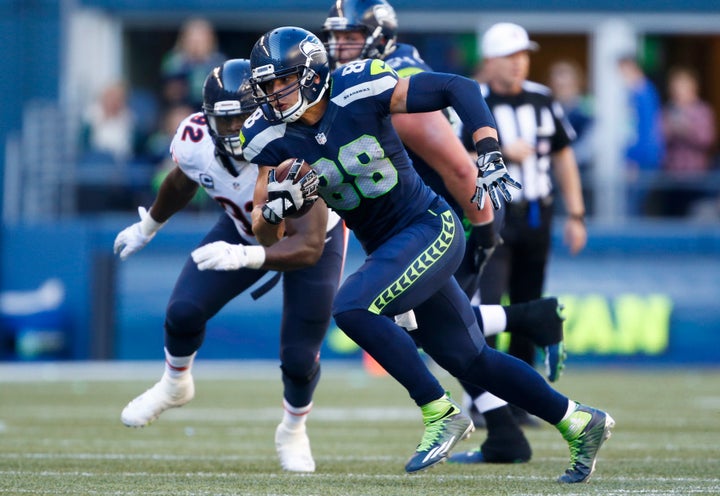 I was recently at Seahawks camp with head coach Pete Carroll, and one thing is for sure: The team's mindset at this year's camp was considerably better than it was at last year's.
Seattle is loaded and, just as importantly, it's finally healthy. Tight end Jimmy Graham, running back Thomas Rawls, cornerback Richard Sherman, strong safety Kam Chancellor, free safety Earl Thomas, wide receiver Paul Richardson, cornerback Jeremy Lane ― all of these guys were either hurt and couldn't play last season, or played hurt and less effectively.
Take Rawls, for instance. Before his season-ending ankle injury, the undrafted rookie from Central Michigan was leading the NFL in yards per carry. He will be spelled by rookie third-rounder C.J. Prosise, an electric playmaker who Carroll believes will become a very special player. Meanwhile, Sherman, Thomas, Chancellor and Lane comprise the Legion of Boom, a unit that helped Seattle lead the NFL in scoring defense for a fourth consecutive year.
Richardson is a burner who will open up the field vertically ― always a plus ― and then there's Graham, fresh off a devastating injury that some speculated would end his career. The 29-year-old former All-Pro tight end never established himself as a go-to weapon for quarterback Russell Wilson last year, but expect that to change in 2016. Seam routes, play-action, red-zone targets ― it's all there for the taking, and with the continued development of receivers Doug Baldwin (15 touchdown catches last year) and Tyler Lockett (9 total touchdowns), expect Graham to seize it. 
The biggest concern surrounding the Seahawks is their young and inexperienced offensive line, a unit which the team has spent less money on than any other team in the league. Offensive line coach Tom Cable is hardly fretting over it, though, telling The Huffington Post via text: "That's their only disadvantage and that's ok!"
Green Bay Packers ― Contenders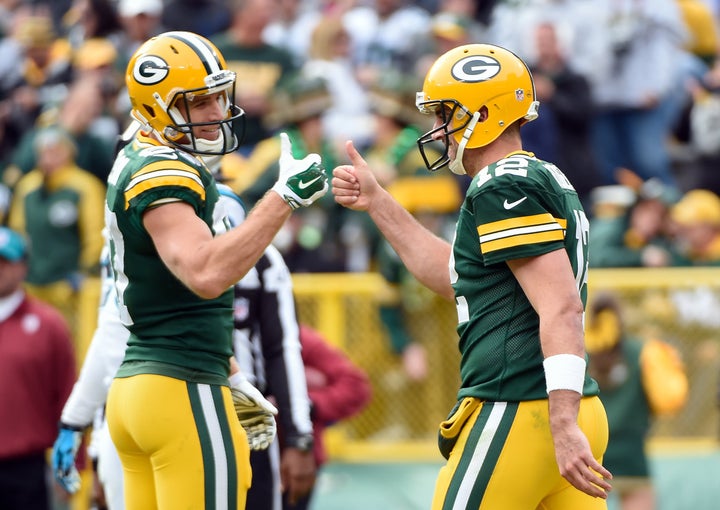 Expect a much more balanced offense for the Packers this year. That's what a healthy Jordy Nelson and leaner Eddie Lacy will allow this team. It's hard to say who is more important, but let's begin with Lacy, who by any metric underachieved last season. A Second-Team All-Pro in 2013, Lacy's added weight made him a liability. No longer armed with his deceptive quickness and burst, the running back endured a significant regression in total yards, yards per carry and touchdowns. However, Lacy entered camp considerably leaner and it's showed. His deft feet and ability to once again break tackles is noticeable, and we should expect the 26-year-old to resume his duties as the bell cow back for the Packers. 
Nelson, meanwhile, never managed to get on the field in 2015 after suffering a torn ACL in the preseason. Not only did quarterback Aaron Rodgers lose his favorite target, but Nelson's injury forced Randall Cobb into the No. 1 receiving role and Davante Adams into the No. 2 role, neither of which panned out. Green Bay ― with Lacy struggling ― was in turn forced to throw the ball more than it desired, and Rodgers' numbers reflected the Packers' predictability.
Without the threat of play-action and with both Cobb and Adams unable to get open, Rodgers threw for a career low 3,821 yards while amassing a 92.7 quarterback rating, also a career low in a full season. But Nelson, like Lacy, has appeared spry throughout camp, and we can expect the Packers' high-powered offense to be humming all year as a result.
Cincinnati Bengals ― Pretenders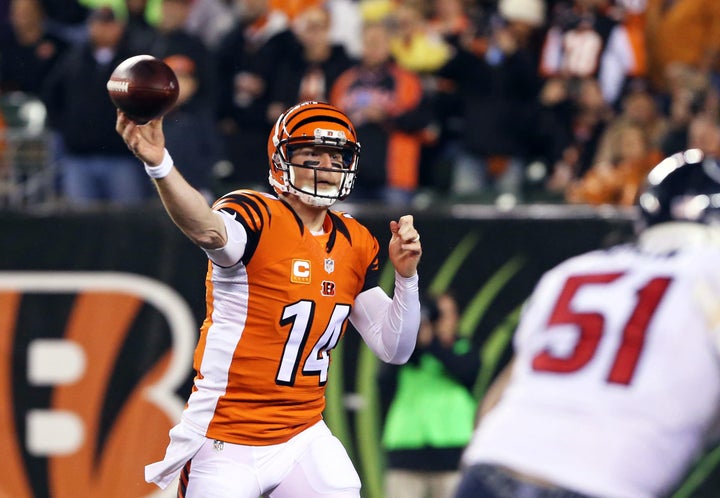 We can't talk about quarterbacks underachieving in the postseason without mentioning Andy Dalton. To his credit, Dalton was superb for much of 2015, compiling his best season as a pro while leading a high-octane offense. But he unfortunately had to leave the playoff game against Pittsburgh with a thumb injury. The Bengals ― true to form under coach Marvin Lewis ― catastrophically surrendered a late lead at home and lost to their rivals. As a whole, Dalton is winless in four playoff games, completing fewer than 56 percent of his passes to go along with one touchdown pass and six interceptions.
All of this is to say, what exactly has changed in 2016? Dalton remains under center, and the backfield duo of Jeremy Hill and Giovani Bernard aren't exactly world-beaters. A.J. Green is sensational, but the Bengals sure are asking a lot of talented rookie wideout Tyler Boyd. The defense is stout, but so is the rugged AFC North, and playing a first-place schedule won't make life easier for the flawed Dalton and company. 
Carolina Panthers ― Contenders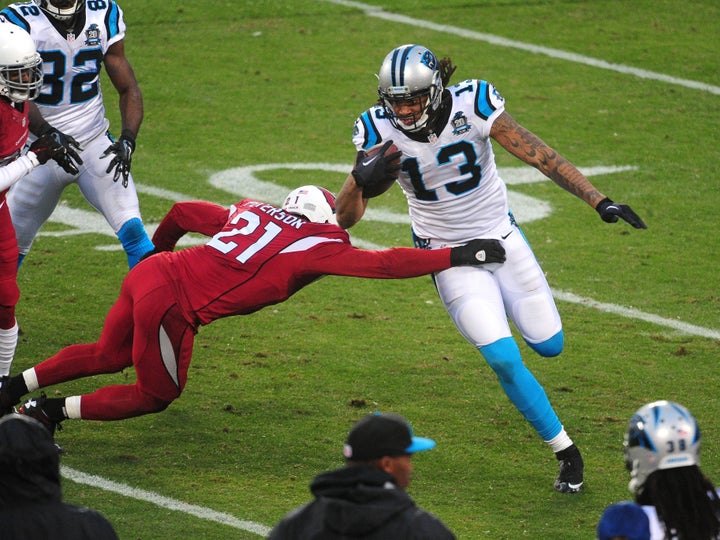 Reigning MVP Cam Newton returns to avenge a Super Bowl debacle in which he became immortalized for all the wrong reasons. What makes Carolina so dangerous isn't just an elite defense ― although it surely helps ― but it's the return of the ultra-talented Kelvin Benjamin, a former first-round draft pick and 1,000-yard receiver as a rookie who was sidelined all of last year with a torn ACL. At 6-foot-5 and 245 pounds, Benjamin ― a former HuffPost draft sleeper ― is a red-zone magnet capable of making Newton even better inside the 20s and on third down. Speaking of third down, "the Panthers converted just 35.7 percent of their third-down passes into first downs last year, 18th in the league," according to TheRinger.com.
Benjamin, an athletic marvel whom Newton can trust on 50-50 balls, should instantly strike fear into opposing secondaries, and his presence makes the reigning NFC champs that much scarier.
Denver Broncos ― Pretenders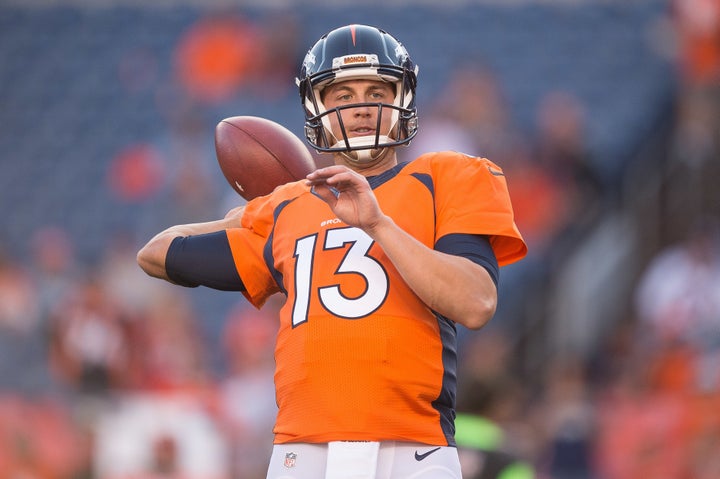 The defending world champion Broncos not only lost quarterback Peyton Manning to retirement, but more importantly, lost coveted free agent Brock Osweiler to a fat contract in Houston. In turn, they become just the sixth team in league history to defend a title with a new quarterback the following year.
Of course, Denver didn't exactly win the Super Bowl because of great quarterback play: It won because of a tremendous defense that held Cam Newton to 18-41 passing and an interception, arguably the worst game of his career. And that defense remains intact as well: Game wreckers Von Miller and DeMarcus Ware return, as do linebackers Brandon Marshall and Shane Ray, not to mention the cornerback duo of Chris Harris Jr. and Aqib Talib, who is playing after a gunshot wound put his career in jeopardy.
The reality however, is that neither rookie quarterback Paxton Lynch nor Trevor Siemian are capable of winning a Super Bowl, even with a defense as proficient as this one. Siemian will start the season, so it's worth noting that not only did he almost retire after his tenure at Northwestern, but the seventh-round pick in the 2015 draft has yet to attempt a single NFL pass. To be sure, the mobile Siemian doesn't have to be great for Denver to win football games. But this remains a tall task, and the AFC West will be widely improved with two potential breakout teams in Oakland and Kansas City.
Calling all HuffPost superfans!
Sign up for membership to become a founding member and help shape HuffPost's next chapter