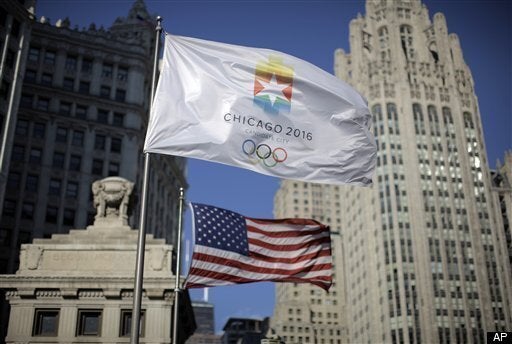 BOSTON -- President Barack Obama will travel to Copenhagen on Thursday to lobby International Olympic Commission voters on behalf of Chicago's 2016 Olympic bid -- a last-second appeal before the IOC awards the Games on Friday.
Ever since Obama's election, the Chicago 2016 campaign had been counting on its hometown hero to sway IOC voters, as former British Prime Minister Tony Blair did for London 2012 and former Russian President Vladimir Putin did for Sochi 2014 in the last two triumphant Olympic campaigns.
But in a race that is considered too close to call among all four candidates -- Rio de Janeiro, Madrid and Tokyo are the other finalists -- Obama, who earlier had announced that the health care fight would keep him in Washington, may have been forced to show up just to level the playing field.
After all, there will be no shortage of political charmers in Denmark; all four Olympic hopefuls will have heads of state there doing the meet-and-greet. And while Obama will have his wife alongside -- as well as the queen of Chicago, Oprah Winfrey -- genuine royalty from both Spain and Japan is expected to be on hand for the final IOC vote.
The election of Obama, with his international viewpoint and his roots in both Africa and Asia, has already done much to counter antipathy toward the United States. But there was no way Obama could combat the longstanding IOC resentments of the U.S. Olympic movement for the tacky Atlanta Games that sullied the brand and then the embarrassment of the Salt Lake City 2002 bribery scandal.
While Chicago is a significantly stronger candidate than New York City was four years ago when it finished behind London, Paris and Madrid in the vote for the 2012 Games, U.S. Olympic Committee actions this year may have damaged an American candidacy. Given that the IOC is the ultimate old-boys network, the USOC decision to dump a veteran leadership team seemed particularly poorly timed. And the USOC, already in an ongoing spat with the IOC over revenue shares, started a new one with its proposed U.S. Olympic television network.
But in a year when the IOC's history of rotating the Olympics geographically -- following Sydney, Athens, Beijing and London -- pointed to a win for the Americas, nothing has hurt Chicago's hopes more than the emergence of Rio as a strong contender -- and in the final days, according to Olympic insiders and bookmakers alike, as the favorite.
Rio, with its beaches, samba rhythms and carnival spirit, was always the sentimental favorite. Beyond the romance of the city, the IOC likes to make history and South America is the only continent other than Africa and Antarctica (a potential choice for a Summer Olympics by the mid-century) never to have hosted the Games.
Still, that didn't figure to offset more pragmatic considerations, most notably the struggles of a third-world economy as well as a crime problem that makes Chicago's Al Capone era look tame. However, many Rio supporters sounded the counterpoint: that, unlike the other three nations seeking to host, had never suffered a terrorist attack. And Brazil scored big points by hosting the 2007 Pan-Am Games in Rio without serious problems and, soon after, impressed again when it was awarded soccer's 2014 World Cup.
Over the last year, with the whole world beginning to resemble a third-world economy, the Rio bid began to seem more robust. And its proposed expenditures were more modest than some of its rivals. Brazilian president Luiz Inacio Lula da Silva found a pitch line likely to resonate with many IOC voters when he said -- repeatedly -- that hosting an Olympics "cannot be a privilege reserved for rich nations." Rio made another shrewd, political move recently when it named Carlos Nuzman, a popular IOC insider, as the man who would head its organizing committee for its 2016 Games.
But the biggest boost for Rio came last month when the IOC released its technical evaluations. Traditionally this report has helped or hurt at least one candidate. This time no contender was singled out with an overly favorable or critical assessment. Rio's budget was considered realistic -- Chicago's was "ambitious" -- and its crime epidemic was glossed over as "public safety challenges." Of course, with last week's brutal beating death of a 16-year-old in Chicago, the 13th student murdered there in 2009, crime is hardly a talking point for its Olympic campaign. And it should be grateful that -- despite major, ongoing political scandals -- the report made no mention of how Chicago and Illinois face "ethical challenges."
Support for the Rio bid at home was particularly striking. While Chicago struggled to forge the political consensus that would provide the requisite financial guarantees -- Mayor Richard Daley finally ramrodded the package through the city council last month -- Brazil's city, state and federal governments all backed Rio 2016 with unequivocal enthusiasm. And while a Chicago Tribune poll showed support among residents at only about 50 percent, the IOC report noted overwhelming backing for a Rio Olympics among sports-mad Brazilians.
Still, the politics of IOC votes are arcane. In a competitive, four-way contest conducted by secret ballot (with the low vote-getter eliminated after each ballot), any of the four cities could emerge a winner. Madrid led the 2012 vote for two rounds, Beijing 2000 for three rounds and Athens 1996 for two rounds before losing to London, Athens and Atlanta respectively. Rio might be everyone's second choice, a potentially winning position, yet find itself eliminated after the initial ballot it isn't enough delegates' first choice.
Spain's bid is bolstered by powerful insider connections, especially with King Juan Carlos, himself a former Olympian, and former IOC president Juan Antonio Samaranch in Copenhagen. But the geographic balance hurts Madrid the most, with Europe having hosted the Summer Games as recently as 2004 and slated to host again in 2012.
Tokyo's plan was impressively compact -- almost completely contained by the city center -- and would effectively utilize the city's high-density transportation network. But Japan has been reeling from economic and politic turmoil and public support for another Olympics there -- the '98 Winter Games were in Nagano -- is conspicuously lukewarm.
Unlike the campaign for the 2012 Summer Games, where four of the five finalists were from Europe, each finalist represents a different continent. That leaves the African bloc, with no home team, as potentially fertile ground for Obama's efforts. The African vote was critical 20 years ago when Atlanta, with a black mayor and other prominent African-American leaders, upset Athens, the host of the first modern Olympics, for the centennial Games.
Rio's biggest problem in sealing the deal could turn out to be its surprising standing as the pre-vote favorite. The IOC may love making history and spreading the Games around the planet. But it also cherishes its unpredictability and seems to relish delivering upsets. On the last two occasions, the IOC has awarded the Games -- London 2012 and Sochi 2014 -- to cities that entered the final fray regarded as underdogs.
Editor's note: This story has been updated to correct which continents have hosted the Games.
Popular in the Community