In the weeks leading up to the Academy Awards, the amount of parties, gifting lounges, private celebratory dinners reach a crescendo with stars often making appearances at multiple events during the course of one day.
This year, gift lounges showered talent with free products such as electronic hover boards, trips to exotic islands, beauty procedures and onsite massages or manicures. Other companies eschewed the social aspect of a gifting suite and instead put together gift bags that were sent directly to A-list talent.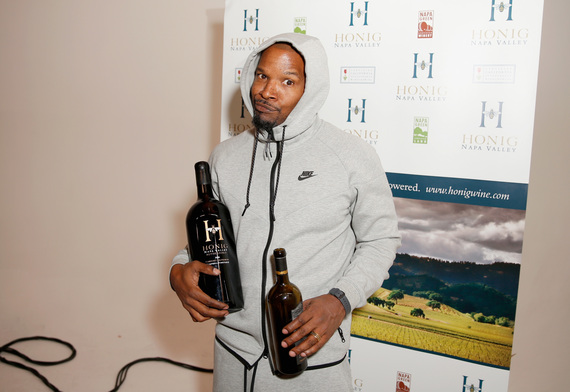 Oscar winner Jamie Foxx at Kari Feinstein's Style Lounge, one of two gifting suites the actor visited during Academy Awards week.

MADISON & MULHOLLAND'S 2016 AWARDS SEASON GIFT BAG
This gift bag was created for A-list female talent with many of the items are comprised from small business owners around the globe.
Speaking of global, celebs are busy travelers, whether it's shooting on location, going on world wide press junket tours or simply taking that much needed vacation to a secluded place. Luckily, Madison & Mulholland's gift bag fills all those needs, starting with a four night/five day stay in Antigua, courtesy of the Antigua and Barbuda Tourism Authority. Luxury resorts partaking are Sugar Ridge Resort, Curtain Bluff, Galley Bay Resort & Spa and Panama's Los Establos Boutique Inn.
There are also travel accessories from TravelOn including a Wheeled Carry-On, hanging toiletry kit and packing cubes, along with a silk eye mask from Perpetual Shades. For the home, square sheepskin cushions were gifted by Parker Wool and decorative linen cushions in a "Marrakesh" design by Pratesi.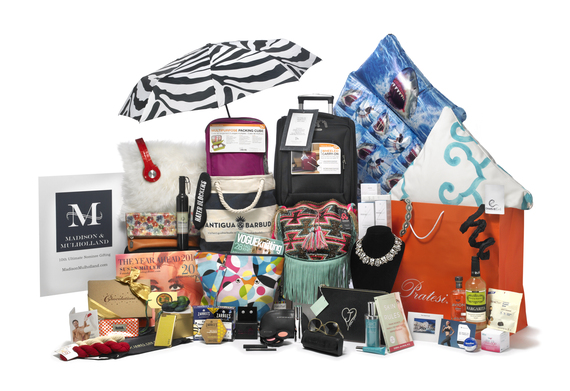 Among the beauty products are Le Metier de Beaute, the Japanese-created Mirai Clinical and Dr. Debra Jaliman's Sea Radiance. Madison & Mulholland contributes its own vintage inspired choker necklace with rhinestones and crystals set in gold-finish metal alloy.
There is silk yarn and knitting lesson from Lion Brand Yarn Company, with a gift certificate for a choice of custom made shawl, wrap, scarf or cowl. Knitting bags are provided by Yarn Pop for knitters on-the-go. For men there is yarn and instruction on how to knit a two-tone tie from James Cox Knits.
Accessories include Bluetooth headphones from Gigs, Navjack fiberglass iPhone cases, retro sunglasses from Retrospect & Co and colorful umbrellas from Vinrella that fold up and store in a matching bottle.
The gift bag - which also comprises gift cards to Kate Hudson's clothing line Fabletics and Powell & Mahony's Margarita Mix among others - is being auctioned off on eBay with proceeds going to the Noreen Fraser Foundation for the prevention and treatment of women's cancers.
KARI FEINSTEIN'S STYLE LOUNGE PRESENTED BY LIFX at Siren Studios in Hollywood.
Energy efficient lightbulb company LIFX gave out its "smart bulb" - a Wi Fi-enabled, multi-colored LED that's controlled from an app. Oh yeah, it also lasts 22 years!
Votivo candles handed out diffuser and candles, including the classic and popular Red Currant, now in a redesigned format that includes multiple styles from rustic to polished. Celebs also received Votivo's newest product, the Black Box diffuser where, much like a Keurig coffee machine, a scented pod is inserted and, with a touch of a button, continuous scent is released. No flames or smoke to deal with, and it comes with an automatic shutoff.
Beauty was everywhere! Anti-aging skincare Neutratone launched four new products at the lounge, including the Deep Wrinkle Filler. There was also France's Bioderma and AB Skincare, the latter which also includes pressed powder makeup with chemical free sunburn prevention.
Panache lingerie was doing on-site bra fittings, and guests left with numerous tops and bottoms ranging from sexy to sporty to stylish.
Accessories included iPhone 6 Plus cases by Scarlet and Gold and UE Boom 2 wireless and waterproof Bluetooth speakers.
Thirst quenchers included cold pressed juices from Jamba Juice, alkaline water by Essential and wine from Napa Valleys' Honig Vineyard & Winery that's family owned, sustaineably farmed and solar powered.
GBK AND LIFECELL PRESENT THE 2016 PRE-ACADEMY AWARDS GIFT LOUNGE at the London West Hollywood
In addition to presenting sponsor LifeCell's anti-aging products, celebs received gift certificates for non-invasive laser liposuction to get rid of stubborn fat pockets at the Alessi Institute for Plastic Surgery in Beverly Hills.
On-site treatments included eyebrow threading by Brow Art 23 and neck and shoulder fixes by Toronto-based chiropractor Dr. Liza. Meanwhile The Love Institute was giving out gift certificates for couples massage classes so A-listers can learn effective techniques and share them with loved ones.
There were timepieces, tourbillon necklaces, clutches and tablet bags by Egard Watch Company. American Hat Makers handed out handmade leather hats including fedoras, top hats, shade hats, steampunk and its newest owl wisdom hat, as seen below on Oscar winner Jamie Foxx and his daughter Annalise Bishop.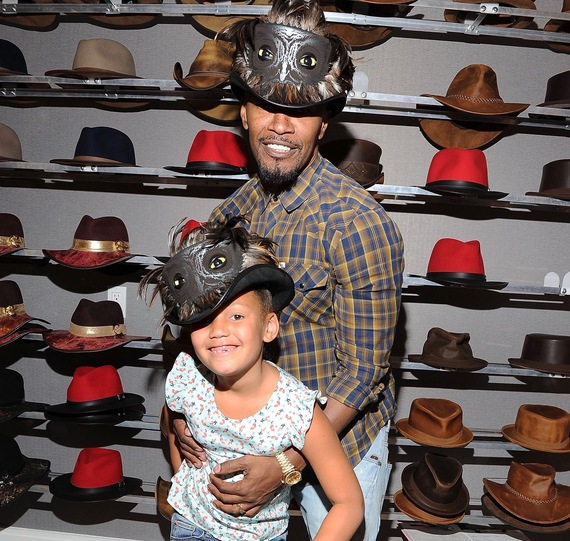 The San Diego Zoo Global, which is celebrating its 100-year anniversary, was inviting celebrities to visit its zoo and safari park for VIP tours. NoStreaks Detail was offering mobile detailing services.
Electronics were a-plenty, such as the Elemoon, a "smart bracelet" that changes color to match outfits, a hands free electric skateboard from Swagway and the world's first 3D printing pen from CreoPop.
Sweets were provided by Confetti Sweets' chocolate chip cookies and Baron Chocolatier among numerous other goodies and beverages.
The suite benefited three charities - Face Forward, Lambda Legal and Spring Up.
DORIS BERGMAN'S 8th ANNUAL VALENTINE ROMANCE OSCAR STYLE LOUNGE & PARTY at the Fig & Olive in West Hollywood.
There was plenty of fashion such as women's dresses from Single Dress that ran the gamut from casual to flirty to red-carpet worthy sequences. Garment production house DiSnapback brought their men's caps, short-sleeved hoodies and jogger sweatpants to gift.
Fit For A Belle's Megan Williams gave out her collection of fashionable workout wear that comes with a southern spin. The line features hoodies, tanks, sports bars, leggings, shorts, sweatpants, backpacks and more with Williams' signature bright colors, cheetah prints, frills and lace, pink barbell logos and printed inspirational quotes like "Never Give Up."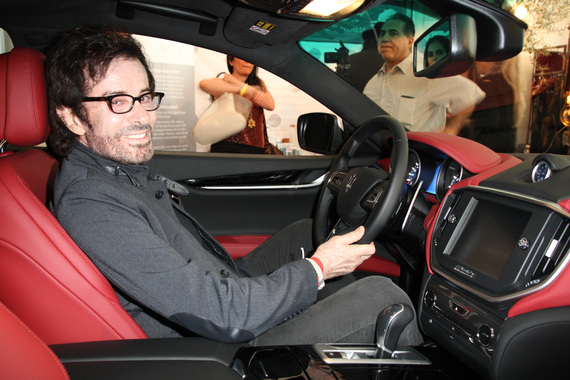 Presenting sponsor Maserati with Oscar winning actor George Chakiris (West Side Story) at Doris Bergman's Style Lounge.

My Saint My Hero -- whose motto is: God is real, prayer works and love heals - had its Blessing Bracelets including the popular Serenity and Breathe lines. A new addition this time was the Grace, with it's image of the ancient Scapular.
The 2-Minute Club gave out Pura D'or thickening shampoo and argan oil-infused conditioner and there was soap-infused body sponges from Spongelle. Designer Debra Mitchell handed out her Twisted Silver line of jewelry made out of earth metals, recycled raw materials, and antique trinkets.
Celebs left with giftbags that included a wine/champagne sealer from Rabbit and a cast aluminum five-in-one frying pan from Master Pan. Gift donations were made to Wednesday's Child.
SECRET ROOM EVENTS 2016 RED CARPET STYLE AND BEAUTY LOUNGE IN CELEBRATION OF THE OSCAR FESTIVITIES at the W Hotel in Westwood
Psychic Gloria Bieber from the Metaphysical Center in Calgary, Canada, was providing aura and charkra photography and readings for visiting guests.
The Shelborne Wyndham Grand in South Beach, Florida gifted a three night/four day stay. Australia-based Island Trading Co. gave out home décor items such as coconut candles, pineapple embroidered pillowcases and pineapple inspired vases.
WOSS Enterprises handed out their suspension training system for at home or on-the-go workouts to strengthen the body. Reptile Sunglasses gifted from their 2016 collection. Dogs got the Petzi Treat Cam, a treat dispenser and camera that lets you remotely connect with your pet and give them a snack.
Beauty products included waterproof, matte tinted lipgloss by Cailyn, along with the O! Wow make-up brush to ensure an airbrushed effect. There was Cure, the Japan- made gel exfoliator that removes layers of dry and dead skin. For hair there was Diamond Dust shampoo and conditioner by Label M. whose ingredients include real black and white diamond powders.
Celebs left with gift bags containing powdered contour kit, lipgloss and brow gel by Anastasia Beverly Hills, haircare by Hot Tresses, skincare by Biodroga and corset-type control garment by Janira Secrets. There were cozy socks by Wigwam, Modo titanium polarized sunglasses, Uzuri flip flops bejeweled with semi-precious stones and travel organizers by Yazzii.com.
DEBBIE DURKIN'S ECOLUXE LOUNGE IN CELEBRATIONS OF THE OSCARS at the Beverly Hilton - Stardust Penthouse.
On the beauty side, there was make-up applications provided by It Cosmetics. Guests received a goodie bag of the products, all of which were developed with the help of plastic surgeons and dermatologists and contain good-for-you ingredients. Sugared and Bronzed provided on-site tanning and gave out gift certificates for complimentary tans and sugaring session.
Chariot Travelware, founded by horse owner and jockey Moon Woo, was gifting 3-piece hardcase spinner luggage. Lastest collections has designs that include dogs, reflecting Woo's own love for canines and his habit of rescuing them!
Alice Min Soo Chun and her Solight Designs was on hand to gift the Solarpuff, an inflatable light cube that flat packs to 0.25 inches, contains close to 100 lumens and once fully charged by the sun, can provide 8 to 12 hours of light.
There was jewelry by Amy Marie Radzik, pet shampoo from John Paul Pet, Petite Sirah wine from Fete which was poured in to wine glasses stamped with the logo of sponsor Shriner's Hospital for Children.
WOW CREATIONS OSCAR GIFTING SUITE at the Luxe Rodeo Drive Hotel in Beverly Hills
Clothing included western-inspired t-shirts, hoodies and totes by Twisted J Apparel, jeans by Grace in L.A., dresses by Afua Sam's Washington DC.-based Studio D'Maxsi Designs....On the beauty side, there was volumizing powder for the hair by Zotos and body scrubs by Shea Moisture....Engineer turned jewelry maker LaTasha Green was gifting her handmade bracelets and bangles from her DTT by L. Green. Just what does DTT stand for? Divine Trinity Trinkets.....Nom nom treats included preserves from Butcher's Bunches, dried fruit and jam by Burkart Organics....CryoMax handed out reusable 8 hour cold packs, while Cheryl Anklam and her Essentially Living Healthy was making custom essential oils on site.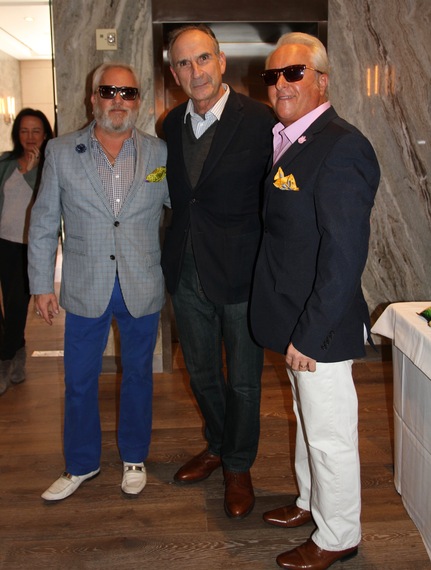 WOW Creations Matt and Mark Harris with Oscar nominated production designer Arthur Max (The Martian).
EVERYBODY WINS AT THE OSCARS GIFT BAG AWARDED BY DISTINCTIVE ASSETS

This "consolation prize" is being gifted to "losing" Academy Award nominees, making everyone a winner in their own right.
Halo, Purely for Pets is launching their Halo Freeze-Dried kibble in the gift bag. In partnership with Freekibble.com, the company is also providing a 10,000 meal donation in the nominees' names to an animal shelter or rescue of their choice.
Skincare includes a lifetime supply of Pu-erh Tea Skincare (nourishing cream and cleansing bar) from Lizora, pore-targeting products by Caolion and anti-aging skin/hair goods from Healing Saint Luminosity.
Adventure travel company Walk Japan is gifting a private buyout for two of any Walk Japan tour for up to 15 days. The Grand Hotel Excelsior Vittoria in Sorrento, Italy, and the Grand Hotel Tremezzo in Lake Como are both giving three complimentary nights in one of their suites.
Other goodies include electric bikes from ProdecoTech with 600 watt motors, Swiss eyewear from Vitris, women's leather ballet flats by Tieks, personalized chocolate M&M's and portable Haze Dual V3 vaporizers.
ROGER NEAL STYLE HOLLYWOOD BEAUTY AND COUTURE SUITE at the Luxe Rodeo Drive Hotel in Beverly Hills.
The event, which benefited The John Ritter Foundation, showcased gowns by designers Sonjjia Baram, Dipaula Designs and Olga Blanc. On-site treatments included massages by Brynn Cannon, facials by My Bare Beautiful Skin and lash extensions by Longmi Lashes. Nu Bra provided various undergarments for stars to look their best before the gown goes on.
Celebs received gift bags containing a collection of salts from Hepp's Salt Co. including black truffle, roasted garlic and red clay. There was haircare by Neuma, skincare by G.M. Collin and chardonnay by Lorimar Vineyards and Winery. Rabar Beauty and Hair Glamour by Lance both had gift certificates to for hair cuts and colors at their salons.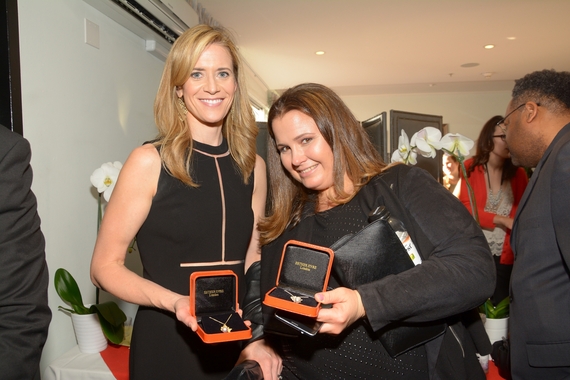 Spotlight producers and best picture nominees Nicole Blye Faust and Nicole Rocklin at Roger Neal's style lounge.
JAYNEONI MOORE'S PRE-OSCAR BOOM BOOM ROOM 2016 at the Century Park Hyatt Hotel
This gifting lounge catered to parents, moms-to-be, babies and small children with items such as teething mittens by The Munch Mitt and car seat/stroller covers by Turtle Toppy complete with mesh windows, toy loops, and pockets for everything from bottles to cell phones.
Jackie Edwards, a five-time Olympian long jumper, handed out her funky and fun Tootsies Maternity Compression Socks to provide relief for pregnant women. However, they're so cute that every woman should wear them! In fact, Edwards - now also a personal trainer - wore compression socks as an athlete to help with recovery, blood circulation and muscle soreness.
Loulou LOLLIPOP gifted handcrafted silicone jewelry that teething babies can grab on to safely while in the arms of their caregivers. Groovy Charms had lead-free plastic charms for kids to make, share and trade such as hearts, high-top shoes, dolphins, sunglasses and more.
Actress and comedienne Kym Whitley - whose son has food allergies - was on hand to give out t-shirts and zip-bags from her Don't Feed Me company. The line lets others know what NOT to feed the child if the parent is not around to inform them.
Related