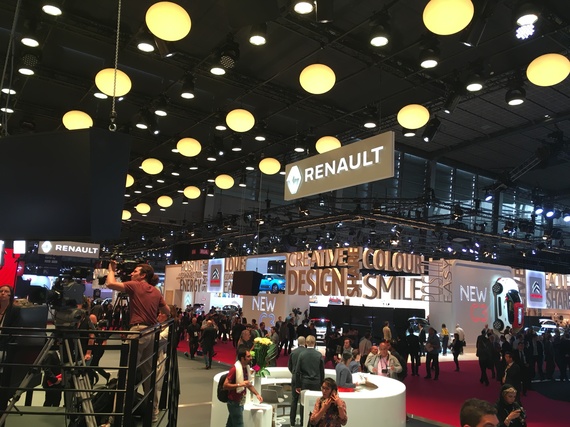 At the 2016 Paris Auto Show EVs and Hybrids dominate the landscape. Now, there's more evidence that diesel-powered passenger cars are about to go to the same place as most network sitcoms. I don't know exactly where "Crowded," "Grandfathered" and "Faking It" have gone, but gone they are, and I kind of wish ABC's "Quantico" would go to the exact same place. Wait..., "Quantico" is a comedy, right?
Either way, I think many diesel cars are about to be canceled, just like most network sitcoms should. A couple months ago, I said I thought the VW diesel scandal was kind of unfortunate since diesel-powered passenger cars are about to become obsolete anyway. It's largely my opinion, but there's some new evidence that proves I might be right.
The latest bit of info comes from a Reuters piece titled "Renault Sees Diesel Disappearing From Most of Its European Cars." According to that piece, Renault's chief competitiveness officer questioned whether diesel would survive. The same story was picked up by BBC and Fortune. Reuters says they spoke exclusively to two people who were present at a Renault meeting in July.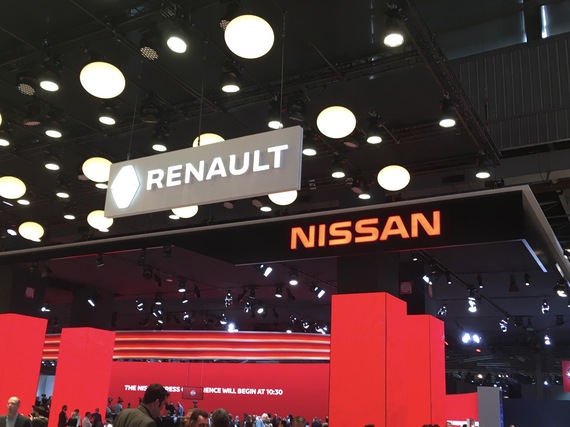 Renault-Nissan's attitudes and plans matter, simply because the company is a huge player in the global automotive landscape. The Renault-Nissan Alliance (sometimes just called the Alliance) was formed in 1999. By 2013, the Alliance had sold more than 8 million vehicles, meaning one in 10 new cars sold worldwide in 2013 was a Renault-Nissan Alliance vehicle. In 2015, the Alliance sold 8.5 million vehicles worldwide and now has strategic collaborations with other automakers, including Germany's Daimler AG, China's Dongfeng Motor and Japan's Mitsubishi Motors.
Another key piece of insight into this diesel trend came at the press preview of the 2016 Paris Auto Show, when I spoke with Philippe Klein, chief planning officer with Nissan, about the future of diesel-powered passenger cars. Klein thinks we should expect a gradual decline in the number of diesel engines offered, primarily for what he called "price-sensitive buyers."
Translation: The initial decrease will be in small, inexpensive cars. The reason for this is very simple. According to Klein, "The gradual increase in regulation increases the price." This creates more expensive cars, to the point where many buyers (likely European consumers at first) will start to question the value of diesel given the price versus the real-world benefits. Also, Klein added that "less driving means less benefit." This could mean diminishing returns for urban drivers who are considering diesel-powered cars. Diesel will certainly continue to make sense for trucks, however.
As evidence that this trend is already starting, visit the Renault.co.uk site and research the 2016 Renault TWINGO. You can see they're no longer offering a diesel option in the TWINGO. There are two engines available, the SCe 70 and TCe 90, both of which use petrol. The 2007-2014 Renault TWINGO had a 1.5-liter diesel option, and the new version does not.
"Diesel sales hit their peak in 2014 but have slowly been declining since. This is likely in part due to the diesel scandal with VW and the halo surrounding it. However, other alternative fuel technologies continue to get better, fuel prices stay low, and standard combustion vehicles continue to get better miles per gallon."
I asked Renault-Nissan about the Reuters report and was told that Renault has not confirmed the statements and "will adapt its portfolio according to local market demand."
Nissan Europe said something similar but with a more telling emphasis:
"We continue to focus on the development of a range of technologies -- electric, petrol and diesel."
Any automaker would say the same. But those selling a good number of diesel models may find that local market demand is drying up simply because the price for a diesel-powered car soon won't equal the fuel savings versus a gasoline-powered vehicle or a gas/electric hybrid. Plus, the price of a diesel-powered car is about to go up. Emissions and fuel economy requirements in Europe are set to increase by the year 2021. Currently, diesels make up approximately 60 percent of total sales in Europe for brands such as Peugeot and Renault.
What's telling about the Nissan Europe statement is that it includes a mention of electric, diesel and gasoline-powered cars. Additionally, the freedom with which Nissan distributes electric-vehicle (EV) stats likely indicates there will be fewer diesels and more EVs in your automotive future. According to BBC News:,
"From 2019, tougher European rules on diesel engines will involve measuring emissions in real-world driving conditions, making the new standards much harder to comply with."
When it comes to all the increased regulation and the resulting price increases, Klein said; "EV is the way to conquer this." This might not be true today, as EVs and Hybrids and the batteries that power them are quite expensive. Today, EVs make up less than 1 percent of total vehicle sales in Europe. But that's only today: The regulation and cost of diesel will increase, while the cost of EV technology will naturally decrease over time.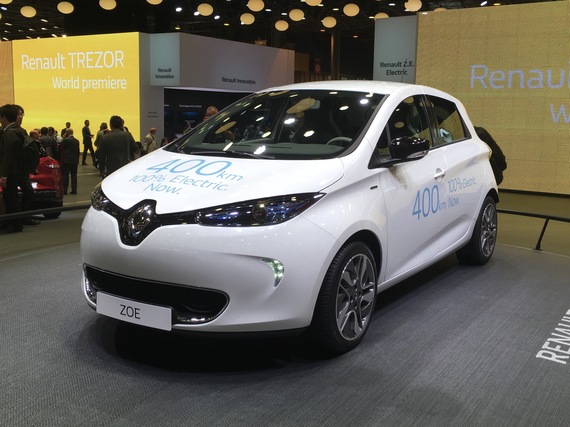 Again, let's use Renault-Nissan Alliance as an example. Worldwide, roughly one of every two pure electric vehicles sold is an Alliance vehicle -- the automaker has sold 350,000 EVs worldwide. Renault is the best-selling EV brand in Europe thanks to cars like the TWIZY and ZOE, while the Nissan Leaf is the best-selling EV in the U.S. and throughout the world.
Finally, according to the European Automobile Manufacturers' Association, there were 25 new cars registered per 1,000 people in the European Union in 2014. And when you look at new-car registrations in Europe by fuel type, the number for diesel has been decreasing recently. In 2011, 55.2 percent of new cars registered in the EU were diesel-powered cars -- in 2014, it was 53 percent.
Frankly, the 2016 Paris Auto Show was an indication of what's to come. Many featured cars were fully electric or gas/electric hybrid, including the Hyundai Ioniq, Porsche Panamera 4 E-Hybrid, the Renault Trezor, Mercedes-Benz Generation EQ, Vision Mercedes-Maybach 6 and VW I.D. just to name a few. Even Ferrari was showing a hybrid. Bottom line: The world's passenger-car future is probably going to be powered by electricity rather than diesel fuel.
Calling all HuffPost superfans!
Sign up for membership to become a founding member and help shape HuffPost's next chapter