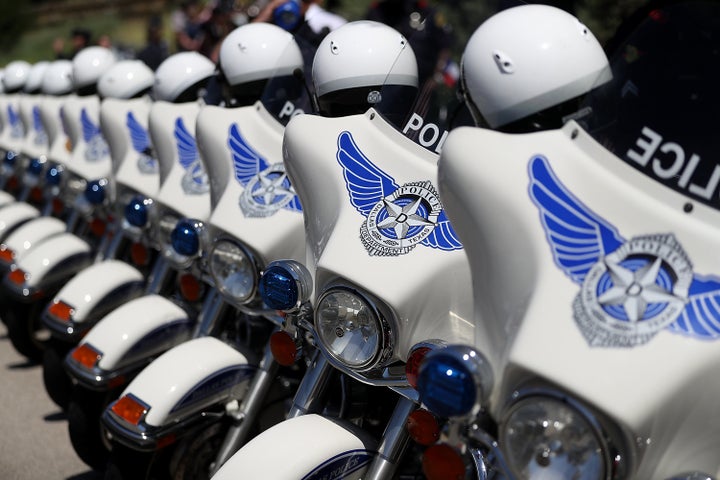 Hundreds of protesters snaked their way through downtown Dallas one evening this past July. Emotions were running high following fatal police shootings of black men in Louisiana and Minnesota, incidents that were captured on video in graphic detail. The Dallas demonstrators called for an end to the bloodshed and for measures to increase accountability for police officers who kill civilians. Despite the tension, it was a peaceful event by all accounts.
Then came a volley of gunfire. And then another and another.
By the end, a lone gunman had fatally wounded five police officers and injured nine others. The carnage stopped when police detonated a bomb carried by a robot, killing the suspect, a former member of the Army Reserves who was discharged in 2015. He was reportedly not connected to any of the groups protesting that night.
The July 7 shooting was the deadliest single incident for U.S. law enforcement since Sept. 11, 2001. Just 10 days later, a gunman shot and killed three police officers in Baton Rouge, Louisiana, in what authorities called another "ambush-style" attack.
The two events highlighted a year in which violence against the police repeatedly dominated the news cycle. A total of 62 officers were deliberately shot and killed while on the job in the U.S. and Puerto Rico this year, according to the Officer Down Memorial Page, a website that independently tracks a broad range of data on law enforcement deaths. Two other officers died after being intentionally struck by suspects in vehicles.
The FBI's official total for officers feloniously killed on duty in 2016 won't be released until mid-2017. But the unofficial total of 64 officer deaths constitutes the highest annual number since 2011. The two incidents in Dallas and Baton Rouge alone accounted for 12.5 percent of all officers intentionally killed this year.
Any killing of a police officer is tragic. Yet a closer look at historical data shows that while this unofficial tally is above average for recent years ― which were some of the safest in recent history ― it is still far lower than the totals of the not-so-distant past.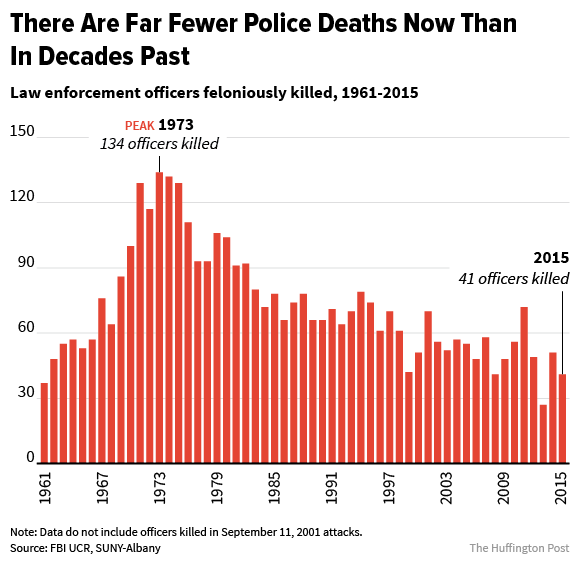 The overall trend likely won't soothe those law enforcement officials who have responded to mounting demands for police reform with claims that such scrutiny has put cops in peril. Some police officers and conservative media outlets argue that protest groups like the Black Lives Matter movement have promoted violence against officers, leading to a supposed "war on cops."
"This year, we've had more officers killed particularly by gunfire and more officers killed in ambush-style attacks and more cases where more than one officer is killed at the same time," said William J. Johnson, executive director of the National Association of Police Organizations.
There were more incidents this year in which multiple officers were killed by a single shooter: eight in 2016 vs. two in 2015. But only three involved a clear ambush ― Dallas, Baton Rouge and a November incident in the Des Moines, Iowa, area in which two officers lost their lives. A separate count by the National Law Enforcement Memorial Fund finds that a total of 21 officers died this year in ambush-style attacks. Although that's the highest number in more than two decades, nearly half of those fatalities came during the three events above.
The rest of the fatal shootings in 2016 occurred during routine law enforcement activity, often while officers were serving warrants or responding to domestic disputes or other calls.
Still, Johnson believes President Barack Obama is in part to blame for what he sees as a chilling of relations between the police and the public. And that, Johnson said, has made the job of policing more dangerous.
"We're hopeful that with the new administration, they'll be helpful in quelling this rising tide of violence against police," he said.
President-elect Donald Trump, who regularly jabbed at the Black Lives Matter movement during his campaign, has been an outspoken supporter of "law and order." He's also repeatedly pushed the narrative that the police are under siege. The Fraternal Order of Police, the nation's largest union of rank-and-file officers, endorsed Trump earlier this year.
Some supporters of police reform argue that police officials are not painting an honest picture of the data. They suggest that the law enforcement community is seeking instead to win the public relations battle and push back against the current momentum for reform.
But that may not be entirely fair either, according to some law enforcement researchers. Police officers may honestly believe their portrayal of the data, because they, along with the rest of the public, are likely hearing about this sort of violence more often.
"In the past, most shootings by police officers, as well as shootings of police officers, were typically local or regional news events," said Philip Stinson, a criminologist at Ohio's Bowling Green State University. "But after Ferguson, everyone is paying attention. So often, these incidents now become national and even international news events."
Still, Stinson, a former police officer himself, said the hard data suggest that policing was no more dangerous in 2016 than it has ever been.
"I don't buy the 'war on cops' narrative, nor do I draw any conclusions from small changes in the numbers of officers killed over a few years," said Stinson. "Policing in this country is violent. ... It is business as usual on the streets and in policing."
Popular in the Community