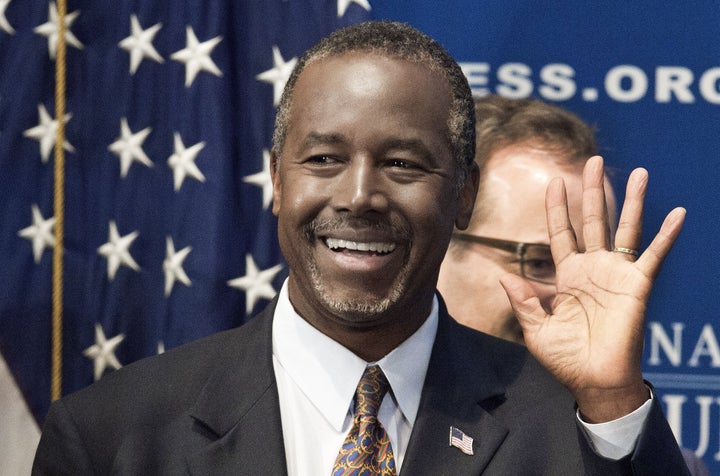 WASHINGTON -- Republican presidential candidate Ben Carson and Democratic front-runner Hillary Clinton led their respective parties in fundraising from July through September, according to reports filed with the Federal Election Commission on Thursday.
Clinton led all the 2016 candidates, with $29.9 million raised. Carson pulled in $20 million, but he wasn't the second-best fundraiser. That position belongs to the other top Democratic candidate, Sen. Bernie Sanders (Vt.), who raised $26 million over the period.
While the top two Democratic candidates held the top two money positions for the third quarter, the bulging Republican field of 17 contenders (two have since dropped out) combined to raise more than Democrats -- a switch from the previous quarter. Overall, Republican candidates pulled in more than $84 million, while Democratic candidates raised at least $57 million. (Some campaigns on Thursday night had not yet released their fundraising numbers.)
Much of that Republican edge can be attributed to the inclusion of candidates who declared they were running after the previous fundraising quarter, including New Jersey Gov. Chris Christie, Ohio Gov. John Kasich, former New York Gov. George Pataki, former Virginia Gov. Jim Gilmore, and Wisconsin Gov. Scott Walker, who has since dropped out of the race. Combined, these new candidates raised $16.1 million.
Behind Carson in Republican presidential fundraising are former Florida Gov. Jeb Bush, with $13.4 million; Sen. Ted Cruz (Texas), with $12.2 million; former Hewlett-Packard CEO Carly Fiorina, with $6.8 million; and Sen. Marco Rubio (Fla.), with $6 million. Kasich brought in $4.4 million, and Christie $4.2 million.
Billionaire Donald Trump, who leads the Republican field in all of the polls, loaned his campaign $1.8 million and contributed an additional $100,000. The real estate tycoon also saw an influx of support from donors as he rode a wave of anti-immigrant belligerence to become the undisputed Republican front-runner. He raised $3.8 million from people not named Donald Trump, with $2.8 million of that coming from small donors who each contributed less than $200.
Walker, who exited the race on Sept. 21, would have been among the top fundraisers, with $7.4 million. The Wisconsin governor had burned through 86 percent of his money raised, with high campaign staff salaries reaching close to $2 million over his 70-day campaign.
Other candidates on the Republican side also have been rapidly burning money, some in less productive ways than others.
Former Texas Gov. Rick Perry had a burn rate -- percent of money raised that was spent by the campaign -- of 392 percent for the quarter. He was the first candidate to drop out, ahead of Walker.
Sen. Rand Paul (Ky.), who raised $2.5 million, spent $4.5 million -- a 181 percent burn rate. Louisiana Gov. Bobby Jindal had a burn rate of more than 100 percent after raising $579,438 and spending $832,214.
Bush, the establishment favorite, had a burn rate nearly identical to Walker's -- 85 percent. Bush ended the quarter with more than $10 million cash on hand and his campaign says the spending has been on investments for the long haul.
In a memo to supporters, Bush campaign manager Danny Diaz details investments in a major data operation and grassroots work in the February and March primary states.
"We are going to build on this formidable organization in the early states, increasing staff and resources there as we approach the caucuses and primaries," Diaz writes.
This differs from how the Carson campaign is spending its money. Despite raising more than his competitors, Carson's campaign finances may be unsustainable. His campaign spent $14.2 million in the third quarter, but his records show that $10 million was spent on expenses related to fundraising. The campaign told NBC Politics' Alexandra Jaffe that total fundraising expenses hit $11.2 in the third quarter.
Carson's expenses included $4.2 million to Eleventy Marketing Group for database management and Web services that relate to fundraising; $1.8 million to Action Mailers, and $1.3 million to TMA Direct, for direct-mail fundraising; and $1.4 million to Infocision for telemarketing.
The Carson campaign's burn rate on fundraising means that it cost the campaign 50 cents for every dollar raised. Since Carson relies heavily on small donors who give through direct mail, telemarketing and online advertising appeals, any dip in funding may imperil the financial well-being of his campaign -- and the profits of the companies he is paying.
Carson is taking a leave from his campaign to promote his new book.
Cruz, the first-term tea party senator from Texas, leads the way in cash on hand at the end of September, with $13.7 million. He is followed by Carson's $11.3 million, Rubio with $11 million, Bush's $10.3 million, and Fiorina's $5.5 million.
The total amounts of money on hand are vital for the candidates, as Walker and Perry would testify. Still, the cash on hand totals held by many of these candidates are aided by the supportive role that super PACs and nonprofits not disclosing their donors have played in the campaign.
Much of Fiorina's campaign apparatus has been outsourced to the super PAC supporting her, allowing her campaign to raise and store cash. The Bush campaign touts tens of millions of dollars in advertising reserved in early primary states by the super PAC that Bush stocked with more than $100 million before officially announcing his candidacy. And there's Rubio, who has been backed by more than $6 million in advertising by the Conservative Solutions Project, a dark money nonprofit.
On Thursday, Bush's communications director Tim Miller lashed out at Rubio's camp for touting a high cash on hand total, which Miller said was made possible by the spending of the dark money group.
The leading Democratic candidates, Clinton and Sanders, both boast huge cash on hand totals. Clinton is sitting on at least $32 million, while Sanders had $27 million at the end of September.
Each Democratic candidate is pursuing a dramatically different fundraising strategy. Sanders raised an unheard of 77 percent of his third quarter total -- $20 million -- from small donors giving less than $200. Clinton's campaign relies heavily on large contributions. She also has raised $5.2 million from small donors -- 17 percent of her total.
The Sanders campaign continues to raise huge sums from small donors. His campaign says it has raised $3.2 million online since Tuesday's Democratic Party debate.
Popular in the Community