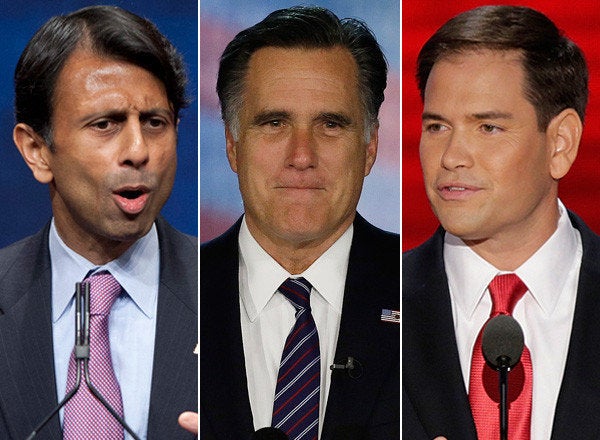 WASHINGTON -- Act 1, Scene 1 in the drama over who will run for president on the Republican ticket in 2016 has a clear theme: reject Mitt Romney.
Two of the Republican party's brightest young stars have made comments in recent days clearly repudiating the 2012 Republican nominee.
Second-term Louisiana Gov. Bobby Jindal, 41, went first, telling The Huffington Post on Tuesday that Romney's campaign was "too much about biography" and did not lay out a compelling and bold vision of conservative governance.
But then, after Romney told donors on a call Wednesday that President Obama won by giving "gifts" to African-Americans, Latinos, young voters and women, Jindal -- the first Indian-American to be elected governor -- really let loose.
"I absolutely reject that notion, that description. I think that's absolutely wrong," Jindal told reporters at the Republican Governors Association annual meeting in Las Vegas. Politico described Jindal as "visibly agitated" when asked about Romney's remarks.
Jindal, in his interview with HuffPost, had repeatedly remarked how the GOP should "compete for every vote," but never really explained what that meant. His repudiation of Romney's comments about Obama's "gifts" may have been a more concrete demonstration, though it is also worth noting that it is easier politically to kick Romney after his loss, than it would be to criticize someone currently more powerful in the party, such as House Speaker John Boehner (R-Ohio) or Senate Minority Leader Mitch McConnell (R-Ky.), if they were to say something similar.
On Thursday morning, another top 2016 prospect for the GOP, Sen. Marco Rubio (R-Fla), 41, was asked by National Journal's Major Garrett at The Atlantic's Washington Ideas Forum whether the idea of "self-deportation," a term used by Romney during the primary, was now "nullified" in the wake of Romney's loss.
"I've said publicly before and backstage: it's really hard to get people to listen to you on economic growth, on tax rates, on health care if they think you want to deport their grandmother," Rubio said. "It's very difficult to get people to listen to anything else you're saying. So I think it's critical, there's just common sense involved here in terms of how you portray it. Policy matters too but rhetoric is important."
Rubio, whose parents left Cuba in the 1950s, went on to describe how he knows people who are in the country without documentation, and how his kids go to school with other children whose relatives are in the same position. He concluded with this:
"You know this not as a statistic. You know them as a human being, a walking, talking person who is in pain, and who came here because they were hungry and because their kids were starving and their family was hurting, and they did what any parent would do when faced with that circumstance. They did whatever they had to do to provide for them. And you have to always remember that when you talk about this."
It was not new rhetoric for Rubio. But in the wake of the election, and in response to a question about the positions Romney took on immigration and the way he talked about it, Rubio's comments were a rejection of Romney.
The flight from Romney has come just over a week after he strode to a lectern in Boston and delivered a gracious, five-minute concession speech a few minutes after 1 a.m. last Wednesday. It has been a rapid loss of political capital that risks marginalizing him permanently in a way few former nominees have experienced.
Before You Go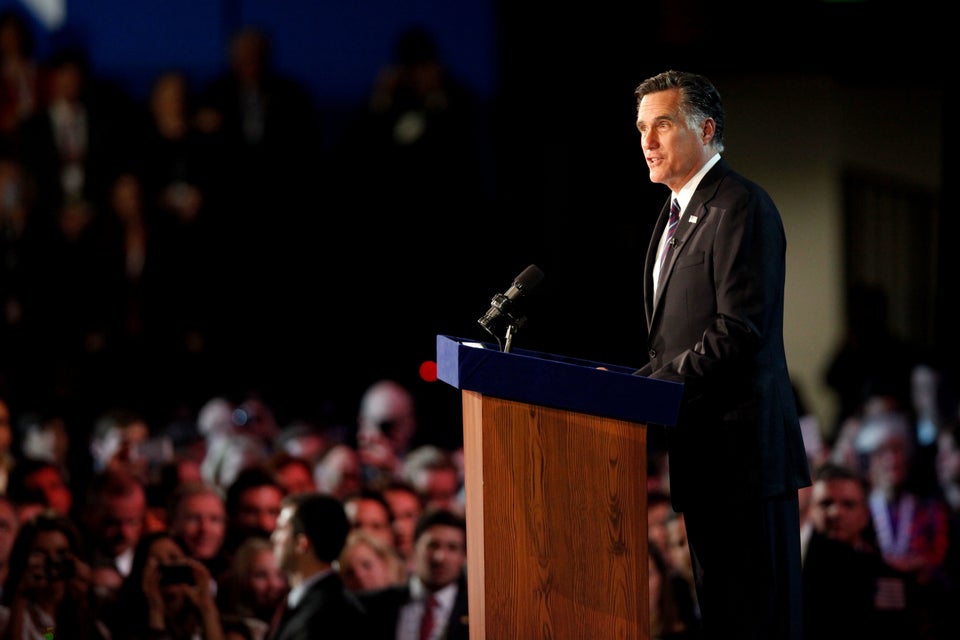 100 Years Of Election Night Losers
Popular in the Community