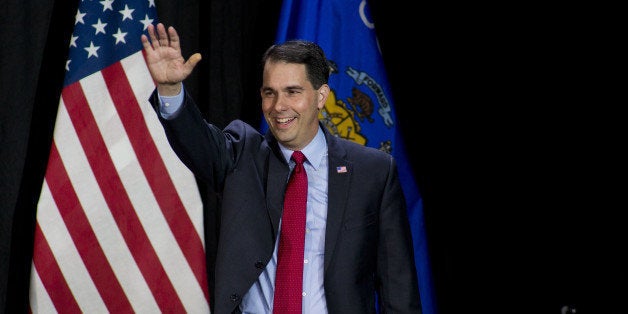 (Adds details on Christie, other speakers)
DES MOINES, Jan 24 (Reuters) - Potential Republican presidential candidates for 2016 jockeyed for support from conservatives in the early voting state of Iowa on Saturday, and some raised doubts about the prospects for party front runners Mitt Romney and Jeb Bush.
Activists attending the Iowa Freedom Summit heard criticism of President Barack Obama and fellow Democrat Hillary Clinton, who traveled widely as Obama's first-term secretary of state and is likely to run.
"Like Hillary, I, too, have traveled hundreds of thousands of miles around the globe. Unlike her, I've actually accomplished something," Carly Fiorina, the former chief executive of Hewlett-Packard, said.
New Jersey Governor Chris Christie, who many conservatives see as a moderate, touted his ability to appeal to a broad segment of the electorate, from Hispanics to independent voters.
He said the party needs crossover appeal and made light of his blunt, direct style that sometimes draws criticism. "If you want someone you agree with 100 percent of the time, go home and look in the mirror," Christie said.
One message that emerged on a day of speeches by about eight potential Republican candidates is that Bush and Romney have work to do to gain support from conservatives in the state, which will hold the first nominating contest of 2016 early next year.
The view surfaced when Donald Trump, the brash New York developer, declared that a third run by Romney would not work because he "choked" as the losing 2012 Republican nominee. He said that Bush, the former Florida governor, is weighed down by concerns about his education and immigration policies.
"You just can't have those two," Trump said.
Many in the room applauded and cheered at the idea that Romney and Bush should not run. Neither Bush nor Romney attended the forum.
Potential candidate Rick Santorum, a former senator from Pennsylvania who had sought the nomination in 2012, raised concerns about Common Core, an education policy that Bush supports but which conservatives routinely deride.
"We need less Common Core and more common sense," he said.
Texas Senator Ted Cruz, asked at a news conference about Romney, said the next Republican nominee needs to be someone who can provide a clear contrast to the Democratic choice, able to "paint in bold colors, not in pastels."
That is the same argument Santorum made in 2012 to argue for a more conservative nominee than Romney.
Former Arkansas Governor Mike Huckabee, who won the Iowa caucuses in 2008 but lost the nomination to Senator John McCain, argued for a positive debate among conservatives.
"We don't need to spend the next two years beating each other up in the conservative tent. We need to tell America what's right with this country," he said.
The crowd gave warm receptions to Wisconsin Governor Scott Walker, who survived a recall attempt over his conservative policies in 2012 and won re-election in November, and Texas Governor Rick Perry, who is trying to make a comeback after fumbling his 2012 candidacy. (Additional reporting by Amanda Becker in Washington; Editing by Lisa Shumaker, Rosalind Russell and Leslie Adler)
Calling all HuffPost superfans!
Sign up for membership to become a founding member and help shape HuffPost's next chapter
BEFORE YOU GO
PHOTO GALLERY
Potential 2016 Presidential Contenders