Ezekiel Elliot. Dak Prescott. Joey Bosa. Tyreek Hill. Jordan Howard. Carson Wentz. I'll stop here, but the 2016 NFL season boasted impactful rookies across all 32 teams. Perhaps we are witnessing the birth of a class similar to the ultra-talented 2011 NFL Draft class, which included guys like Von Miller, J.J. Watt, Julio Jones, A.J. Green and Cam Newton. Let me emphasize the word "perhaps". Right now a comparison would be foolish, but don't be surprised if this becomes a topic of discussion down the road. This class has shown promise and luckily we will be able to watch some of these electrifying rookies compete in the playoffs. One name most definitely not given a spot in this year's "2016 Rookie Takeover" though one who may soon demand it is QB Connor Cook.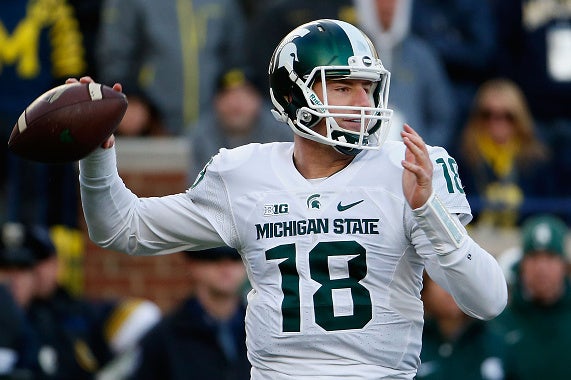 The 6 foot 4 inch, 217 pound rookie will become the first quarterback in NFL history to make his first career start in a playoff game. After losing MVP candidate QB Derek Carr in week 16 to a broken ankle, the Oakland Raiders have been searching for answers. Once considered Superbowl contenders, the Raiders' chances have now seemingly plummeted. First career start? In a playoff game? On the road? Don't punch any tickets for this Oakland squad—unless it's to a sandy vacation spot in the Caribbean.
As a 4-year starter at Michigan State, Cook posted historic numbers for his school and showed substantial improvement in each of his four seasons. In his sophomore and junior seasons, Cook threw for almost 6,000 yards along with 46 touchdowns to just 14 interceptions. He captured the Johnny Unitas Golden Arm Award and Big Ten Quarterback of the Year Award in his senior campaign while throwing for 3,131 yards, 24 touchdowns and 7 interceptions. His experience in big games as well as in operating within a pro-style offense were both key reasons he drew interest in the draft.
Had it not been for the injury to the Raiders' second-string QB Matt McGloin, Cook would likely not be looking at a chance to make history this Saturday. McGloin got the start in week 17 and played almost a full half before exiting with a shoulder injury. Incredibly underwhelming in his performance, it may not be fair to interpret this as a downgrade to Cook. In fact, after watching the tape from week 17 when Oakland took on the vaunted Denver defense, Cook was a major upgrade in terms of quarterback play. Let's take a look at some of Cook's performance in Denver this past Sunday.
Play #1: Q3 13:59, 1st & 10 @ 50, 0 - 17
Here we begin with Cook opening up the second half with his first drive under center. Cook displays great footwork here as he takes a smooth 5-step drop. He shows great patience in the pocket, executing a hitch step to let the route develop down the field. He stands tall and delivers an on-target throw to WR Michael Crabtree for a first down.
Play #2: Q3 4:23, 1st & 10 @ OPP 49, 0 – 24
Again, Cook looks comfortable in the pocket standing tall and poised. He is patient in letting TE Clive Walford's route develop. He exploits the tight window and delivers an accurate ball right over the linebacker and safely away from the incoming safety.
Play #3: Q3 3:41, 1st & 10 @ OPP 32, 0 - 24
Here, Cook shows excellent foot technique and quickness. At the end of his drop he immediately performs a hitch step and climbs the pocket, aware of the incoming pressure. He remains balanced and is able to make a great 25-yard throw to his play-making WR Amari Cooper who had one-on-one coverage (goes for a TD).
Above are just a few of the plays in which Cook exhibited a strong ability to play the quarterback position at the professional level. He demonstrates great patience and poise in the pocket as well as clean footwork. Worth noting however is the fact that Cook also lacked ball security in this game. Twice he fumbled, once coming on an attempted scramble and once during his load-up. He threw one interception though likely thanks to a hit he took while making the throw, causing the ball to sail over a wide open TE Mychal Rivera. If the Raiders plan to extend their playoff hopes, ball security must become the top priority for Cook. Without Carr, it's fair to say this offense is ill-equipped to score in bunches and play from behind. Each possession will be crucial.
Even with a healthy McGloin, I believe Cook presents the Raiders' with the best chance to win. In order for that to happen, there must be a real identity change in Oakland to pair with their new signal-caller. Head Coach Jack Del Rio will undoubtedly have to lean more heavily on his run game and his defense to churn out victories in the post-season. Relying on the arm of your quarterback was the blueprint before, but that was then and this is now. At this point it's almost anyone's guess as to how Cook will perform on Saturday, but the least I can do is give Raider Nation some reason to believe.
PREDICTION: Oakland 23, Houston 20
REAL LIFE. REAL NEWS. REAL VOICES.
Help us tell more of the stories that matter from voices that too often remain unheard.