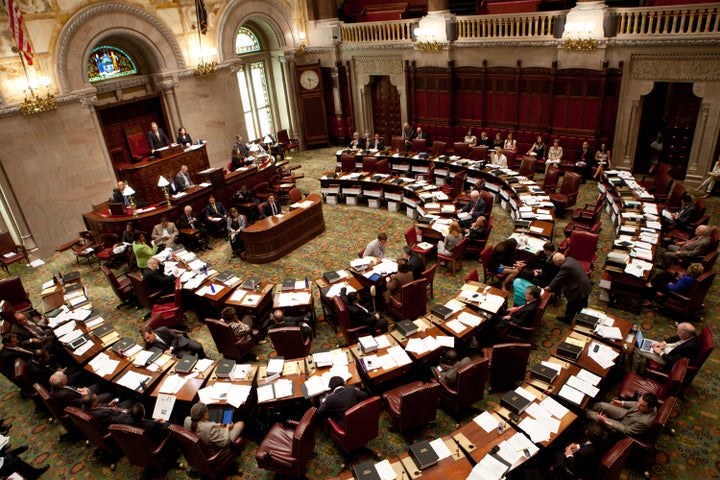 WASHINGTON ― With a renewed push in state elections ahead of the 2020 census, Democrats are competing to win at least 14 state legislative chambers on Tuesday. These victories could push five states into unified Democratic control in 2017.
Ever since the Democratic wipeout at the state level in 2010, Democratic Party officials, donors and outside groups have organized to put money and energy into the effort to win state legislatures.
The party could flip legislative chambers in Arizona, Colorado, Iowa, Maine, Michigan, Minnesota, Nevada, New Hampshire, New Mexico, New York, Washington and West Virginia.
Many of these states are on favorable terrain for Democrats with presidential election turnout expected to boost voting for the party's base of minorities, the young and women. This is especially true of states with high Latino and Asian populations including Arizona, Colorado, Nevada and New Mexico. In 2012, Latinos and Asians voted overwhelmingly for Democrats and are expected to deliver even bigger margins for the party this time around thanks to the anti-immigrant demagoguery of Republican presidential nominee Donald Trump.
There is no competitive Senate race in four of these states. That means that the Republican Party has not invested heavily to get out the vote for their Senate candidate, which hurts those down ballot. Democratic down-ballot candidates in states like Colorado, Iowa, Maine and Michigan will be boosted by Democratic nominee Hillary Clinton's advanced get out the vote operation while Republicans will have to rely on Trump's unfunded operation. Get out the vote efforts will likely play a major role in determining these legislative races where victory margins will be smaller than the top of the ticket.
In Arizona, Democrats would need to flip four seats in the state Senate to win control. In Colorado, Democrats only need to win one seat in the state Senate to win back full control of the legislature. They already control the governor's mansion.
Democrats in Minnesota, New York and Washington are also hoping to win back full control of their respective state legislatures and governor's mansions. This may be easiest in Washington where Democrats need to win two seats in the state Senate. Their top targets are in districts that will likely lean Democratic in the presidential election.
In Minnesota, Democrats need to win 13 seats in the state House to take control. Many of these seats were won on Democratic turf due to the more Republican-friendly 2014 electorate and could be won back with a more Democratic-friendly presidential level turnout.
Nearly everything is up in the air in New Hampshire. Democrats hope to retain control of the governor's mansion and use their usual presidential turnout bump to flip both the state House and Senate. Control of the state's House has flipped in each of the past three elections as the electorate has moved between midterm and presidential levels of turnout.
New York may be the most complicated of these states as Democrats technically already have a majority in the state Senate. That majority, however, is not functional as a splinter faction called the Independent Democrats, or IDC, caucus with the Republicans to give them minority control of the chamber. There is a slight chance that non-IDC Democrats will win a majority, but they would have to do so over pro-Trump sentiment on Long Island and in upstate New York.
In Maine, Democrats hope to win three seats in the state Senate to take full control of the legislature. This will give them a better position to push back against Republican Gov. Paul LePage during the next two years of his administration.
Similarly, in Michigan, Nevada and New Mexico, Democrats hope to win control of legislative chambers heading into their gubernatorial election year in 2018. Republicans control the governor's mansion in each of these states and Democrats will make Michigan and New Mexico top targets in the next election.
Riding a wave of anti-Trump sentiment from minority groups, Democrats in California are likely to wipe out the Republican Party in the state and win a legislative supermajority.
Some smaller victories could also put Democrats in a better legislative situation in certain states. Democrats in North Carolina are hoping Attorney General Roy Cooper can defeat the unpopular incumbent Gov. Pat McCrory, but they do not expect to win back control of the state legislature. They are, however, looking to win enough seats to deny Republicans the supermajority to override the incoming governor's veto.
Republicans still have at least one ray of sunshine in the 2016 state legislature race. Kentucky's House of Representatives is expected to flip to Republican control this year. Senate Majority Leader Mitch McConnell (R-Ky.) has helped to raise money for the party to flip the lower chamber and win full control of the government in his state. The Democratic majority in the Kentucky House is the last such majority in the South.
Stay tuned for further updates on 2016 state legislatives elections tonight.
Calling all HuffPost superfans!
Sign up for membership to become a founding member and help shape HuffPost's next chapter
BEFORE YOU GO