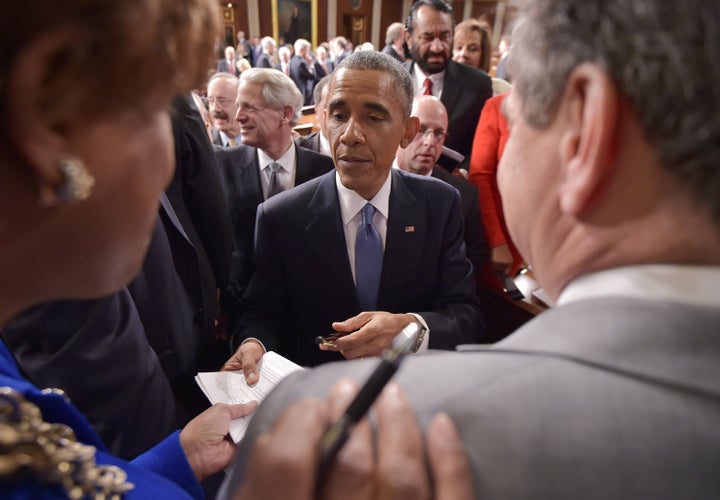 Well, everyone, it's January of 2016 and it's time for the State of the Union address. This year it's President Barack Obama's last such speech before a joint session of Congress, a fact that will greatly please the president's critics, though probably not as much as it will please the POTUS himself.
But for one last time, the pundits that chronicled the Obama era will polish up their State of the Union hot takes, all of which were prewritten over the past weekend.
We know how this goes. The president will make an entrance, stroll down the aisle shaking hands, ascend to the dais, and with a friendly acknowledgment of the vice president and the speaker of the House, launch into a lengthy oration that -- if history is our guide -- will contain one really bad joke, the kind your dad makes where everyone groans amiably. There will be ovations and snubs, sleepy elderly lawmakers and feisty young firebrands, call-outs and camera cut-aways. And for one member of the Cabinet, there's a potentially exciting new opportunity if the contrivance that I like to refer to as "The Cylons Nuke Caprica Scenario" unfolds.
In times past, I've noted that the State of the Union address, as an oration, is ritually oversold as something that really matters deeply to the course of our politics. Political science teaches us that presidential speeches tend to not move or shape public opinion, that when presidents make big speeches they focus on policies that are broadly popular in the first place, and that anything else should be seen as a signal to the opposition party about the policies over which the president would like to negotiate.
But this time, you can throw that out the window because it's Obama's last year, and the big battles in Congress have all been put to bed. So this year, the president has said that this address might break with the traditions of the past.
That could mean many things. Maybe he'll invite the cast of "Hamilton" to sing. Maybe he will, as has been reported, simply "focus on issues 'beyond the next election' and skip the traditional list of the year's legislative goals." Maybe Donald Trump will join him to reveal that the two of them have been engaged in an eight-year-long situationist prank about democracy in the age of late-stage capitalism.
Whatever it is, our drinking game will have you prepared for every conceivable possibility.
What Is The State Of The Union?
Obama says, "The state of the union is strong."
Obama says, "The state of the union is continuing to improve."
Obama says, "The state of the union ... it's aiight, right? It's aiight."
Obama says, "Oh, man, who am I kidding, y'all are about to elect a president who openly declares his fondness for Vladimir Putin, aren't you? Aren't you? See, I knew it."

Hot State Of The Union Topics
Obama discusses climate change, immigration or gun control.
Obama discusses the next phase in the battle against ISIS, income inequality, or early childhood education
Obama announces he'll re-up on trying to close Gitmo, or a new focus on North Korea.
Obama admits that he's "just way, way into SoulCycle right now."
State Of The Union Themes
"I'm here to talk about what we need to do together, so that we can deepen the progress we've made in the years ahead."
"The next big challenge before us is to ensure that every individual has an opportunity to influence this country's future, not just billionaires."

Pound a shot
"We've provided millions of Americans with health insurance. Maybe focus on that instead of your lost congressional seats? Best I've got, guys, best I've got."

Finish the bottle
"I didn't become president to see the middle class lose ground, and I surely didn't become president to see every new restaurant trot out another tired 'small plates' menu."
Reminder Of Accomplishments
Fourteen million jobs over 70 consecutive months.
No fence-jumpers have made it inside the White House this year.
Oregon's wildlife refuges have gotten a lot more edgy and exciting.
Obama largely sticks to an even, neutral tone, generically optimistic about the quality of the Democratic race and its candidates.
Obama tips a hat to Hillary, depicts the challenges ahead as ones that require a capable manager of institutions, good at working with opposition.
Obama feels the Bern a little bit, talks up the need for a wholesale revitalization of the party's institutions and leaders.
Obama: "Actually ... how about O'Malley?"
Obama sheds tears again for the victims of gun violence in America.
Obama's eyes moisten as he looks at his pal Joe Biden and reflects on everything he and his family have been through this year.
Obama gets verklempt because he misses John Boehner, so, so much.
Wow, who knew Obama was such a big David Bowie fan?
Republicans find some way of applauding sarcastically.
Democrats fail to spot the obvious moment where Obama thought they'd totally clap.
There's a rare moment where both sides join in the ovation.
There's an even rarer moment where the speech moves debate-weary opponents to start making out with each other vigorously.
Biden and Ryan are all smiles and glad handshakes, a brief moment of conspiratorial whispering and there's laughs at someone's ribald joke.
Biden wants to be real good friends, like a devoted puppy, but Ryan has got his "I gotta take this serious, sorry" face on.
Biden and Ryan discuss how they only got as far as vice president but they totally could have been contenders, man.
Ryan suddenly jumps up, pulls off his mask and WOW! It was Ben Carson, all this time!
Obama makes explicit endorsement of Hillary Clinton in 2016.
Obama makes explicit endorsement of Bernie Sanders in 2016.
Obama announces that he's issuing an executive order allowing him to run for a third term.
Obama announces that he's issuing an even stranger and impossible-to-believe executive order allowing him to run for a third term as a Republican. "They could use the help," he says.
Popular in the Community