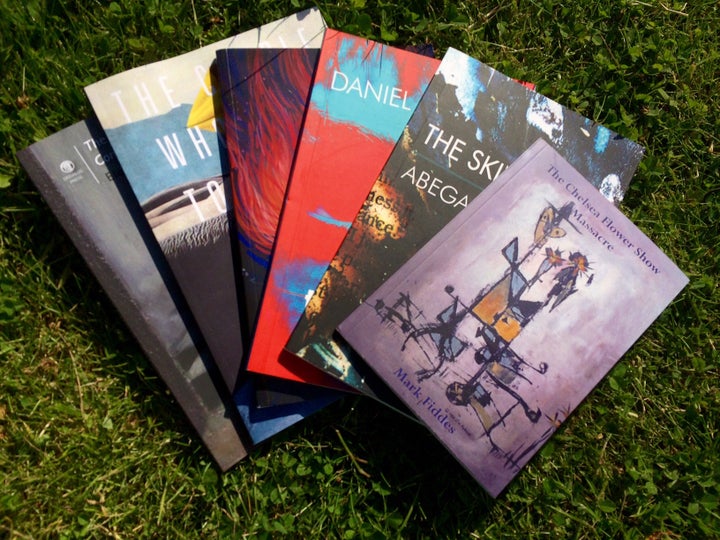 Never more than in the damp post-Brexit summer of 2016 have we been in need of mind-blowing poetry. Fortunately, this weird year has produced a bumper crop. Here are some of the books I'm reading to help me inhabit uninhabitable times.
Clare Askew's This Changes Things (Bloodaxe Books, 2016) draws energy from her roots as a spoken-word poet but transcends the slam scene with hot-hammered poems that singe the page. Ranging from the domestic to the political (and politicising domesticity), Askew is at her strongest when most vulnerable, regarding the violence brimming beneath our world with a sensitive, bloodshot eye.
Michelle Bitting's The Couple who Fell to Earth (C&R Press, 2016) shows the raw power and opulent beauty of a poet in love with our world―and in love all the more for its banal imperfections. Ruthlessly generous, and determined to oust the mythos from the mundane, Bitting's is an imagination determined to transmute the commonplace into song.
One of my favourite titles for a poetry collection, Mark Fiddes' The Chelsea Flower Show Massacre (Templar Poetry, 2015) is expectedly full of wit and wry observation on the strata of British society. But this book reaches deeper, into moments that catch you off guard with profound, plainspoken insight into the human condition. More than a hilarious romp (though it is that as well), this slim booklet packs a wallop, leaves you teetering through the poet's off-kilter worldview.
Emily Harrison's I Can't Sleep 'Cause My Bed's on Fire (Burning Eye, 2016) certainly presents a strong contender for best title as well. Here again beyond the sexy, clever, charm-drenched voice glints real gems of human feeling, served flip but no less forcefully through the author's unswerving look at mental illness. The acknowledgments concede: "This book would not be here without the NHS." Thank God for that. She's one to watch and read.
Eleanor Hooker's The Shadow Owner's Companion (The Deadlus Press, 2012) sings to the shadows of the family with a mariner's love of darkness in the waves. Meditative, formal, and gracefully controlled, these are poems that will soak you to the bone, then warm you up by the fire.
Abegail Morley's The Skin Diary (Nine Arches Press, 2016) is haunted, and haunting. As complex, deeply felt, and tantalising as grief itself, these mature poems speak timelessly of childhood, family, and absence. Fable-like figures waft through as Morley constructs personae and language all her own to transmit the fragile, wistful beauty―thin as taut skin―of her innermost muse.
Kathy Pimlott's Goose Fair Night (The Emma Press, 2016) is rich in quintessentially British observation, all the more electrifying for its understatement. It is quirky in the best possible way, and endearing for its celebrations of egg sandwiches, mushy peas, and stocking runs. Sharply attuned to the music of overheard speech, this découpage of postwar living is delicately arranged and convincing for its pitch-perfect juxtapositions.
Daniel Sluman's The Terrible (Nine Arches Press, 2015) chronicles the struggle of everyday living for those with disabilities in Atos-era Britan. But the book reaches deeper, and darker, into a twin flirtation with the Angel of Death and Eros, brimming with blood, heat, and physicality. It aches, and is achingly good.
Ocean Vuong's Night Sky with Exit Wounds (Copper Canyon Press, 2016) deserves the waves of praise that have been lapping over it this year. A tightly-woven meditation on identity, intimacy, family, and trauma, the book grapples with the nerve centre of modern America―its immigrants and exported wars, its bravado and human tenderness. Capacious and startling, it is a book to read and re-read, set to become part of the canon.
George Wallace's Simple Blues with a Few Intangibles (FootHills Publishing, 2016) is the nouveau beat poet's latest in a long line of rough-and-ready poetry. Wallace's breathless prepositions chug on, rattling from freight train to be-bop and back again in an inimitable music all the author's own. These poems are voracious, erotic, and unabashedly ecstatic.
So here you have ten new worlds to enter irretrievably―between sipping Pimm's, avoiding the headlines, and rushing out to bring the washing back in from the rain. Here's to summer, and to poetry, served with a sprig of mint.