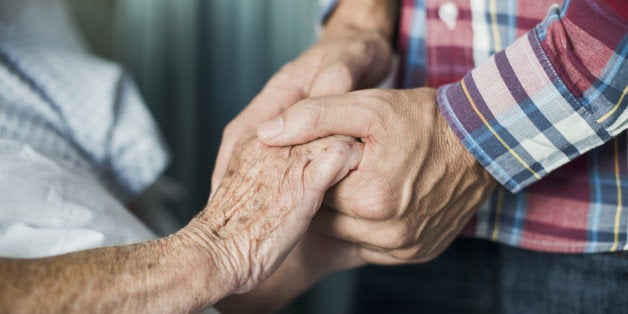 The start of the New Year brings the resumption of the 114th Congress and the start of the NFL playoff season, both of which contribute to one idea: "going long." In football, "going long" down the field moves the ball forward and sometimes scores touchdowns. We should encourage President Obama, Congress, and all the candidates for President to go long on behalf of new proposals and policies to benefit older adults and their families.
It has been said that there is really no good policy without politics. In this presidential and congressional election year, good politics should include being responsive to advancing new ideas to move our aging society productively into the future. It makes good political sense for candidates because the older voter will grow from 16 percent of the electorate in November 2012 to 23 percent in November 2016. In addition, the number of family caregivers in this nation now exceeds 40 million and they too represent an important voting constituency that can influence the outcome of this election.
What would going long include? For the president and congress, it could be building off the bipartisan momentum from late 2015 by passing the Older Americans Act. Candidates for President could call for the reauthorization of the Act so it becomes a political issue as well. A bipartisan bill to renew the Act for three years passed the Senate in July of 2015. President Obama has already supported it at the 2015 White House Conference on Aging. The House needs to act to finish the job and pass the Act as well. This legislation benefits older adults with critical community-based services such as nutrition, transportation and senior centers. It also contains the only federal program aimed at helping family caregivers, including grandparents raising grandchildren. The need to help provide education and training to family caregivers has grown exponentially since the last Older Americans Act was passed back in 2006.
On the caregiver front, the House should join the Senate in passing the RAISE Family Caregivers Act. The Recognize, Assist, Include, Support and Engage (RAISE) Family Caregivers Act (S. 1719/H.R. 3099) requires a strategy to be developed that would identify actions that government, communities, providers, employers and others can take to support family caregivers. This would be a first step in going long for caregivers.
To further help caregivers, they should be part of tax reform, which may be a 2016 bill in Congress and certainly a political issue for the future. For every millionaire or special interest who is aided by tax reform we should include an interest that is truly special--the family caregiver, by providing them with a meaningful tax credit for the high out-of-pocket costs associated with caregiving. For Presidential candidates who address tax reform, this should be part of what they propose.
We as a society need to go long on one especially critical issue that we seem to be in political and policy denial about -- the need for long-term services and federal policies which promote them. Despite the millions of Americans of all ages who need long-term services and support, we still lack any coherent national policy to provide this. There have been many great ideas and proposals developed in recent years both from outside and inside government. It would be difficult for Congress this year to enact anything comprehensive on long-term services and support, but it is most certainly a compelling campaign issue which has begun to be raised by candidates on both sides. However, it needs to become an issue with a political imperative.
We also need to go long on combating the growing menace of elder abuse in our nation. Congress passed a landmark law called the Elder Justice Act in 2010 but has struggled to fund it properly. We need to go long in this Congress using the new budget agreement and commit at least $50 million for programs to combat elder abuse. This has to be a test on the campaign trail as well. Those candidates who fail to offer ideas or even address this issue should be judged unworthy of an older person's vote.
We have already seen the big aging issues like Social Security and Medicare raised by Presidential candidates on the campaign trail. The ideas and proposals have run the gamut, but with the first votes in primaries and caucuses ready to be cast in fewer than six weeks, it is time for more specifics on how we address the future of these vital programs. The opportunity is there for candidates to make their mark and go long.
A final important way for candidates for President to go long would be to address the growing issue of ageism in America. Further, in recognition of the changing face of the older population now and in the future, candidates for President should outline their ideas on achieving cultural competency in federal programs and services in the future.
In this unusual year, where many contentious Congressional issues were resolved in the last year, the same opportunity to go long in 2016 is there for the President, the Congress and those who will be in these positions in 2017. Older Americans and their families would certainly benefit from this.
Popular in the Community