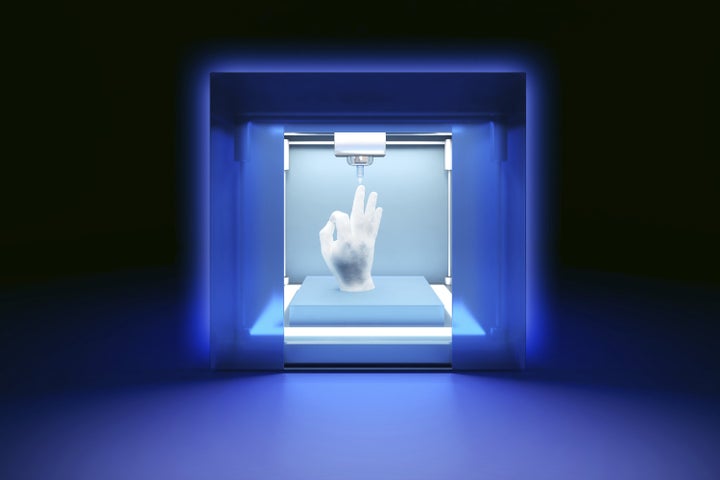 Some predictions will always be easy to make: We know that more humans will go online next year using faster mobile devices, logging onto social media and sharing videos. Millions and millions of connected sensors and appliances in the growing Internet of Things will go online, too. (If you just predict bigger, better iPhones, you win no points.)
For some less obvious answers, we turned to Amy Webb, an author and former journalist whose consulting firm, Webbmedia Group, produces a well-respected annual trends report.
"In the coming year, technology will converge with our everyday lives in a more meaningful way, because it's extended beyond the Internet and consumer gadgets to areas that are untested, or that break in new ways, or came as a great surprise," Webb told The Huffington Post.
Webb's firm focuses on forecasting what's coming next by combing through government policies, economic trends, consumer behavior, global market changes and research. The company's 2016 Tech Trends report, released last week and embedded below, features 81 emerging tech trends, many of which will become a big part of our lives in the very near future, and some that might take longer to make their mark.
The following innovations may reach a broader audience than ever before, coming to a screen or sidewalk near you and potentially saving time, money and even lives:
Smart virtual assistants, like Apple's Siri, Microsoft's Cortana and Amazon's Alexa, will help you find information and accomplish tasks.
Ambient interfaces, like Google Now, will provide relevant information throughout your day based upon your history of use.
Blockchain, the software behind the Bitcoin cryptocurrency that's caught the attention of big banks, like Goldman Sachs, as a way of tracking transactions.
Social payments from PayPal, Venmo, Square and perhaps credit card companies.
Robotics and 3D printing will change industries and people's lives for the better, providing mobility and prosthetic limbs.
When asked which of these trends made the list for the first time, Webb pointed to several things.
"For the average person, I think that bots are pretty interesting, and it was the first time that made the list," Webb said, referring to a category that includes helpful automation, fake social profiles and malicious software.
"Quantum computing isn't a new concept, but it was never on the list before -- it wasn't far enough along yet," she went on to say. "There's been enough investment and movement that I think we'll start to see traction this year. Internet mob justice is a first-timer, too. … I would posit that anyone is a target."
"Technology is accelerating at a different pace than our laws. In fact, the pace itself is accelerating. So, we wind up with policies that cover technology that are too restrictive, too difficult to implement, or not as effective as they ought to be. Drone registration, licensing, emergency CRISPR meetings, etc."
Here's hoping the trends of next year include more politicians bringing technologists into the boardroom, agencies and witness stands when they're deciding how to make decisions about the technologies that we depend on.
Check out Webbmedia Group's full 2016 Trends Report:
Related