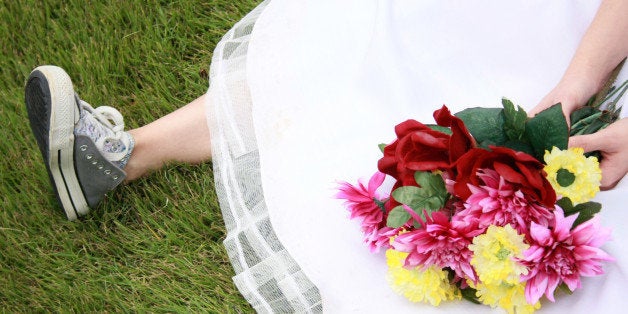 2016 is going to be here faster than a new Kardashian reality show. With the rise in popularity of short engagements, even if there is no ring on your finger (yet), if one is going to be there soon, there's no harm in knowing what's hot and what's not for next year. Of course, if you value your sanity and are one of those people with a longer engagement (I love you people by the way) and you're planning for next year, it's good to check out this list as well.
Disclaimer: I am not saying that if you are doing an "out" trend for your wedding that you're tacky and I hate you (name the movie... I'll wait), so please don't flame me in the comments with lots of "you know nothing," "it's my wedding and I'll do what I want" or "you are the spawn of Satan." We won't always agree and that's totally cool.
So here they are, the unofficial official "What's In and What's Out" for Weddings of 2016:
1. Glitter on your Stationery Out, Foil Stationery In
Coming from the tri-state area that includes New Jersey, I can tell you that I meet with a fair share of "glitter" clients. Brides that use words like "sparkle" and "bling" in every other sentence is something I am used to. However, with every year, the type of "sparkle" and "bling" evolves to something new, and even the most rustic brides want some sort of shine to their decor. 2016 will bring us the modern but still fun look of sparkle by changing out the big bling on invitations for foil printing. I am a huge fan of stationery to pull together or even create the look of a wedding day, so much so that I will use one stationery vendor for invitations, menus, escort cards, table numbers, and anything else where paper is involved. I love foil printing on stationery because it's not like an art project that included a glue stick and glitter that winds up all over your house for an eternity the second your guests open the envelope. It's chic, it's clean, it's modern and it's IN.

2. DJ Out, Mixing Live Music with your DJ in
In Jersey I would say the majority of my clients want a DJ, and when they do want a band, it's because it's a band that they heard at someone else's wedding... and thus, they want *that* band. There is this myth that bands are too loud and can't replace what the song is "supposed to sound like." Anyway, I respect what my clients want, and I work with some amazing DJs. That said, a live musician or 2 or 3 will enhance what a DJ can bring to a reception. I have seen everything including singers, percussionists, pianists, and trumpet players and it's always amazing. Jump on this trend before it's "trendy" and everyone is doing it because, right now, guests are always surprised to see and hear something this different. Plus, an empty dance floor at a wedding is no bueno, and this will get people on the floor immediately.
3. Chiavari Chairs Out, Ghost Chairs and Crossbacks In
It seems like just yesterday when I was asking venues if they had Chiavari chairs instead of old ugly banquet chairs. I used to be impressed when I would hear that not only did a venue have Chiavari chairs, but that they were available in gold, silver, mahogany and black. Ooooh, swoon! Not. Any. More. Everyone has them (well, everyone should) and thus, people are tired of them. The answer is not those hideous satin chair covers that we use to cover the ugly old banquet chairs. The answer is to have a different chair available. Ghost chairs and crossbacks are two completely different styles, so depending on what your "look" is, you would pick one or the other. Of course, if you are designing a wedding where chair covers would work, there are those that are fabulous and available in multiple fabrics, colors and lengths.
4. Fluffy Light Colors Out, Deep Jewel Tones In
Holy cow how many combos of pink, gray, creme, gold and white can we see? 5,389, that's how many. Wow. This horse is dead and beaten. It has been beaten by every object known to man. Enough. UNCLE! Listen, it's beautiful and there is a reason that it's so popular, but stop going onto Pinterest and bringing this to your planner as something "original" and "unique". Hint: If it's on Pinterest on multiple different boards, it is not something that hasn't been seen. Peonies aren't original either. Beautiful? Yes. Original? Nope. Because couples have OD'd on this color scheme, we're going to see a swing of the pendulum to the darker, deeper jewel tones. These colors work for every single season and for both outdoor and indoor weddings. They offer depth and romance to your wedding. So please, just because you are going for that "I picked these flowers from a field, I don't have a care in the world, the only product I use in my hair is sunshine" look, don't fall into the fluffy light color trap. There are other options. Hundreds.

5. Sit Down Dinners Out, Stations and Cocktail Receptions In
This has been coming for awhile now. As weddings stray from the formalities more and more, and guest lists include more friends and less family (sorry moms), couples are doing whatever they can to make it a party. Now, look, I am all about keeping the formality of weddings. At the end of the day it's a wedding and not a graduation party, so there are certain rules that should be followed. Stop with the side eye...I see you. Anyway, a sit down dinner is not mandatory, and while I loathe buffets, a station dinner/cocktail style reception is completely different. It's fun for your guests to be at cocktail hour, so why not have that feeling for the entire reception? It's not as easy as just talking to your banquet hall to make this happen, and it's more doable when you have a caterer you brought in to work with. So, please don't go rushing down to the banquet hall with this list (though I would be flattered) and demand stations and a cocktail style reception, because it might not be possible. But if you are a foodie, and you got to pick your caterer (or will get to) this is something you might want to consider. Everyone talks about the food, but more so if it's bad. Don't let that be the talk of your wedding.

6. Round Tables Out, Lucite and Mirror Tables In
Keeping with the idea of tossing the formalities aside when planning a wedding, banquet round tables are starting to not be "in" anymore. Long tables, square tables and even a mix of everything look amazing at a wedding. However, the lucite and mirror tables are how you kick your wedding up from a 9 to a 10. Centerpieces, whatever they are, have a whole new stage to be on, and it's quite the dramatic stage too. Of course, if you're still super into the round banquet tables, consider dressing them up in sparkly linens that have the "wow" factor. A gorgeous gold, silver or black sequin linen really shines especially under the low lights above and when adorned with candles. Another option is to just highlight specialty tables such as the sweetheart, cake and escort card table. Consider these to be your showcase pieces and add a sparkly linen or a completely different type of table entirely.
7. Barns Out, Blinged Out Barns In
It is no secret that I am still in love with barns for weddings. In fact, I'm waiting for the day where I just go buy one and set up my own venue! But until that day, I am always searching for barns and farms especially since this trend doesn't show signs of dying. In fact, this is a lasting trend because it continue to evolve. It used to be all about the burlap and mason jars (see next number), then it started shifting to include lace and chalkboards as major components. Now, we are seeing the bling factor start to rise as the glamour brides and grooms want a piece of this trend as well. While no barn is ever going to be a banquet hall (and why would you want it to be) there are aspects that can be controlled. For instance, many clients are asking us to hang chandeliers from the barn ceilings to add the sparkle that was missing. This can be anything from one huge crystal chandelier over the dance floor, to multiple ones over each long table. Depending on the type of barn and what's actually possible, there are plenty of ways that the "blingy" bride can now consider a barn at the top of her venue list of possibilities.

8. Mason Jars and Burlap Out, Mismatched Flower Holders In
Ok, enough. We're done with the mason jars. It really doesn't matter what part of the country you are in, this has been done to death, brought back to life, and been done to death again. It doesn't matter if you're using "vintage" mason jars, or blue and gold ones or whatever. A mason jar by any other name is still a mason jar. Shelve it. If you want that rustic look and the idea of anything with glitter makes your skin crawl, then mismatched flower holders are your answer. Whether you go through your designer or florist for this, or if you want to spend some time (seriously, this takes time) pulling pieces from antique stores, this is a great way to keep the rustic vibe. All that said, if you are planning on pulling these pieces yourself, make sure that you speak with your florist first. Sometimes, florists will not allow you to provide the containers, and the ones that do want to make sure that you have the right sizes. Otherwise, your tables might look a little empty.

9. Large Guest Lists Out, Intimate Parties In

80%, give or take, of the couples that contact me to plan and design their wedding are reaching out to me because they want a creative space, i.e: mansion, loft, castle, barn, and so forth. It's clear that those "types" of weddings are my specialty, and the more I do, the more people contact me for those venues. One thing that I always hear though is a high guest count of 150 or more. Yes, 150 is a high guest count. The problem with many of these venues is that the majority max out at 150 guests, unless you want to put a tent up, and even then you might have to keep the count under 250. Between the desire to get married in one of these creative space venues, couples not getting married immediately following college, and hundreds of other reasons, guest counts are on the decline. For the couples that are footing the bill themselves, there is very little pressure (if any) to invite mom and dad's entourage from college/work/whatever. Weddings are becoming more intimate and couples are starting to invite those that they have actually spent time with in the past year. No longer is cousin Richie from Kentucky invited to the winery wedding in Napa, because the couple hasn't seen him in years. I'm a huge fan of this trend because I believe that weddings should be celebrated with those closest to you. Otherwise, you spend the evening bouncing from table to table being introduced to your guests. Not a good time.

10. Full Day Video Footage Out, Same Day Edits In
Videography and cinematography has come a long way in the past few years, and I am a firm believer in hiring a team to take that video on your wedding day. Now, there are plenty of options to choose from including the "same day edit" which offers the instant gratification this generation needs. In fact, I have planned weddings where a montage of the first look, photos, ceremony and cocktail hour was put together and shown on flat screens during the dinner portion of the reception. It's fantastic because not everyone sees everything on the day of the wedding, especially the couple. A quick highlight reel of the day shown during dinner is a great and unexpected way to get people laughing, talking and ready to continue the evening.
I hope these 10 trends for 2016 have given you some ideas, things to look up on Pinterest and some inspiration for your upcoming wedding! If you think I missed a trend, please leave it in the comments below!
Support HuffPost
A No-B.S. Guide To Life
Related
Popular in the Community