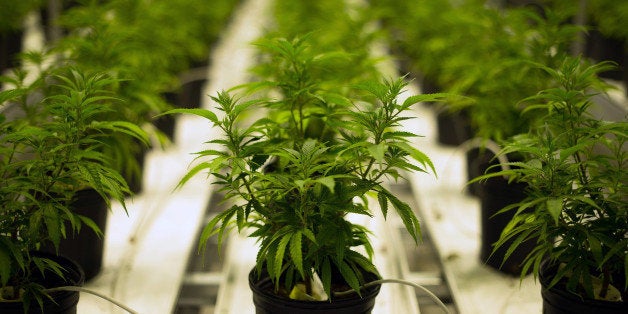 I don't often use superlatives, but it's easy to say that 2016 will be the most significant year yet in the battle to repeal marijuana prohibition in the United States.
Up until now, the two biggest years were 1996, when California became the first state to legalize medical marijuana, and 2012, when Colorado and Washington became the first two states to legalize marijuana for adults 21 and older.
2016 will likely comprise a cornucopia of cannabis policy advances, which I'll enumerate in the form of predictions.
On the federal level, many people are hoping that President Obama will take bold executive actions, but it's more likely that he'll continue to chip away at marijuana prohibition in ways that will continue and solidify his administration's actions thus far.
For example, the Obama administration will probably (1) restate its intent to protect from the DEA the Native American reservations that choose to grow and sell marijuana; (2) renew the U.S. Department of Veterans Affairs (VA) policy of not withholding benefits from vets who use medical marijuana in the states where it's legal; and (3) continue with the U.S. Justice Department (DOJ) policy of not punishing individuals and businesses that are abiding by state marijuana laws.
And, of course, the president will pardon another batch of federal marijuana offenders. But don't expect the president to reschedule marijuana, because Congress and President Nixon delegated that authority in 1970 to DOJ, which includes the DEA; these rules are clearly delineated in the "Code of Federal Regulations."
In its annual spending bills for fiscal year 2017, Congress will continue to include the pair of amendments that prohibit DOJ from interfering with state medical marijuana laws and hemp laws.
In addition, it's possible that Congress will delete the bad spending amendment by Congressman Andy Harris (R-MD) that currently prohibits the local D.C. government from legalizing marijuana. If this federal change occurs, it would take effect on October 1, so the D.C. government wouldn't be able to regulate marijuana like alcohol until sometime in 2017.
Also on the federal level, there will be a big push to attach three other amendments to spending bills -- an amendment to prohibit DOJ from interfering with all state-level marijuana laws, an amendment that would allow VA physicians to recommend medical marijuana in states where it's legal, and an amendment that would prohibit the U.S. Treasury Department from penalizing banks that do business with canna-businesses.
It's extremely likely that voters in five states will vote on legalization initiatives in Arizona, California, Maine, Massachusetts, and Nevada on November 8. I predict that at least four of these five measures will pass if we raise a sufficient amount of money for TV, radio, and web advertising this fall.
It's also likely that medical marijuana initiatives will appear on two statewide ballots on the same day in November: Missouri voters would almost surely pass such an initiative, and Florida voters are likely to do the same. (Unfortunately for Floridians, their state is the only one that requires at least 60% of the vote to pass a ballot initiative. For example, a similar initiative in Florida failed in November 2014, even though it received 57.6% of the vote!)
There's also a chance that medical marijuana initiatives could appear on the Arkansas and Ohio ballots in November, but the signature drives in both states are uphill battles.
Before voters have a chance to legalize marijuana in the five states mentioned above, Vermont could become the first state to legalize marijuana via the legislative process. We have strong allies in the state Senate, the House speaker is openly supportive, and Gov. Peter Shumlin (D) is a long-time supporter of various reform measures.
If a second state government legalizes marijuana this spring, it would be in Rhode Island.
As for decriminalizing the possession of marijuana, Illinois and New Hampshire are highly likely to do so this winter and spring, respectively. In the former state, Gov. Bruce Rauner (R) issued an "amendatory veto" of such a bill in August, so the legislature has retooled the bill to accommodate his concerns. In the latter state, the Senate stalled when Gov. Maggie Hassan (D) expressed her disapproval, but the overwhelming support for decriminalization in both legislative chambers could very well overcome her opposition -- and override her potential veto -- this spring.
Pennsylvania, which is the sixth-most-populous state, is by far the most likely to legalize medical marijuana in 2016, in part because Gov. Tom Wolf (D) is such a strong supporter, as are many Republican leaders in the legislature. If this occurs, Pennsylvania would become the 24th state to legalize medical marijuana.
We'll also see medical marijuana dispensaries open up in Hawaii, which expanded its 2000 law earlier this year to allow for the retail sale of marijuana to patients. And Michigan could similarly expand its 2008 law to accomplish the same thing next year.
One of the last battles on the state level is to allow for the on-site consumption of marijuana in business establishments. Ideally, businesses would be permitted to sell the marijuana that's consumed on site, but new laws might require people to bring their own marijuana.
The three locations that are most likely to allow some kind of on-site consumption are Alaska, Denver, and the District of Columbia. Interestingly, all three jurisdictions have approximately the same number of residents, so we'll hopefully be able to make an "oranges to tangerines" comparison of allowing on-site consumption by, say, early 2017.In sum, November 8 will clearly be the most significant day in the most significant year in the history of marijuana policy reform. Now how's that for superlatives?
Rob Kampia is the co-founder and executive director of the Marijuana Policy Project, the nation's largest marijuana policy organization.

Support HuffPost
The Stakes Have Never Been Higher
Popular in the Community