Lady Parts Justice Presents the Golden Probe Awards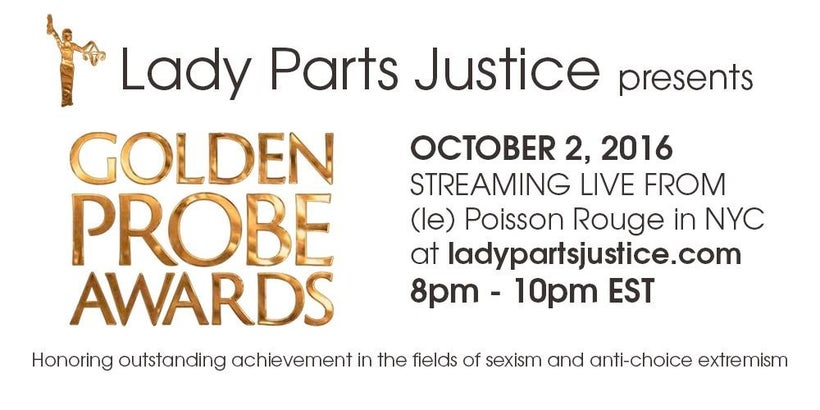 Tonight, Lady Parts Justice will be hosting their first annual Golden Probe Awards, which will be honoring the outstanding achievement in the fields of sexism and anti-choice extremism. The Golden Probes will be streaming live from (le) Poisson Rouge in NYC, with watch parties all over the country.
Hosted by hip hop artist, Jean Grae, the Golden Probes will also include a star-studded lineup of appearances from Sarah Silverman, Samantha Bee, Jessica Wiliams, Sasheer Zomata, Matt McGorry, Wendy Davis, Lea Delaria, Broad City, Amy Hagstrom Miller, Phoebe Robinson, Kate Walsh, Amy Brenneman, Kathy Najimy, Murry Hill, Buzz Off, Lucile, Ambrosia Parsley, Michelle Buteau, Franchesca Ramsey, Christian Finnegan, Naomi Ekperigin, Reformed Whores, Leah Bonnema, Holly Miranda, Matteo Lane, Lizz Winstead, and Eunice herself.
A few years ago, co-creator and former head writer of The Daily Show, Lizz Winstead, along with Arun Chaudhary, and Scott Goodstein, started the nonprofit Lady Parts Justice, a nonprofit focusing on sounding alarm about the terrifying erosion of reproductive access, and mobilizing them to reclaim their reproductive rights.
Given the two people on the Republican presidential ticket this term, LPJ may be more needed than ever. Donald Trump may be scary when it comes to reproductive rights, however, his running mate, Mike Pence is far more terrifying on this issue. While in Congress and as Governor, Pence waged war on a woman's right to choose and restricting access to contraception - most notably with the "Pence Amendment", which would essentially bar Planned Parenthood from receiving federal funding for any purpose. Not surprisingly, Pence's obsession with regulating women's rights over their own bodies has made him a conservative hero among fringe anti-contraception and anti-choice groups, such as the American Life League and others.
But it does not end with the Trump and Pence. As Lizz Winstead told me, the Golden Probe Awards are also important because they will highlight this extremism on a local level as well.
This election year, the presidential race is taking up all the media bandwidth, and the local races are basically forgotten. That is terrifying because when it comes to issues of reproductive rights and access, the state houses are where all these horrible laws originate. We at LPJ thought people needed to learn about the low level lowlifes who keep creating these laws and we wanted to do it in a way that was fun. So, since it's award season, what better way to honor the best of the worst than a glamorous event that celebrates outstanding achievements in sexism and anti-abortion extremism.
So what will you be doing this Sunday evening? Personally, I'll be watching a satirical awards show "honoring" achievements in sexism & anti-choice extremism. Will you join me?
REAL LIFE. REAL NEWS. REAL VOICES.
Help us tell more of the stories that matter from voices that too often remain unheard.
This post was published on the now-closed HuffPost Contributor platform. Contributors control their own work and posted freely to our site. If you need to flag this entry as abusive,
send us an email
.