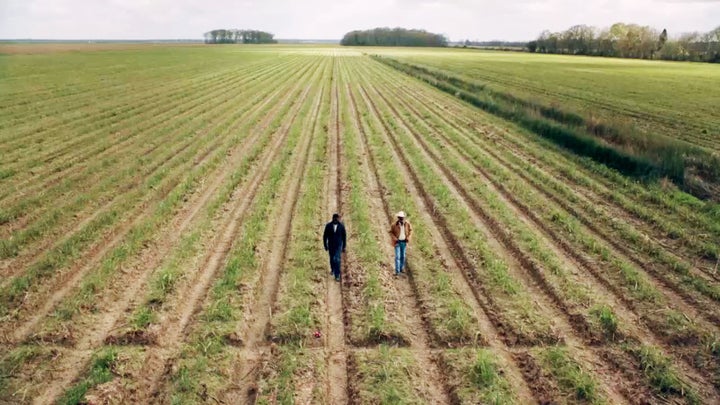 2016 has been the year of white folks' pronounced discomfort with black and brown folks who dare to live freely on American soil and demand access to clean drinking water. In this neoliberal age, white folks and all who are titillated by proximity to whiteness, continue to rob the most vulnerable and the poor of their most basic human rights. If police are not gunning down black and brown folks, their co-conspirators deny people who look like me a livable wage or force us to drink and bathe with brown water from our faucets.
In OWN's Queen Sugar, which was undoubtedly the best show of 2016, these realities are explored in great detail. In each episode, we saw America's contentious engagements with indigenous land, undocumented immigrants, black farms and businesses, and one of the universe's most precious gifts—water. We also saw the ghost of slavery, the legacy of Jim Crow, and the racecraft of mass incarceration and convict leasing.
In the season finale for instance, a white police officer spit in Nova's face. He reached within the well of whiteness sequestered deep inside his white male body, and unleashed the murky waters of the Trans Atlantic Slave Trade. He hosed down a black woman conjurer with the hot, pressurized flow of Jim and Jane Crow and the poisoned pool waters of the segregated south. He cleared his throat with enough entitlement to put Nova in her black ass place. The white supremacy in him could not stand to see Nova, one of the three land-owning Bordelon children, out on a date with one of his own, another white male police officer.
The police, like white vigilantes, uphold the raced borders of whiteness—keeping white folks in, safe, and secure, and locking black folks up, keeping us out.
During summer 2015, the nation saw a viral video of black teenagers, specifically black girls, being chased and slammed into the ground by a white policeman after a pool party in McKinney, Texas. Shortly after as we were greeted by 2016, we learned of the Flint Water Crisis, in which black residents in Flint, Michigan had been poisoned by their government who deliberately failed to clean and upgrade the city's water system and pipeline due to supposed budget constraints.
In March of this year, news of the Newark, New Jersey Lead Crisis spread through the airways. Black and brown children in the city's school district had been exposed to lead-filled water for years as they also faced an inadequate, under-resourced curriculum, loss of teachers, and inedible lunches. However, no one in the city's governing body dared to make connections between mental illness, crime, drug addiction, children's behavioral issues and lead poisoning.
And we cannot forget that in Chicago, there are still residents, predominately black and brown, who face the brunt of the reoccurring water shortages (the most recent being 2011), which have plagued the region for over a century.
Over the last few months, we have witnessed the resilience of our indigenous comrades, through the #NoDAPL movement, who resisted the building of the Dakota Access Pipeline and won. This proposed 1,885km crude oil delivery pipeline running from Bakken, North Dakota to Patoka, Illinois promised to transport as many as 570,000 barrels of oil per day, but did not promise to preserve Native life.
Without question the pipeline infringes on Native land just as "American forefathers" have infringed on indigenous tribes for centuries. Manifest Destiny, Westward expansion, white supremacist Christianity, and the Discovery Doctrine emboldened white men of times past and the present to enact and re-enact racial-sexual violence on the bodies of African and indigenous peoples. Truly, African enslavement and Native blood-slaughter and the pillaging of Native land are among the American nation-state's earliest and gravest sins.
And yet, it seems that black and brown folks cannot catch a damn break. White supremacist violence, whiteness, and white people's entitlement are unrelenting. In the South Carolina Lowcountry, the Gullah/Geechee people, who are the descendants of formerly enslaved West Africans and have been in the region since slavery, are fighting to prevent their land from being confiscated and auctioned. According to BBC News as of December 5th, twenty homes have already been sold.
But black people are always moving and migrating. And oftentimes, that movement is forced upon us. I recall the Great Migration stories of my ancestors from Americus, Georgia and also from Isabel Wilkerson's The Warmth of Other Suns, in which they speak of fleeing white-on-black rape, lynching, sharecropping, convict leasing, Klan violence, black church, home and store burnings, and a host of other violations which intimidate and keep black folks "in our place."
Just look at the white gentrifiers and contemporary colonizers who strip black neighborhoods like Atlanta's West End and Brooklyn's Bed-Stuy away from black people, appropriate our cultural traditions and artifacts, whiten the streets with late night jogs and underseasoned foods from Europe, and look at black and brown folks with contempt when we linger in the places we once called "home."
Even still, I believe in the revolutionary power of my people. Donald Trump is President-elect, white supremacists are turnt up, and anti-blackness is unnerving, but again, I cannot repeat this enough, I believe in the resilience, self-determination, and boldness of those who came before, those who remain, and those to come. The water regenerates and cleans, the land grows, and the people till the soil and plant the seeds.
Toni Cade Bambara's 1987-words ring true as 2016 nears its close: "We willingly embrace amnesia and willingly self-administer knockout drops. More horrendous is the fact that we have all that power that we don't tap; we don't tap into the ancestral presence in those waters."
If 2016 has taught us anything, it should be that our ancestors fought a good fight for land, for water, for life, and for liberation, and as such, we who reap the benefits of their struggles, have no other choice but to fight, to commune with those who have passed on, and to fight with more dedication and prophetic fire in 2017.
Calling all HuffPost superfans!
Sign up for membership to become a founding member and help shape HuffPost's next chapter