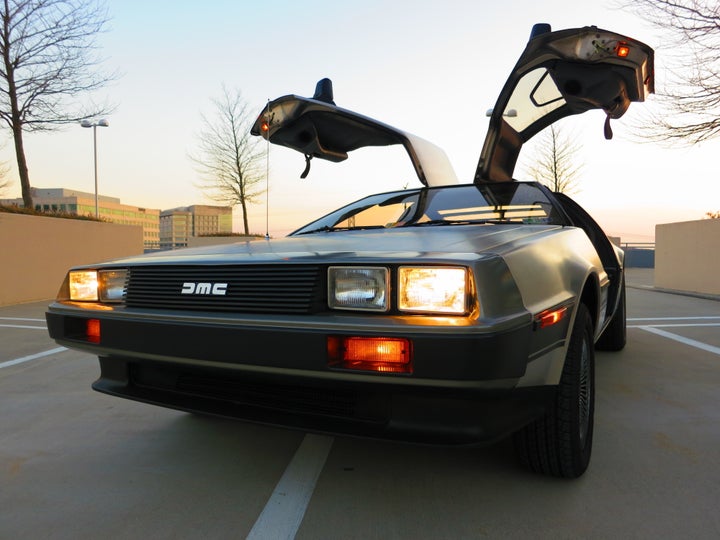 Maybe Doc Brown should have set the date for 2017 instead of 2015.
It's been 34 years, but according to KPRC2, an NBC affiliate in Houston, DeLorean Motor Company will begin producing the iconic 1982 model DeLorean, made famous by the "Back to the Future" trilogy early next year. The company plans to make about 300 DMC-12 models, otherwise known as McFly's ride, for four years, according to Business Insider.
"It's fantastic. It is a game-changer for us. We've been wanting this to happen," Stephen Wynne, DeLorean CEO, told KPRC2. "That was a green light to go back into production."
Wynne bought what was left of the original DeLorean Motor Company in 1987, according to KPRC2, and moved it to Humble, Texas. It has been staying afloat since by restoring all the DeLoreans that are still floating around in the world. But thanks to this new law, the company can use all the parts it has accumulated to start making 2017 versions of the DMC-12 model. The revamps will come complete with the classic gull-wing doors and an upgraded crate engine from an outside supplier.
Buying the engine from a third party, according to The Verge, allows the cars to meet emissions requirements. It also offers a lot more horsepower than the original DeLorean, which only had 130 horsepower powerplant, according to Business Insider.
It also bumps up the price. KPRC2 reports that refurbished DeLoreans cost between $45,000 and $55,000. The replicas will cost closer to $100,000 when they go on sale.
If our calculations are correct, that's a whole lot of money.
PHOTO GALLERY
1980s Style
Calling all HuffPost superfans!
Sign up for membership to become a founding member and help shape HuffPost's next chapter