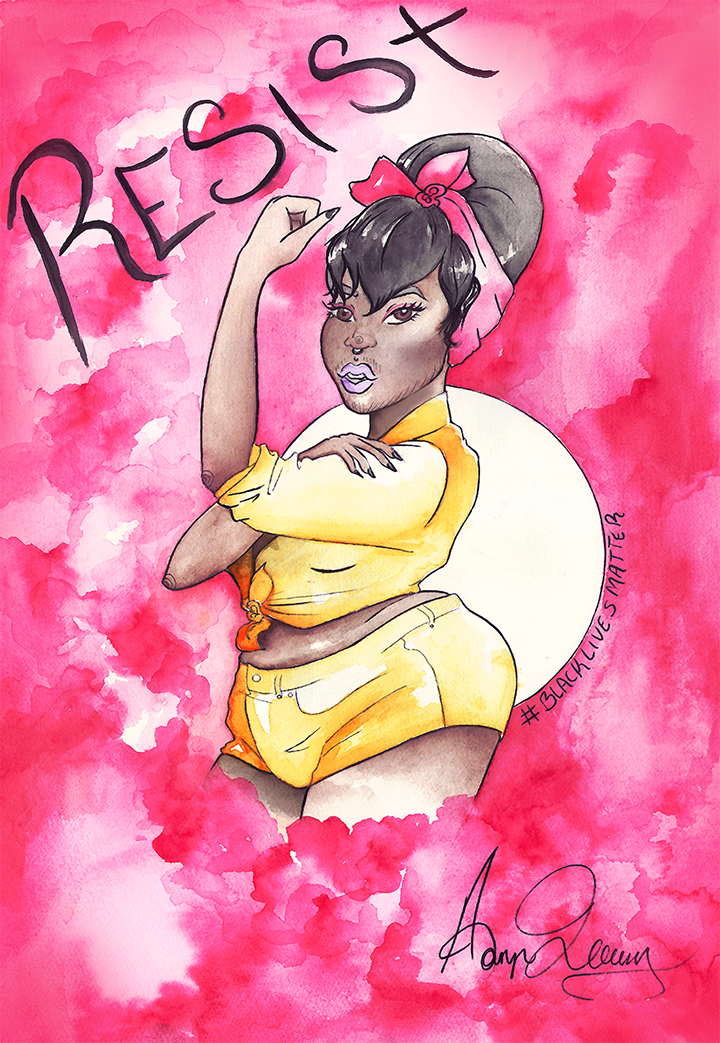 Young black trans women: We need you to be strong and healthy.
Stay close, get to know each other, build trust and envision a life of equal access.
We need to create a new story for our community to live by. More and more we are inspiring ourselves, taking better care of ourselves, bonding with each other, and creating different entities that protect us. This moment is about creating a safe world that we can grow in – it's about leaving a legacy.
What can you do to make your mark on the world?    
We can start by getting stuff out and off of us. People are tall, strong, and solid, but this system is fucked up and foul. People's souls and spirits slowly begin to dwindle in this place. But we need to be available mentally, emotionally and psychologically to deal with what's going on. So we need to make sure that everyone understands the state of what's going on, and we need to stock up on self-love, self-care and healing agents to give us the strength that we need.  
We can surround ourselves with enough people so we never feel alone, even if our whole life feels like a struggle. It shouldn't be a luxury to have enough people to support you through that struggle. And when we all come up with good strategies around self-care and honor the time and space for realizing those practices, we don't have to feel guilty about asking ourselves and other people to push through hard times.  
You don't have to do it alone.
On a broad scale we also need to make sure each of us has equal access to equal opportunity. The most important thing is reinvesting in communities that have a history of not being invested in. We all need to get to this future together, but we're not starting from the same place, and we need to recognize this reality. There are core groups specifically in the Bay doing amazing work, but we can't win unless we all win.
We can do more to work together with other cities, counties and states to make sure that we're all getting the information and support that we need. We can't leave behind the trans women in small-town Georgia, and small-town Florida and here in Modesto. This is going to require a lot of healing justice and restorative justice.
How do you wipe out intergenerational trauma?
We can ask hard and important questions and be willing to answer them: Instead of building jails and prisons, what can we build to collectively address the harm that people have experienced? Beyond that, what if we abolished all jails and prisons and replaced them all with healing spaces?
As we are in the process of letting go of some trauma, marginalized people can ask ourselves, what can we do or add in place of the trauma? We can replace ourselves, our trauma skins, with spirituality, God and faith.
Look at where we were and where we are. There's been such a huge progression, and that forward movement can give us faith to keep moving on. There's a lot of intergenerational trauma that people have to move out of their hearts and minds in order to continue. It's all about finding that special recipe that's gonna work for you and keep you safe.  
You don't have to do it alone.
We need to surround each other with love and caring and nurturing – and each other. This is how we can help our community see their dreams and get to the future that we want.
This post is part of the Black Futures Month blog series brought to you by The Huffington Post and the Black Lives Matter Network. Each day in February, look for a new post exploring cultural and political issues affecting the Black community and examining the impact it will have going forward. For more Black History Month content, check out Black Voices' 'We, Too, Are America' coverage.
REAL LIFE. REAL NEWS. REAL VOICES.
Help us tell more of the stories that matter from voices that too often remain unheard.