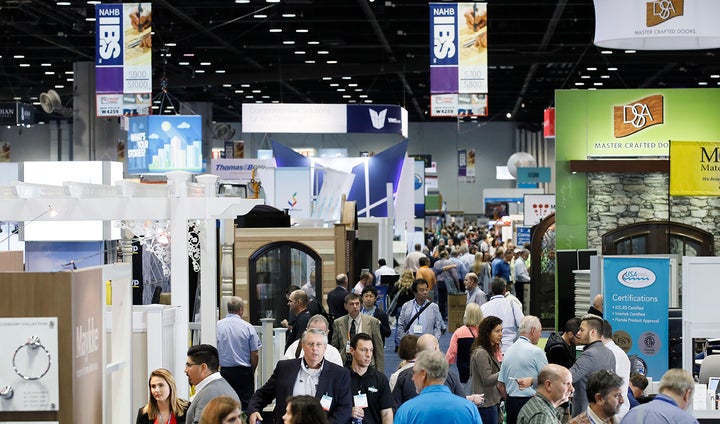 Between January 10-12, the 2017 NAHB International Builders Show (IBS) drew tens of thousands of building industry professionals to the Orange County Convention Center in Orlando, Florida to experience the latest products, innovations and design trends in the home building industry. The annual event is hosted by the National Association of Home Builders (NAHB), one of the nation's most recognized trade associations for the building industry.
Now coordinating with Design and Construction Week, this year's event drew approximately 80,000 attendees, reflecting an increased attendance of more than 20,000 from last year's event. Among the hundreds of exhibits, interactive displays, networking opportunities, live events and educational sessions, attendees had plenty of opportunities to make the most of their registration fee while immersing themselves in the industry's most progressive trends in home construction and design.
Celebrity appearances provided bookends for the three-day event, with retired Broncos quarterback Peyton Manning serving as the keynote speaker for the Opening Ceremonies, and a sold-out show with English rocker Spike capping things off on Thursday night. In addition, attendees had regular opportunities to relax and unplug from the inevitable information overload, including daily live music and socializing opportunities in the Beer Garden every afternoon from 4-6 pm.
One standout feature of this year's IBS was a greatly expanded education component, offering more than 160 sessions along eight tracks both before and during the show. Educational events included panel discussions, live demos, clinics and more, covering all sorts of topics from marketing to mechanical systems to functional home plans.
As usual, one of the most popular attractions of the IBS was actually "off campus," in the form of the New American Home, a sprawling 8200-square-foot show home showcasing current design, technology and green living innovations. The home was accessible to IBS guests by free hourly shuttles, while concurrently, visitors could also tour the New American Remodeled Home, a stunning renovation of a home originally built in the 1980s.
Focus on green technology
Continuing the trend from previous years, a high premium was placed on green technology and innovations in the building industry's continuing efforts to incorporate environmentally friendly practices. This trend was not only reflected in multiple exhibits and workshops, but also in the winning selections in the 2017 Best of IBS awards. Of particular interest this year appeared to be the area of water conservation and efficiency; Best of Show this year was awarded to the AquaBoy Pro II, a plug-in device that reclaims and purifies water from the air inside the home. Likewise, the winner in the Green category was the Greyter HOME, a water system that recycles used bath and shower water for use in toilet flushing or irrigation, claiming to reduce home water consumption by up to 30 percent.
Reflecting current home plan design trends
In addition to the focus on green solutions, many exhibits and events also served as a reflection of other current popular trends in home plan designs. Tim Bakke of The Plan Collection identifies several of these trends for 2017, several of which reflect a move favoring multifunctional design. For example, he says, an increasing number of architectural plans are doing away with formal dining rooms in favor of "flex space," or expanding laundry room functionality to include desk space and other multifunctional features. Other trends Bakke identifies are an increased interest in outdoor kitchens and other outdoor enhancements, as well as a shift away from granite countertops as part of the "white on white" kitchen design trend.
Many of the products and events featured at the IBS seemed to confirm many of Bakke's predictions, with an abundance of outdoor kitchen exhibits along with educational workshops on how to design them effectively, and architecture sessions frequently focused on increased functional efficiency, white-on-white kitchen design and other popular trends.
Now celebrating its 75th year, the NAHB billed this year's International Builder's Show as a kick-off for a year-long celebration with a number of additional special events scheduled nationwide.
Support HuffPost
The Stakes Have Never Been Higher
Related
Popular in the Community